Did i tell you all how we decided to eat 
greens
 every day? I guess i did. I ve been making dishes that involve greens more frequently these days and i am enjoying it even though there s a lot of mess and cleaning involved. Let s not forget that the monsoon has begun! But it is sheer joy to clean, chop and cook these green leafy goodness. I make it a point to try something new along with all those authentic recipes that i make very often.
This 
masiyal
 or mash is an authentic recipe that s made in most South Indian households and its very healthy. No, i m not here to preach but i must tell that the combination of mung and spinach in this mash is such a natural healer. It cools down the body, cleanses your system and helps in reliving acidity. Cant have a better way to detox, can we?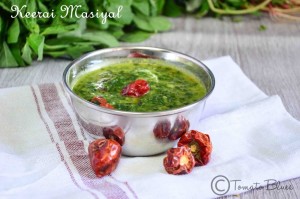 Recipe for Keerai Masiyal
( Spinach and mung lentils tempered with spices)

Prep Time: 20 mins
Cook Time: 25 mins
Serves 2 
Allergy Info: Vegan, grain free

Ingredients
Mung dal 2 tbsp
Spinach 2 cups chopped finely
Turmeric powder 1/2 tsp
Salt to taste
To Temper
Mustard seeds 1 tsp
Fenugreek seeds 1/2 tsp
Hing a small pinch
Dry red chilies 2 torn
Oil 2 tsp
Directions
Pressure cook the mung dal with 1/2 cup water until tender. Preferably one whistle.
Steam the spinach for about 5 mins.
Once done, mash the spinach and mung dal together until well incorporated.
Add salt and mix well.
Heat a pan with oil and pop the mustard.
Add fenugreek seeds, dry red chilies and hing next.
Now, add the mashed spinach mixture to this and mix.
Simmer for 2 mins.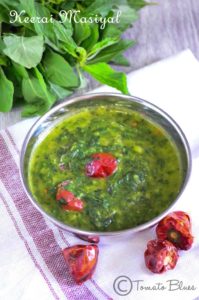 Serve hot with rice and sambar 
This is Recipe 4 for Palooza In Pan.
Recipe 1- Punjabi Rajma Masala
Recipe 2- Pineapple Rasam