Mybetter half detestsbrinjals like there s no tomorrow. That said and done, he loves this particularEnnaiKathrikaiKuzhambu to pieces. Why, this is my favorite too. Oh to pour that tangy sauceonto hot steaming rice and a ladle full of sesame oil and gulp it down is bliss that is beyond words. Wellits not likei m making this the first time. I ve probably made this on so manysundays for lunch thati ve nicknamedennaiKathrikaiKuzhambu as the sundaykuzhambu.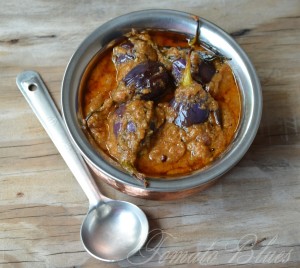 The reason why i dint post the recipe was that i dint have decent pictures. But i think i ve done a fair job pinching the shutterbugs today. Make this for lunch tomorrow or why wait that long! Make it today for dinner to dip rotis in them and you wont regret the decision at all. Now, lets jump into some unadulterated eggplant bliss, shall we?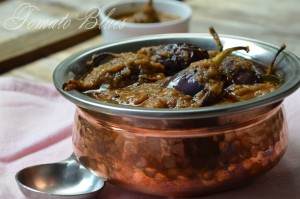 Recipe  For  Ennai Kathrikai Kuzhambu
Prep Time: Under 20 mins
Cook Time: Under 20 mins
Serves 4
( This recipe has so many versions typical to that of south indian cuisine. I make a coconut less version of this too but nothing beats the flavor of dry coconut in this kuzhambu. This tastes best when eaten the next day. And never attempt this recipe without any other oil other than sesame oil.)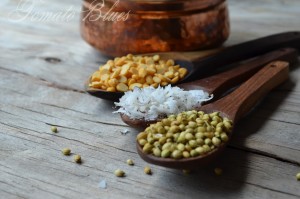 Ingredients
Baby brinjals 10
Tamarind extract 2 cups from tamarind the size of a lemon
Sesame oil 1/2 cup
Jaggery grated 2 tbsp
Salt to taste
Spice Powder:
Dhania or coriander seeds 3 tbsp
Channa dal or bengal gram 2 tbsp
Urad dal 1 tbsp
Kopra or dry coconut grated 4 tbsp
Dry red chilies 12
Hing a large pinch
Fenugreek seeds or methi 1 tsp
Salt 1 tsp
Sesame oil 1/2 tsp
Tempering:
Curry leaves a sprig
Mustard seeds 1 tsp
Hing a small pinch
Sesame oil 2 tsp
Directions
In a pan, add 1/2 tsp of oil and roast all the ingredients for the spice powder except the dry coconut. Allow it to cool. Blend to a not so coarse not so fine powder in a blender. Set aside.
Keeping the stalks intact, make a criss cross on the top of the brinjals carefully taking care not to halve them completely. The idea is to make the stuffing stay inside.
Now, stuff about 2 tsp of stuffing into each of the brinjals in the cut made. Set aside. You will have some of that spice powder left. Save it cos we are going to use it later.
Heat the 1/2 cup oil in a pan.
Drop the stuffed brinjals gently one by one and cook them until tender on medium low flame. Turn them gently so that they cook on all sides. Takes about 4 to 5 mins.
Once done, add the rest of the spice powder and mix gently.
Now add the tamarind extract, 1/2 cup of water, the grated jaggery and salt and mix well.
Let it simmer until oil separates from the mixture.
Once done, temper with curry leaves, mustard seeds and hing.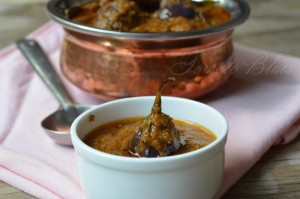 Serve hot with steamed rice and poppadoms.
Sending this to MLLA 50 hosted by Susan this month