Chow Chow Curry Recipe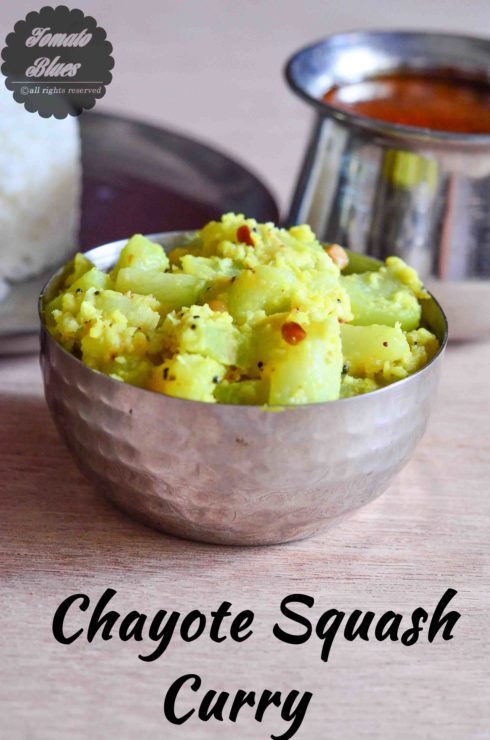 Chow chow curry is nothing but a simple indian style curry made with Chayote Squash. lentils and coconut. We never find Chayote Squash where i live. So, if someone comes from Chennai or Coimbatore, this squash is something i request to be brought along. Mr.P and i are huge fans of Chow Chow. Now, Chow Chow must not be confused with Chow Chow bath that is served in Bangalore in many hotels. While the first is a combination of Kesari and Upma served together, chow chow curry is a poriyal, like we call it in Tamil. I ll tell you why Chayote Squash or Chow Chow is one of my star veggies. I love the sweetish taste of the vegetable. When cooked to fork tender, it has the tendency to combine well with other flavoring ingredients, in this case being the humble yet mighty coconut. It pairs well with almost everything ranging from Kara Kuzhambu to the basic rasam. Why, we even eat it with Phulkas. So if a recipe is really this flexible, then it has to find itself on the blog, ain't it?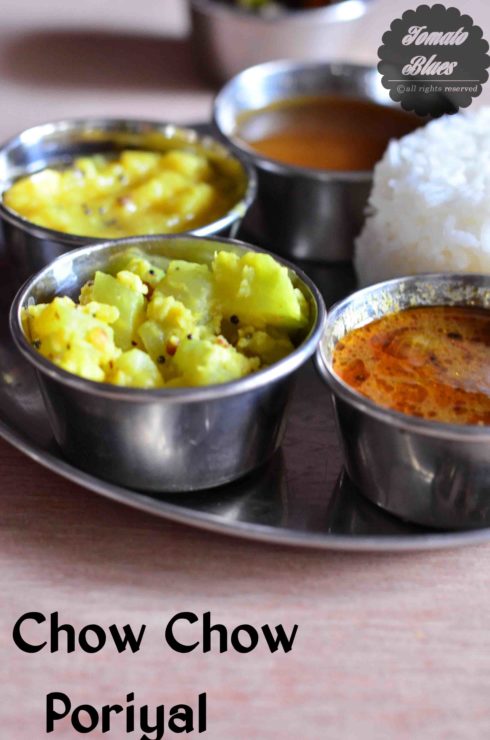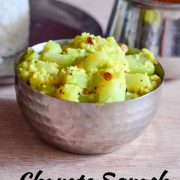 Print Recipe
Chow Chow Curry
A simple curry made by sauteeing Chayote Squash, coconut and dal.
Ingredients
Chayote Squash/ Chow Chow/ Bangalore Kathrikai 2 medium peeled

cored and cubed.

Toor dal 2 tbsp

Turmeric powder 1/2 tsp

Freshly grated coconut 2 tbsp

Curry leaves a sprig

Oil 1 tsp

Mustard seeds 1 tsp

Urad dal 1 tsp

Dry red chilies 2 torn

Salt to taste
Instructions
Combine the toor dal with 1/2 c water and pressure cook to a mush.

In the meanwhile, par boil the chow chow until fork tender. For this, i used my microwave. I cooked the chow chow in 2 c of water on high for 10 mins.

Once done, drain the water completely from the chow chow and set aside.

When the dal is cooked, drain water and set aside.

Heat oil in a pan.

Pop the mustard seeds and tip in the turmeric,urad dal, curry leaves and dry red chilies.

Once the dal turns a light brown, add the cooked chow chow, salt and toor dal.

Mix well.

Now add the grated coconut and mix well.

Serve hot
Notes
I was cooking toor dal for some other recipe while i made this. So i did not have to cook it separately. However what i have mentioned is a scaled down amount of uncooked toor dal. In case you have cooked dal ready, you will need about 1/3 c of cooked dal for this recipe.
Make sure you drain the cooked squash and the cooked dal completely of water before adding it to the pan.
Frozen coconut, after thawing, can be used in place of freshly grated coconut.
For Instant Pot & Air Fryer Recipes
Instant Pot timings may vary based on your geographic location. Air fryer settings and timings may vary based on the capacity and the model of the Air fryer.
Disclaimer
Nutrition values are provided here as a courtesy and are only a rough guide. Please consult a health care provider if you have any concerns.