Have i ever told you how the fridge is the single most loved appliance in my world? When my fridge fails, i ve nightmares. I worry about all that spring roll wrappers in the freezer. Oh wait! what will happen to my butter? Or that new block of golden cheddar that i picked up from the grocers' last week.
Not to mention all those fresh veggies, the milk, cottage cheese, curd and the dosai maavu that i sweat copiously and grind every week. Ok. I said that sweating part just to spice up the post. I make my dosai maavu in a grinder and that s literally no sweat at all but hey! i cant stand my maavu going to a waste.
Like there were these three heads of broccoli that i picked up the last time i went to my magic store here. Mind you. Broccoli is pricey here. They dont come cheap. And cheap or not, i dont like my veggies meeting a sad fate anytime. I like them landing up in my tummy and not in the trash.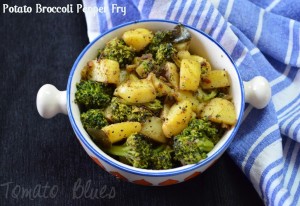 So you can imagine my horror when the fridge came to a stand still the last week. I dint get a wink. I lay awake for a whole night wondering what would happen to all those goodies that i stow away secretly far far away from Mr.P s roving eyes. Moral of the story. A fridge is indispensable in any kitchen.
I woke up the next day and decided that i shall save what i can in the fridge and immediately rushed to the vegetable drawer to rescue that last head of broccoli from impending disaster. It was 7'o clock in the morning when i decided on my rescue mission. And that rescue mission fetched some fabulous results for me. One of which is this broccoli potato pepper fry. Want to know what s the other one? My fridge set itself right magically at 10 in the morning. So much for not getting a wink.
Recipe For Broccoli Potato Pepper Fry
(Broccoli and potatoes sauteed with pepper)
Broccoli 1 large head cleaned and separated into florets
Potato 2 medium peeled and cubed
Black pepper powder 1.5 tsp
Steam the broccoli and potato together for about 10 mins. I steamed them on my microwave on high for 10 mins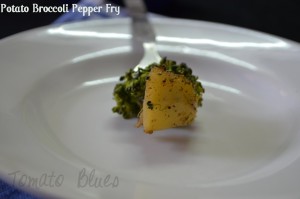 Pop the mustard and add the urad dal. Cook till the dal turns light brown.
Add the curry leaves next.
Toss in the potatoes and cook for 5 mins on medium flame.
Now, add the broccoli next and mix well.
Cook till the broccoli wilts.
Add salt and pepper and combine well.
Cook further till the broccoli and the potatoes turn light brown.
Once done, remove from flame.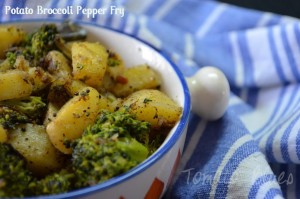 Serve hot with rice and this tasty sambar.