Let me be honest here. I m not a fan of bitter gourd. Mr.P eats it though but not with much fervor. But then, when i amble along the farmer s market and my eyes chance upon them, i do feel that sudden upsurge of guilt in me. Amma s voice admonishing in the back of my head for not eating my veggies right. And then, i ll go all in a frenzy and buy half a kilo of them. Only to regret the decision later and give away the gourds to the maid. That s my love hate relationship with bitter gourds.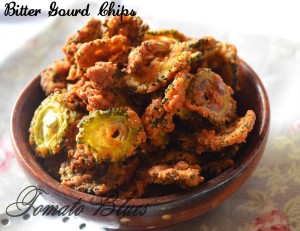 There s one exception to the vegetable though. Bitter gourd chips are my favorite.Maybe because i can munch on them guilt free. Whatever the reason, i ve been in love with these chips since the time i got to taste them at Adyar Anand Bhavan some years back. The chips were forgotten for a while until i saw them at the store on my last trip home. From then on, i wanted to make them at home and finally here they are. I m sure you will enjoy them. Even the bitter gourd haters out there.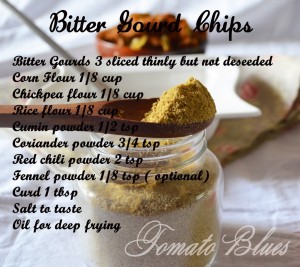 (This recipe requires an enormous amount of patience. Dont drop the coated bitter gourds in a cluster. Make sure each one of them is separate. I wanted to add sesame seeds to the batter but then forgot at the last minute. In case you experiment, let me know. Dont remove the chips from the oil until the hissing sound subsides. Or you ll land up with soggy chips. More like bitter gourd bajji. Get my point? In case you want to make a large batch, then after you fry them completely at 200 C for about 10 mins. And dont add more liquid than mentioned in the recipe. The amount of liquid is the key factor in getting the chips crunchy munchy.)


Prep Time: Under 15 mins


Cook Time: Under 20 mins


Yields about 2 cups


What You Need?
Bitter Gourds 3 sliced thinly but not deseeded
Corn Flour 1/8 cup
Chickpea flour 1/8 cup
Rice flour 1/8 cup
Cumin powder 1/2 tsp
Coriander powder 3/4 tsp
Red chili powder 2 tsp
Fennel powder 1/8 tsp ( optional)
Curd 1 tbsp
Salt to taste
Oil for deep frying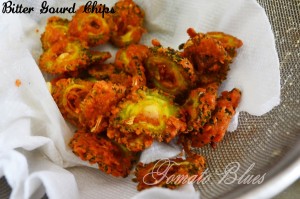 How To Make It?
In a large mixing bowl, place the bitter gourds and all the other ingredients except the curd and the oil.
Combine well.
Now, add the curd and mix well ensuring that the batter coats the gourd slices evenly and generously.
Heat oil in a pan.
Wait until it reaches the right heat. Make sure the oil is hot enough but not smoking.
Now, drop the bitter gourd slices one by one.
Reduce the flame to a low medium and fry till golden brown and the hissing sound from the oil subsides.
The whole quantity will get done in 2 to 3 batches but a lot of patience is required.
Once golden brown, transfer the chips onto kitchen towels and store in an airtight container.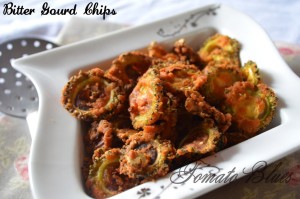 Snack on them while you enjoy a cup of hot coffee or a mug of chocolate.