My mom makes this totally super duper sambhar with freshly ground spices. And it only tastes like heaven. I just love drizzling ghee on my rice, like you know a full tbsp full and then pouring sambhar in the middle of the rice and mixing it. Then i lick my fingers. Licking is strictly prohibited in my family but i do it when i eat my mom s sambhar. That s how much i m addicted to it. When there are days like today, when i have this almost insuppresible desire to eat my mom s sambhar, i try and recreate her version in my kitchen.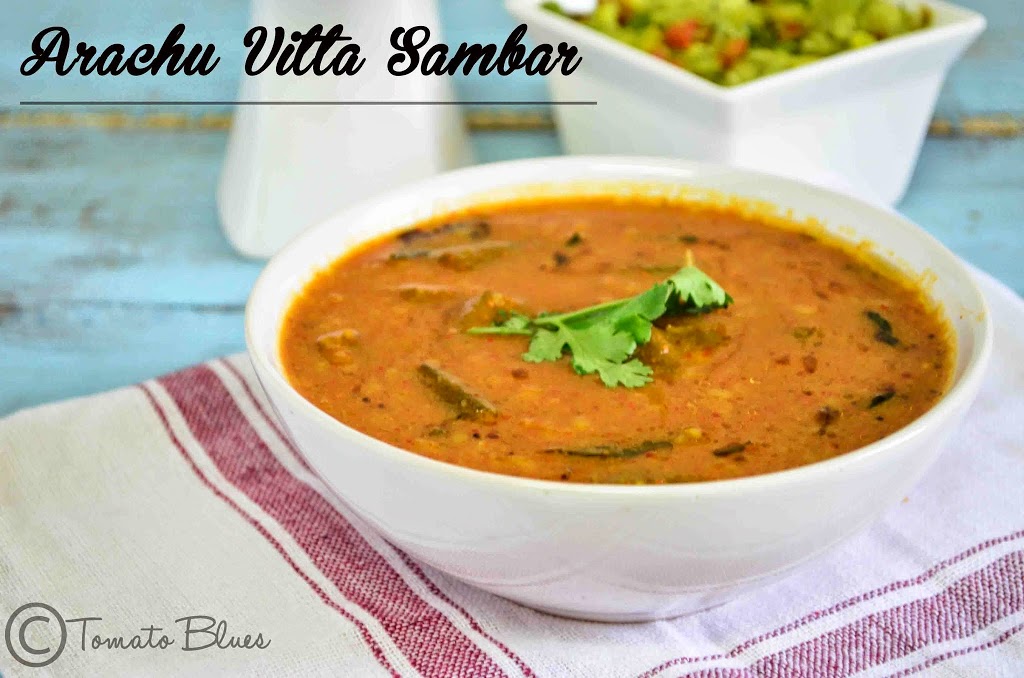 Recipe For Arachuvitta Sambar
( Learn To Make Sambar with freshly ground spices home style)

Prep Time: Under 20 mins
Cook Time: Under 20 mins
Source: Amma
Serves: 3
Allergy Info: Vegan, Nut and Soy Free
Course: Accompaniment for Rice
Cuisine: South Indian
Ingredients
Drumsticks 2 to 3 cut into long 1″ pieces
Toor dal boiled 1 and 1/2 cups
Tamarind extract from a gooseberry size tamarind about 1 and 1/2 cups
Sesame oil 1 tbsp
Salt as needed
For The Spice Paste
Channa dal 2 tbsp
Coriander seeds 2 tbsp
Dry red chillies 6
Poppy seeds ( Yes! i said poppy seeds and please do try. Only then you will know how wonderful the flavour is) 1 tsp
Shallots 8
Fenugreek seeds 1 tsp
Freshly grated coconut 4 tbsp
For Tempering;
Curry Leaves a sprig
Mustard seeds 1 tsp
Hing a large pinch
Sesame oil 1 tbsp
Directions
Boil the drumsticks until cooked. Dont overcook them. I would recommend cooking them on stove top or Microwaving on high for 10 mins.
First, saute all the ingredients in a kadai for grinding except the coconut until the coriander seeds become aromatic and the dal becomes light brown.
Drain the water from the drumsticks and mash the toor dal well.
Heat a kadai and add the remaining oil.
Now, toss in the drumsticks and saute for a min or 2
Next, add the tamarind extract and salt and let it start boiling.
In the meanwhile, grind all the ingredients along with the coconut in a mixer to paste.
Check to see if the raw smell in the tamarind extract has gone.
It takes about 5 to 7 mins.
After this, add the ground paste and mix well.
Simmer for 2 mins.
Add the boiled dal and combine well.
Simmer until bubbles start appearing on the surface of the sambhar.
Remove from heat and temper with mustard seeds, hing and curry leaves.
Serve hot with rice, idly or dosa.
And i must say this, this sambhar tastes heavenly the next day.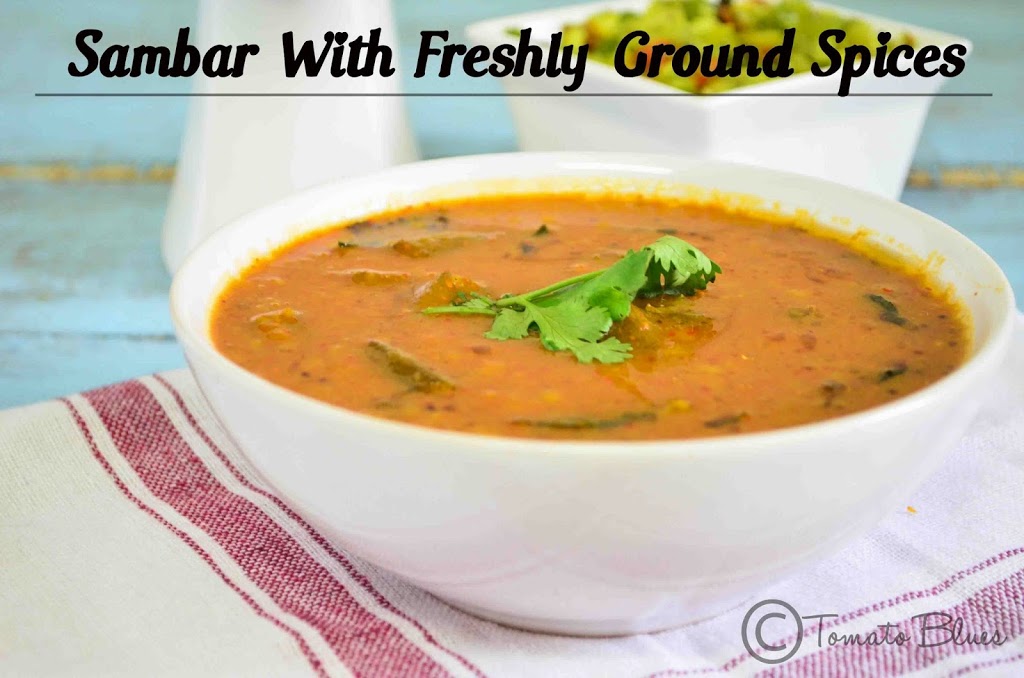 Note: Use sesame oil for a nice flavour.
Dont skip the poppy seeds. They give a wonderful aroma and flavour to the sambhar.
Serving Suggestions: Potato Podimas ,Capsicum Paneer Masala Dosa