I really dont know if this version of tomato kuzhmabu is authentic chettinad. But what i do know is that, whenever i make this kuzhmabu, Mr.P and i fight for it till the last tiny spoon tooth and nail. In fact, there are times when the kuzhmabu has spilled over midst all the pulling and shoving. And then both of us put up sorry faces and vow never again to fight for the kuzhambu, only to fight for it again the next time, this is made.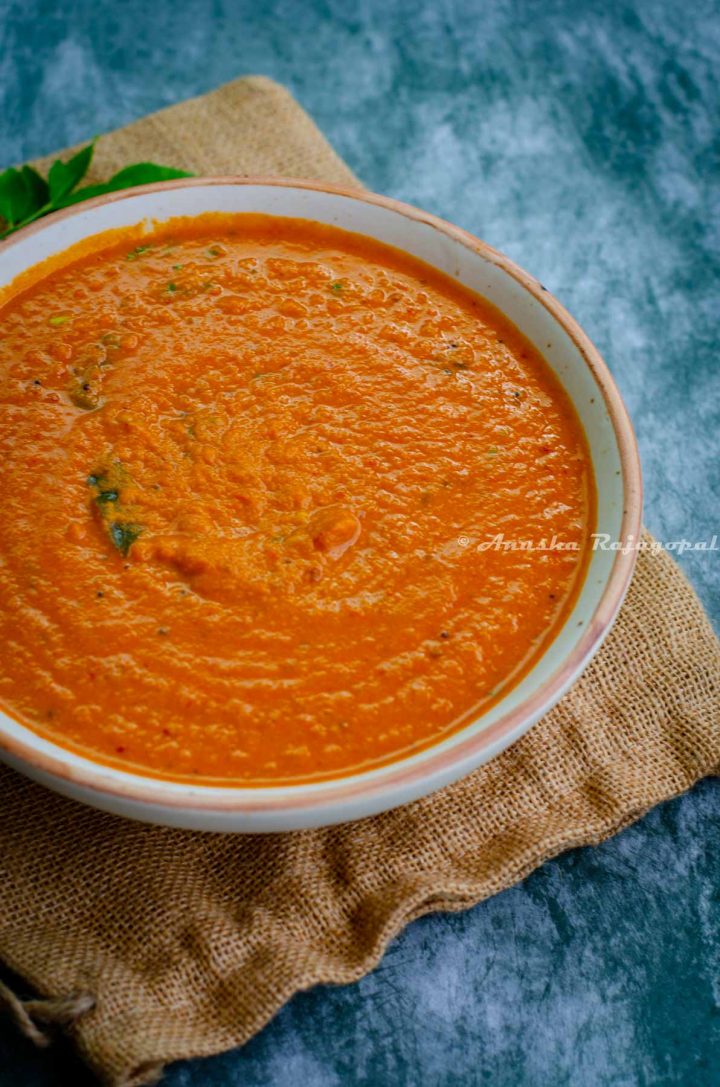 This is not made in both my marital and maternal households. In fact, i made it a point to share this kuzhambu recipe with both amma and athai once i discovered how enchanting this can be. Sorry, i cant find a more befitting word than enchanting for this kuzhambu. And i m wondering, as i type, as to why i dint bother sharing the recipe with you all. All good things come in time. And this applies to the tomato kuzhambu too.
Recipe For Tomato Kuzhambu
( A tangy stew made with tomatoes and poppy seeds. Tastes best when made with country tomatoes)
Prep Time: 15 mins
Cook Time: 25 mins
Serves 2
Level: Easy
Ingredients
Country tomatoes 4 to 5 large ripe ones chopped into bite sized pieces
Tamarind pulp from a marble s size soaked in 1/4 water for 10 mins or Tamarind paste 1 tsp
Shallots 5 chopped finely
Oil 2  tbsp divided
Fenugreek seeds 1/2 tsp
Fennel seeds 1/4 tsp
Mustard seeds 1/2 tsp
Curry leaves a sprig
Salt to taste
To Be Ground To A Paste:
Shallots 5
Garlic 2 cloves
Freshly grated coconut 3 tbsp
Poppy seeds 1 tsp
Fennel seeds 1/2 tsp
Chili powder 1 tsp
Turmeric powder 1/2 tsp
Oil 1 tsp to fry shallots and garlic
Coriander leaves for garnish
Directions
In a pan, heat 1 tsp of oil and fry the 5 shallots and garlic till light brown. Let cool completely.
Add this to the grated coconut, poppy seeds, fennel seeds, chili powder and turmeric powder and grind to a smooth paste adding little water. Set aside.
In the same pan, heat oil and fry the tomatoes till mushy.
Let cool and grind again to a smooth paste. Add little water if required.
Now, heat the remaining oil in a pan. Use a fresh pan preferrably.
Pop the mustard seeds and add the fennel, fenugreek and curry leaves next.
Now, add the shallots and fry till light brown.
Add the tomato paste and the tamarind pulp and mix well.
Let it simmer for 3 to 4 mins.
Once it thickens and oil starts to leave its sides, add the ground coconut paste and mix well.
Add salt and 1 cup of water and let it simmer for 5 mins on medium flame.
Once done, garnish with coriander leaves.
Serve hot with idlies or sponge dosa