How To Make Sundakkai Kuzhambu With Fresh Turkey Berries?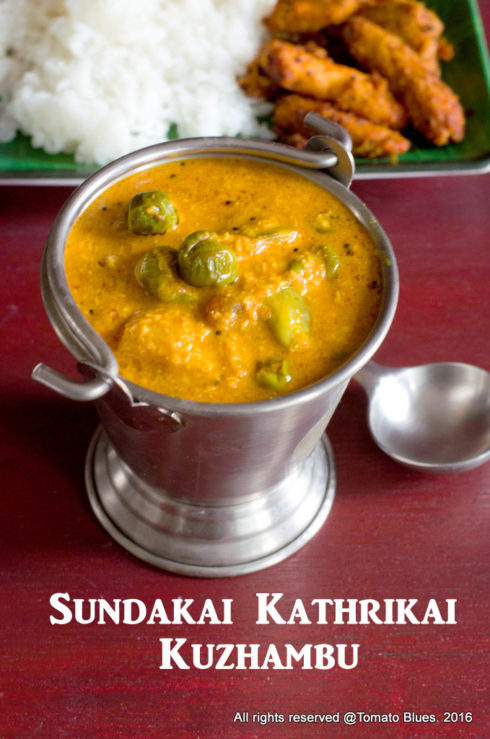 Sundakkai Kuzhambu is a delicious gravy made the Chettinad style with fresh turkey berries. Turkey berries also known as Sundakai in Tamil is a common sight in many houses. You can even find turkey berry plants by the road side in many places. My mom's house has this large turkey berry plant growing right next to her fencing. And she never cooks with them. I always heave and sigh when i see those berries. I make vada with these turkey berries. But our favorite is this tangy Sundakai kuzhambu with so many flavors. The above picture is a regular affair in our house. We eat sundakkai kuzhamu with hot rice and some deep fried vegetable like potato or taro root. I also make sure that there are some crunchy appalams freshly fried to go along with our sundakai kuzhambu. Turkey berries have a mild bitter taste. So, these are generally cooked along with another vegetable and tamarind. This sundakkai kuzhambu has eggplant along with turkey berries in it and is simmered in a spicy tamarind based paste. It is then tempered with mustard, fenugreek and fennel. Of course, some curry leaves are thrown into this sundakkai kuzhambu too. Can good food exist without curry leaves? Not in my opinion at least. Shall we now check out how to make sundakkai kuzhambu step by step?
Step By Step Instructions To Make Sundakkai Kuzhambu
Peel the shallots. Quarter the eggplants. Crush the turkey berries with a pestle. And set aside.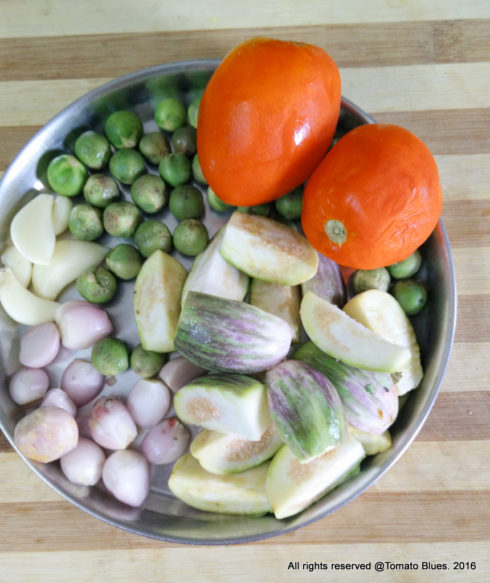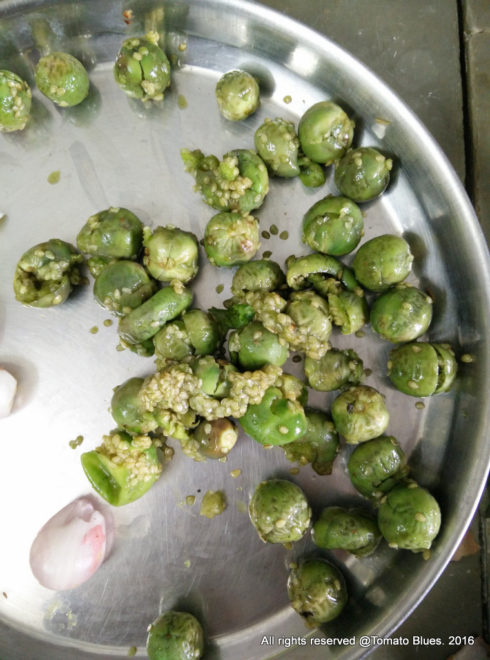 Soak the tamarind in warm water for 15 mins. After 15 mins, extract tamarind juice out using the soaked tamarind and discard pulp. In the meanwhile, grind together the grated fresh coconut, garlic, red chili powder, turmeric powder, fennel seeds and poppy seeds using water to a smooth paste. Please note that i do not have access to white poppy seeds any more because i live in Singapore and it is illegal here. This picture was shot in India and this kuzhambu was made during my last month of stay in India. Understandably the reason behind such blurry pictures which were shot hurriedly with my mobile camera.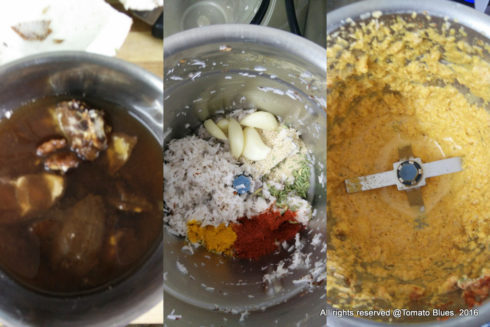 Heat a pan with oil. Add the shallots and fry till they turn pink. Now add the turkey berries and eggplants and give a toss. Tip in the tomatoes next and cook on medium flame for 2 to 3 mins.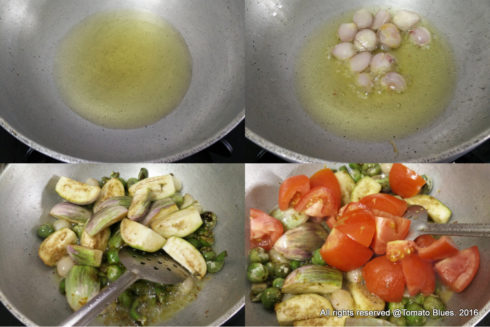 To this mixture, add coriander powder and sambar powder and mix well. Now add the tamarind extract and ½ tsp of kashmiri chili powder. I add this only for the color and its completely optional but highly recommended.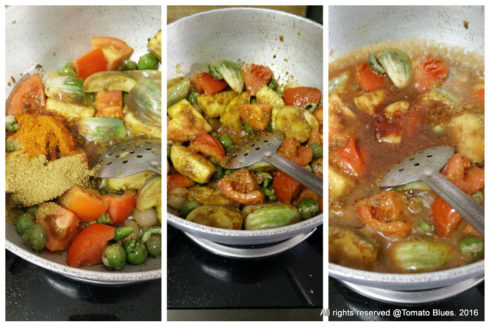 Simmer this mixture for about 5 mins on medium flame. Once the raw smell of the tamarind leaves, add the ground paste along with salt to the mixture and mix well. Simmer for another 5 to 7 mins until the raw smell of the paste goes away.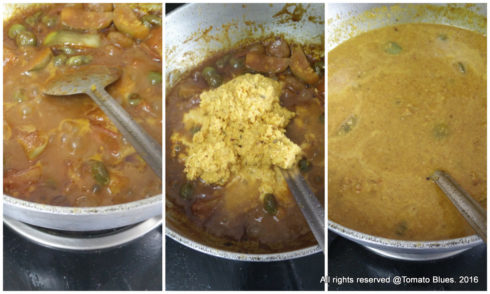 Heat a pan with sesame oil. Pop the mustard seeds and quickly tip in the cumin, fenugreek and fennel seeds along with the urad dal. Add a sprig of curry leaves at this stage if you have some. I did not have any on this fateful day. Sigh! 🙁  Once the dal turns golden, add this to the kuzhambu and give a good mix. Your sundakkai kuzhambu is now ready.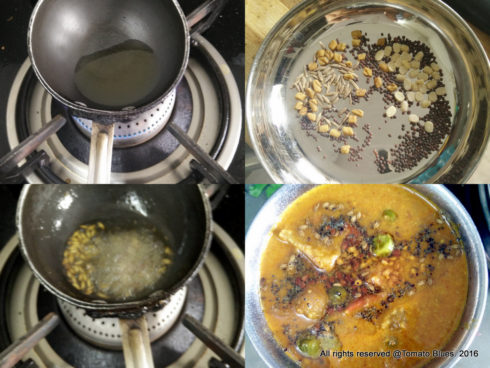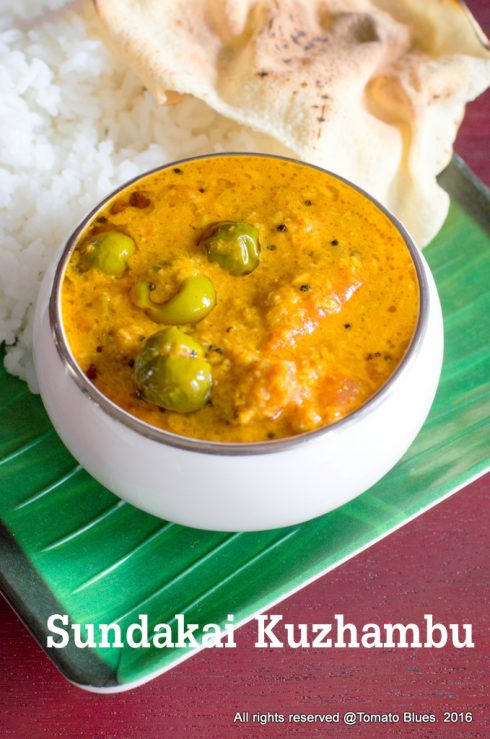 Recipe For Sundakkai Kuzhambu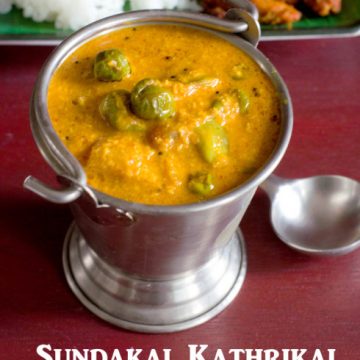 Sundakkai Kuzhambu Recipe With Step By Step Instructions
Sundakai kuzhambu is a tangy gravy made with fresh turkey berries and eggplant. It tastes best when eaten with hot rice.
Ingredients
Turkey berries 15 crushed with a pestle.

Eggplant 4 quartered

Shallots 6 to 7 peeled

Tomato 1 large chopped into cubes

Tamarind a small marble size

Salt to taste

Oil 2 tbsp

Spice Paste:

Freshly grated coconut 3 tbsp

White poppy seeds 1 tbsp

Fennel seeds 1 tsp

Garlic cloves 4 to 5

Red chili powder 1 tsp

Turmeric powder 1 tsp

Water ¼ c

Spice powders:

Kashmiri chili powder ½ tsp

Sambar powder 1 tsp

Coriander powder 2 tsp

To Temper:

Sesame oil 1 tbsp

Mustard seeds 1 tsp

Fennel seeds 1 tsp

Fenugreek seeds 1 tsp

Urad dal 1 tsp

Curry leaves 1 sprig
Instructions
Soak tamarind in warm water for 15 mins and make an extract amounting to 1 cup. Add water accordingly to dilute the extract,

Heat 2 tbsp oil in a pan.

Add the shallots and fry till pink.

Now add crushed turkey berries and eggplants and saute for a minute or two on medium flame.

Add chopped tomatoes next and mix well. Cook for 2 mins on medium flame.

To this mixture add coriander powder and sambar powder. Mix well.

Add tamarind extract to this along with the kashmiri chili powder and simmer for 5 mins till raw smell of tamarind goes away.

In the meanwhile grind all the ingredients for the spice paste to a smooth paste using ¼ c of water. Use your blender to do this.

Once the raw smell of tamarind goes away, add the spice paste along with salt to the mixture and simmer for another 5 to 7 mins until the raw smell of the spice paste goes away.

Heat a pan with sesame oil.

Pop the mustard and quickly tip in cumin seeds, fenugreek seeds, fennel seeds and urad dal along with the curry leaves.

Once the dal turns golden, add this to the kuzhambu and mix well.

Serve with hot rice and appalam
Pin This Recipe
Pin this recipe and save for later