Who doesnt like lady s fingers? What a nice name for the vegetable!! I mean, they are truly like our fingers, delicate looking, long. Only they dont need manicures. I dont know a single kid who doesnt like lady s finger.
Its a personal favourite. When i made this at home, it vanished from the bowl in no less than 20 mins.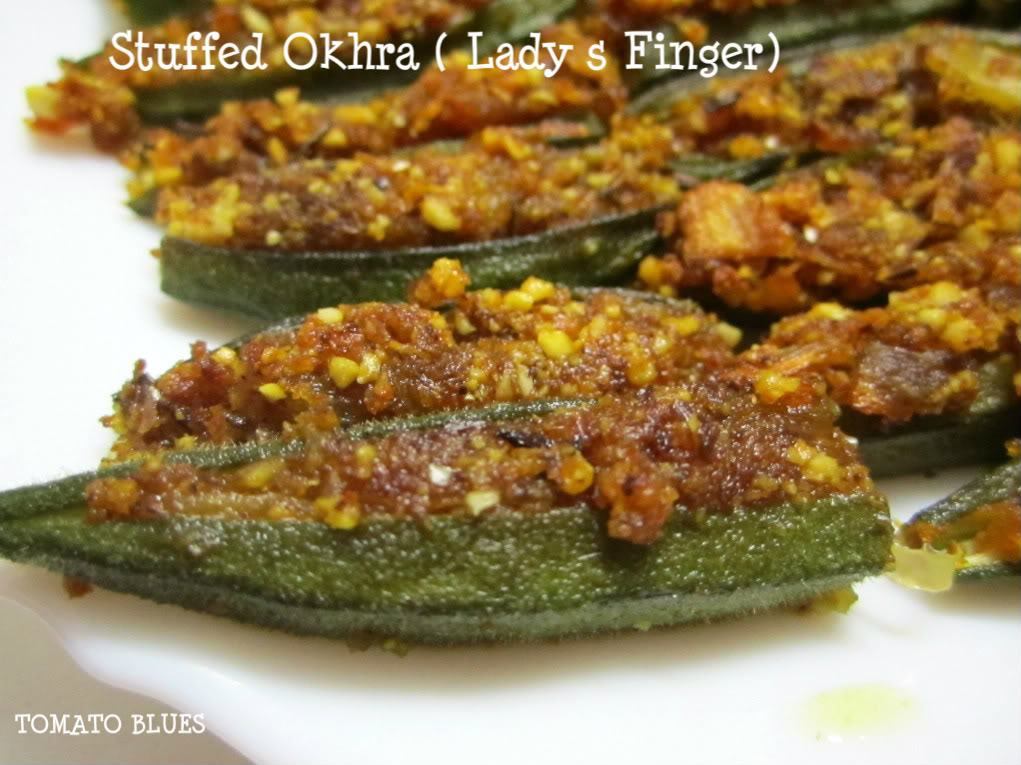 Prep Time: Under 20 min
Cook Time: 30 to 40 mins
Serves 2


What you need?
Lady s finger fresh ones 30 numbers
Oil 2 tbsp
For the stuffing:
Grated coconut 1 cup
Peanuts 1/2 cup
Onion 1 large chopped finely
Chilli powder 1 tsp
Cumin seeds powder 1 tsp
Turmeric Powder a large pinch
Coriander powder 1 tsp
Cumin seeds 1 tsp
Ginger garlic paste 1 tsp
Salt 1 and 1/4 tsp
Oil 1 and 1/2 tbsp
How to make the stuffing?
First, dry roast the peanuts in a dry kadai without any oil until crisp. Takes about 7 mins. Keep aside.
Heat oil in the same kadai. Add the jeera and saute for 30 secs. Add the turmeric powder.
Add the onions next and saute till light brown. Next add the ginger garlic paste.
Now add the coconut and saute for a minute.
Add all  the spice powders, combine and keep aside.
Remove the peel from the peanuts and powder them in a mixer to a coarse powder.
Add the peanut powder and salt to the onion mixture and combine well.
How to stuff the Okhra?
First clean and wash the lady s fingers.
Next dry them on a kitchen towel.
Remove the stalk and make a slit vertically in the okhras.
Now, stuff the okhras with a little of the stuffing,
Preheat the oven to 375 F.
Rub oil on the okhras.
Grease a baking tray and place the okhras.
Bake for 30 mins to 40 mins.
Serve with rice or phulkas.