There are some days when i crave for comfort food. Read ghee, potato deep fried and appalam. Those days are when i m low on spirits or when i m missing amma. Its mostly got to do with spirits. When the proverbial crap hits the fan, i turn to awesome potatoes deep fried and coated with masala, steaming hot rice and some tangy tomato rasam. And then i try and lift my spirits some more by adding about half a cup of full fat yogurt to a cup of rice and gobble it down with some more of that potato fry and a spoonful of mango pickle. Of course what follows is evidently not a spirit lifted me but in reality, a sleepy droopy eyed me who hits the sack in exactly five minutes after i finish my meal.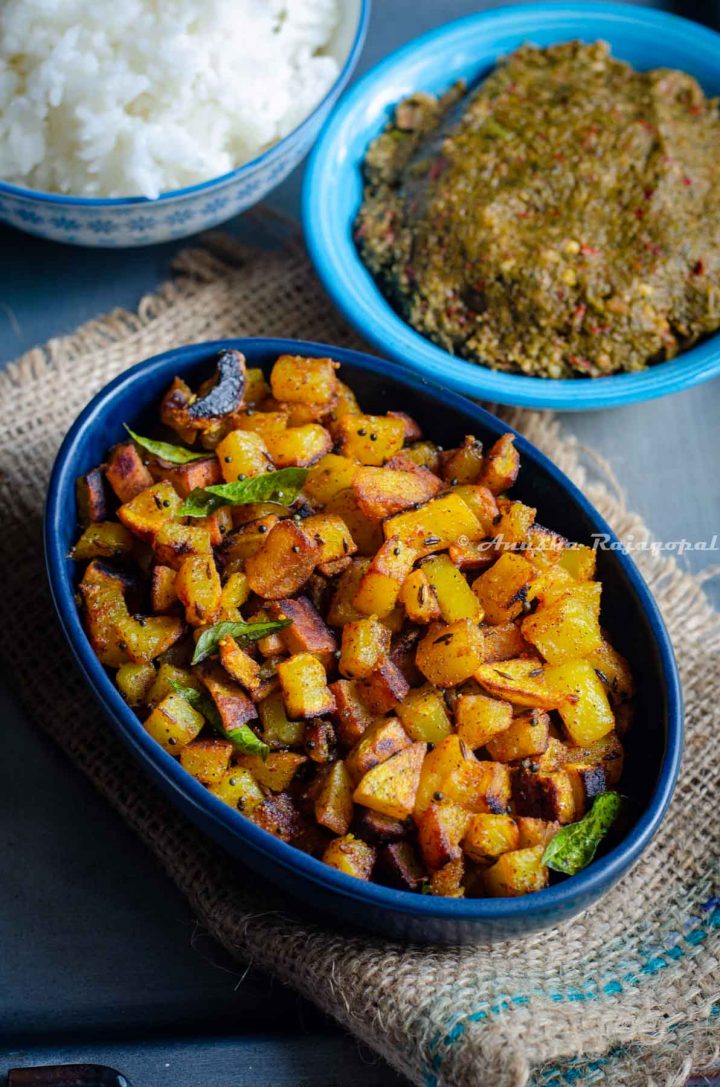 Everything feels better when i wake up from my siesta and i m back in the game.Believe me that s what good food can do to you. Everybody has their own perception of comfort food. And here s presenting to you mine. Well, there s the curd rice and tomato rice raved about here and i guess it s time to give you all a heads up on the ritualistic potato fry recipe that i have.
Recipe For Potato Fry
(Potatoes cubed and fried with spices)
Prep Time: Under 10 mins
Cook Time: 15 mins
Serves 2
What You Need?
Potatoes 2 large peeled and cubed
Turmeric powder 1/4 tsp
Sambar powder 2 tsp
Chili powder 1/2 tsp
Hing a large pinch
Mustard seeds 1 tsp
Urad dal 1 tsp
Curry leaves a sprig
Oil 1.5 tbsp
Salt to taste
How To Make It?
Heat oil in a pan and pop the mustard.
Add the urad dal and saute till it turns light brown.
Now,add the turmeric powder, hing and curry leaves.
Wait till curry leaves change color slightly.
Toss in the cubed potatoes, combine well and cook on low medium flame until potatoes are slightly roasted and cooked evenly. Takes about 8 to 10 mins.
Now, add the salt, sambar powder and chili powder to the potatoes and mix well.
Cook for a minute more to let all the spices mix well with potatoes.
Once done, switch off the flame.
Serve hot with rasam and rice.