How To Make Sweet Potato Curry Or Sakkaravalli Kizhangu Poriyal?
Poriyal Recipes. Sakkaravalli Kizhangu Poriyal is a spicy curry made with freshly ground spices.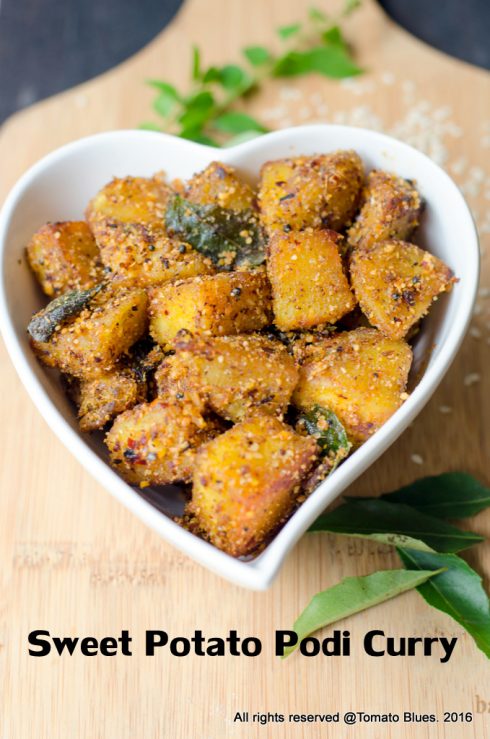 Sakkaravalli Kizhangu Poriyal, a spicy dry curry made with sweet potato is a wonderful dish that has a delicate balance of flavors. My daughter loves sweet potatoes. She likes them fried or boiled but prefers the fried version to the boiled one. I got a toughie here, i tell you. So i almost always buy a bag of sweet potatoes during my weekly trip to the vegetable market. One Sunday, when i was painstakingly peeling a sweet potato for my daughter, my husband, the not so eloquent Mr.P with a horrible sense of timing, asked me if they were only restricted to Lil A. I was obviously dumb stuck. The man was talking as though i had intentionally deprived him of sweet potatoes.  🙁 . So i immediately said no and quickly got to work making this spicy and delicious pan fried sakkaravalli kizhangu poriyal.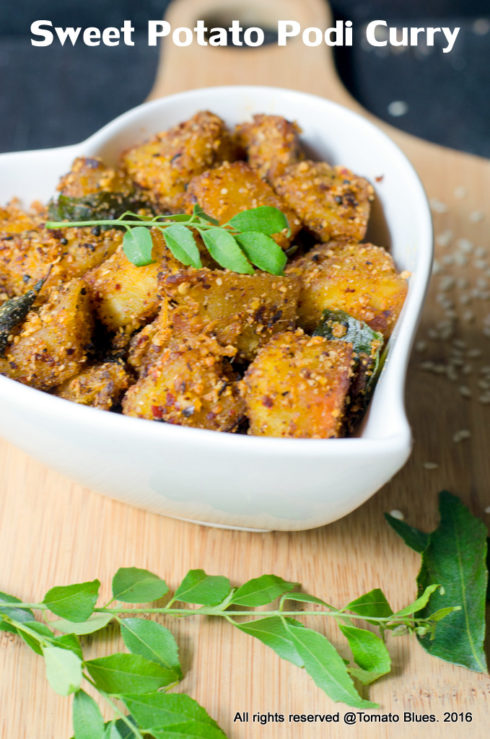 This sakkaravalli kizhangu poriyal is made with freshly ground spices, curry leaves, sesame seeds and dessicated coconut. When i began making this poriyal, i had no idea how it would be received. But as always, Lil A surprised me by picking these from her father's plate and relishing them. So, i knew i had a winner here. The only thing to be kept in mind when making this Sakkaravalli kizhangu poriyal is not to overcook the sweet potato. Even if they are a wee bit under cooked, it is ok because it will get cooked completely as we fry it up in the pan. This sakkaravalli kizhangu poriyal tastes great with any spicy kuzhambu like this Arachuvitta Vathal Kuzhambu. 
Recipe For Sakkaravalli Kizhangu Poriyal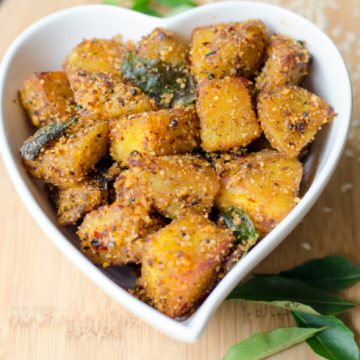 Sakkaravalli Kizhangu Poriyal Or Sweet Potato Curry
Sakkaravalli Kizhangu Proiyal is nothing but sweet potatoes pan fried with freshly ground spices
Ingredients
Sweet Potatoes 3 medium

Oil 2 tbsp

Curry leaves a sprig

Mustard seeds 1 tsp

Urad dal 1 tsp

Hing a small pinch

For The Spice Powder

Channa dal 1 tbsp

Urad dal 1 tbsp

Sesame seeds 2 tsp

Curry leaves 10

Dry red chili 2

Pepper corns 2 to 3

Cumin seeds ½ tsp

Coriander seeds 1 tsp

Dry dessicated coconut 1 tbsp

Salt to taste

Oil 1 tsp
Instructions
Place the sweet potatoes in pan and cover with enough water to just immerse them.

Pressure cook this until fork tender. The skin must come off easily when you try to peel.

Once done, drain all the water completely, peel the sweet potatoes and chop them into bite sized pieces.

Set aside.

Heat a pan with 1 teaspoon oil.

Add the channa dal and urad dal and fry till the dal turns golden.

Remove from heat and transfer to a plate to cool.

To the same pan, add the remaining ingredients mentioned under the spice powder heading except the coconut and fry till aromatic.

Remove and transfer to a plate to cool.

Now take the pan off the heat and add the coconut.

Give a quick toss until aromatic.

Quickly transfer this to the plate.

Once the mixture has cooled down, add salt and grind to a coarse powder in a blender. Set aside.

Heat a wide shallow pan with 2 tablespoon oil

Pop the mustard and tip in the urad dal and hing along with the curry leaves.

Now, add chopped sweet potatoes and shallow fry on medium flame until golden.

Make sure you keep tossing them gently once in a while.

This takes about 7 mins on medium flame

Now, add the ground spice powder and mix well.

Continue to cook on medium flame for about 2 to 3 mins.

Once done, remove from heat and serve hot with rice and kuzhambu
Pin This Recipe
Pin this recipe and save for later