If you all are wondering where i had scampered off to, all these days, then wonder no more. For i m here and i m here to tell you that my plate was overflowing this time with so many odd things to do that i simply dint have the time to either write a post or click a picture.
Lets talk about the bright side of life, shall we? Like say, fresh veggies? My last trip to the farmer s market compelled me to pick up over half a kg of fleshy plump ridge gourds, beautiful in their dull pastel greens. Like i have said before, my love for
ridge gourd
is immeasurable and i visibly do a cartwheels when i find them in the market. Which was the scene at the farmers market last week. Well i usually make a
thogayal
or a
dal
whenever i buy these gourds. So, this time, i wanted to do something different with it. I went ahead and made
some poriyal
or curry as we call it. I was a wee bit inhibited in the beginning to make a curry because a ridge gourd releases a lot of water but all my worries were futile, for the curry was a total sell out.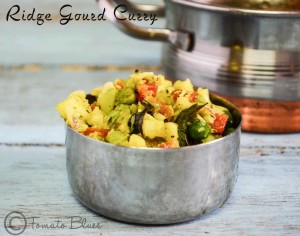 Recipe For Ridge Gourd Curry
( A vegetable curry made with ridge gourd, carrot, peas and potatoes)
Prep Time: 10 mins
Cook Time: 20 mins
Serves 2 generously
Level: easy
Allergy Info: Vegan, gluten free, nut free
Ingredients
Ridge gourd 1 large peeled and chopped into cubes
Potato 1 medium peeled and chopped into small cubes
Carrot 1 small peeled and cubed
Fresh green peas 1/4 c
Turmeric powder 1/4 tsp
Oil 1 tbsp
Mustard seeds 1 tsp
Urad dal 1 tsp
Curry leaves a sprig
Salt to taste
For The Dry Paste:
Coconut grated 2 tbsp
Green chilies 4
Corinader leaves 2 tbsp chopped
Ginger 1 tsp grated
Garlic 1 clove
Directions
Par boil the carrots, peas and potatoes until firm but cooked. I microwaved them together on high for 7 mins.
Once done, drain the water from them completely and let cool a bit.
Now, add the ingredients for the paste in a blender and grind coarsely without adding any water.
Heat oil in a pan.
Pop the mustard and follow with urad dal, hing and curry leaves. Wait till the dal browns a bit.
Now, add the ridge gourd and parboiled veggies and turmeric and mix well.
Cook until the ridge gourd wilts. The mixture will be a little watery but that wont affect the taste a wee bit.
Add the ground paste next and mix well.
Now cook until the mixture becomes a little dry.
Add salt next and combine well.
Cook further for a min.
Switch off flame and transfer to a bowl immediately.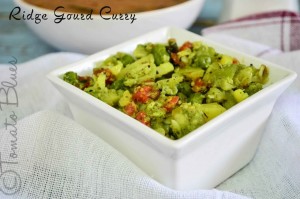 Serve hot with curry leaves kuzhambu and steamed rice.