Pudina Rasam Recipe With Step By Step Pictures ( Vegan and Gluten free)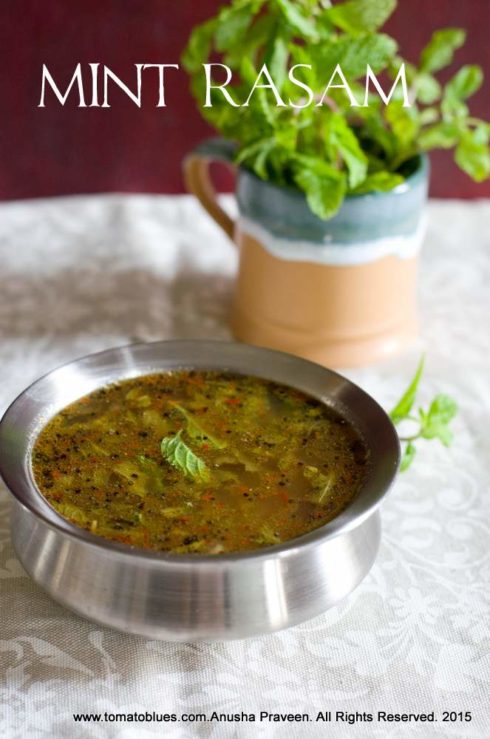 Pudina rasam is a refreshing way to enjoy the otherwise boring and everyday rasam. This Pudina Rasam recipe calls for roasting and grinding ingredients freshly unlike the regular rasam that uses premade rasam powder. During summer, it is wise to choose foods that will cool our bodies and aid in digestion. While watermelons, cucumbers and yogurt are some of the other ingredients that keeps our bodies cool, mint and coriander are also excellent herbs that are not only body coolants but also good digestives. Usually mint is used in flavoring beverages or in chutneys. This rasam is different in that sense because it relies largely on mint or pudina for flavors. No other flavoring agent including hing or asafoetida is used in this Pudina rasam recipe so that the mint flavors in the rasam can be kept intact. This is a recipe that i have been making for years now ever since i discovered it in Mrs. Menu Rani Chellam s book. And i must say, whenever i  have made it, people have relished it and asked me for the recipe. So try this Pudina rasam recipe this summer. Let us now learn how to make pudina rasam with step by step pictures.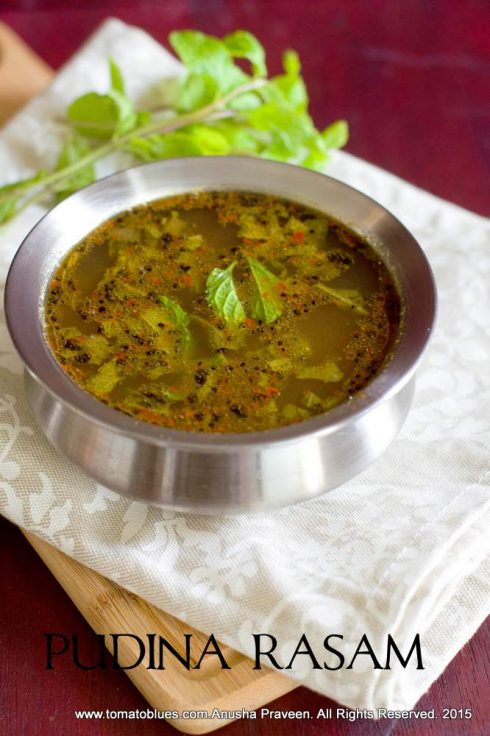 Pudina Rasam Recipe With Step By Step Pictures
Soak the tamarind. Clean the mint leaves. Keep coriander seeds, toor dal, chilies, pepper and cumin ready for roasting.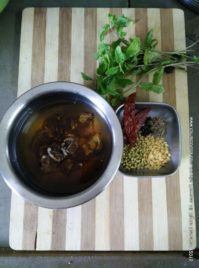 Pressure cook toor dal. Drain water and reserve. Extract the pulp out of soaked tamarind and set aside.
Heat oil in a pan. Roast coriander seeds, toor dal, pepper, cumin and dry red chilies till dal turns golden.
Place the roasted ingredients in a blender and grind to a powder.
To the extracted tamarind pulp, add ground powder, salt and turmeric.
Place on medium flame and cook till frothy.
To this add reserved dal water and let simmer for 2 mins. The mixture will froth further. At this stage, add the cooked and mashed toor dal.
Now add finely chopped mint leaves to this rasam. Simmer till the mixture is completely frothy.
Heat oil in a pan. Pop the mustard and add this to the rasam. Garnish with a few mint leaves.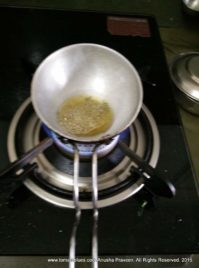 Mint rasam is ready.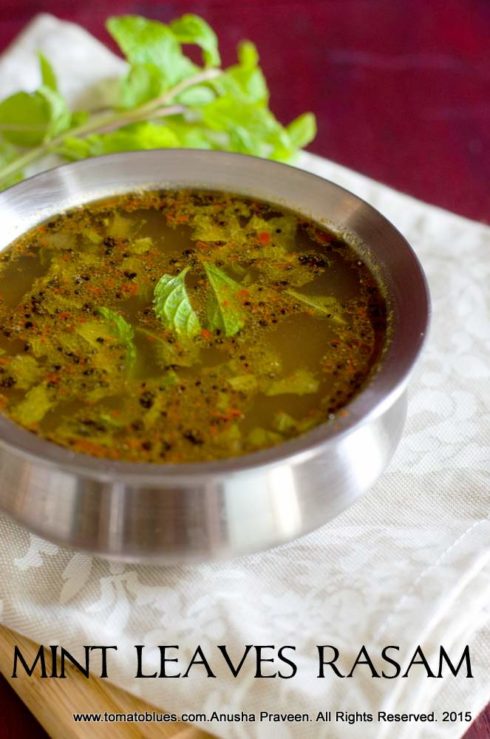 Serve this rasam with Spicy crispy yam fry or Snake gourd varuval. If you are interested in more rasam recipes, then please check out Lemon Rasam, Onion Rasam, Vendhaya Rasam,  Pineapple Rasam, Tomato Rasam and  Cumin Rasam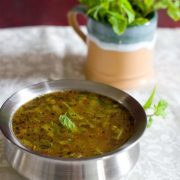 Print Recipe
Pudina Rasam Recipe
A flavorful and tangy broth made with freshly ground spice powder and mint leaves.
Ingredients
Tamarind a small marble size

Hot water 1.5 c

Toor dal 2 tbsp

Turmeric powder 1/2 tsp

Mint leaves a small bunch cleaned and chopped finely

Salt to taste

To Roast and Grind

Oil 1 tsp

Toor dal 1.5 tsp

Coriander seeds/ Dhania 1.5 tsp

Pepper corns 1/2 tsp

Cumin seeds 1/2 tsp

Red chilies 2

To Temper

Oil/ Ghee 1 tsp

Mustard seeds 1 tsp

To Garnish

Mint leaves 6 to 7
Instructions
Soak the tamarind in the hot water.

While it soaks, Heat oil in a pan.

Roast all the ingredients mentioned under To Roast and Grind until the dal turns a golden brown. Make sure you do this on medium flame.

Let cool.

In the meanwhile, pressure cook the toor dal with 2/3 c water until mushy.

Once done, drain water from the dal. Reserve this water.

Now, extract the pulp out of the soaked tamarind.

Discard the tamarind and dilute the pulp if it is too thick.

Mash the cooked dal.

In a blender, grind the roasted ingredients to a fine powder.

Now in a pot, combine the tamarind pulp, salt, turmeric powder and the ground powder.

Cook this on medium heat until frothy,

Once the mixture becomes frothy, add the reserved dal water.

Simmer for 2 mins.

Quickly add the cooked dal and simmer further for 2 more mins.

Add the chopped mint leaves at this stage.

Let cook for 3 more mins.

Switch off flame.

Heat a pan with oil.

Pop the mustard in this.

Add this to the rasam.

Garnish with mint leaves.

Serve hot.
Notes
I had cooked dal for some other dish while making this rasam. So i used a part of it for this. The amount mentioned is a scaled down measurement for this rasam.
For Instant Pot & Air Fryer Recipes
Instant Pot timings may vary based on your geographic location. Air fryer settings and timings may vary based on the capacity and the model of the Air fryer.
Disclaimer
Nutrition values are provided here as a courtesy and are only a rough guide. Please consult a health care provider if you have any concerns.