I wanted to scream out aloud this recipe before the Jack fruits disappear from the markets, only to make a comeback next summer. While so many seasonal fruits which were once seasonal have become quite unseasonal, making their appearances tad bit sooner in the markets, one never finds Jackfruit before the onset of the blessed Summer. One can hope to chance upon a plump watermelon or a bunch of lusciously green grapes around any time of the year but Jackfruit- no. There s not even a slight chance. In fact, there s every chance that you may get scorned at for going around looking for it. Such is the majesty of the Jack Fruit.
Now, i m a Jackfruit addict in and out. You wont find me saying no to the fruit anytime ever even if i m stuffed. I like it raw, i like it ripe and i like the seed. Now, i dont know if i m biologically correct when i call its seed the seed, but you see, i know it as the seed or the palakottai as it s called in Tamil and i like to keep it that way. Every year, when it s that time of the year to gorge on Jack fruit, its also time to relish some
sambar
with its seeds. And how can i not tell you all about the sambar, that makes me reach out to ladle after ladles of it.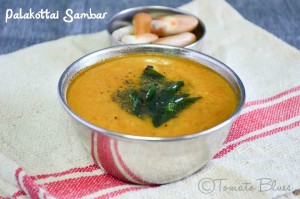 Recipe For Palakottai Sambar
( Lentil stew with Jack Fruit Seeds- Vegan and Gluten Free)
Prep Time: 10 mins
Cook Time: 30 mins
Level: Easy
Serves 3 to 4 generously
Ingredients
Jackfruit Seeds 10 to 12 pressure cooked till fork tender and peeled.
Shallots 10 chopped finely
Toor dal ( arhar dal/ split pigeon pea) 1/2 c pressure cooked till tender.
Tamarind extract from a gooseberry size ball of tamarind 1/2 c
sambar powder 2 tbsp heaped
Turmeric powder 1/2 tsp
Salt to taste
Sesame oil 2 tbsp
Mustard seeds 1 tsp
Curry leaves a sprig
Hing a small pinch
Directions
Pressure cook the seeds with enough water till fork tender. Takes 2 to 3 whistles but make sure not to overcook the dal.
Pressure cook 1/2 c dal with 1.5 cups of water and turmeric till mushy and overcooked. Once done, drain any water and mash well. Reserve the water.
Heat a pan with a tbsp of oil.
Add the shallots and saute till golden brown.
Add the jackfruit seeds and tamarind extract next.
Add salt and let it simmer till raw smell leaves of the tamarind leaves.
Now,add the sambar powder and mix well making sure there are no lumps. Add some of the drained dal water.
At this stage, add salt and cooked dal and mix thoroughly.
Let it simmer for 5 mins on medium flame.
Take off flame once the stew thickens a little bit.
Heat the remaining oil in a pan.
Pop the mustard seeds and add curry leaves and hing next. Add this mixture to the stew and mix well.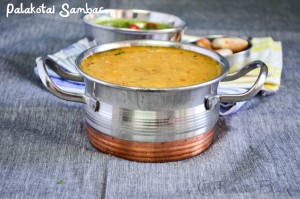 Serve hot with steamed rice and simple yellow squash stir fry