I ve probably said this a zillion times before but i wont tire of it. I am a true south indian. Especially when it comes to eating food.We like our daily thalis all complete with a kind of sambhar or kootu, poriyal, rasam and curd with hot rice and poppadoms. That said, it cant be concluded that the south indian platter is limited to just that. Every region in the south has its own signature dish and its almost ritual that once a person visits that region in the south, she has to taste the signature dish.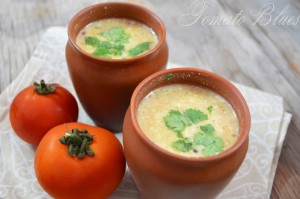 The south indian thali has not evolved much in the last 20 years or so and in fact, people are rediscovering forgotten dishes and creating them in their kitchens. And that s how, i landed up making mor rasam. I ve heard of pineapple rasam, tomato rasam, drumstick rasam, milagu jeeraga rasam, kosu carrot rasam and mint rasam but this was totally new to me. And i m sure i will be making it so many ever times in the future. Creamy mildly spiced and simple is how this can be described. You have it with hot steamed rice or just gulp it down. It doesnt matter, for once you make it, you will be lost in the plethora of flavors that reach you.
Recipe for Mor Rasam
( Mildly spiced yogurt based rasam. Can be had hot or cold.)
Prep Time: Under 10 mins
Cook Time: Under 20 mins
Serves 3 to 4
What You Need?
For The Rasam:
Toor dal or pigeon peas 1/4 cup pressure cooked till tender and mushy
Tomato 1 medium ripe chopped finely
Sour curd 1 cup
Salt to taste
For The Spice Powder:
Dhania 1 tbsp
Red chilies 6
Fenugreek seeds 1/4 tsp
Pepper corns 1/2 tsp
Toor dal 2 tsp
Asafoetida or hing a large pinch
Oil 1 tsp
For The Tempering:
Mustard seeds 1 tsp
Cumin seeds 1/2 tsp
Green chilies slit lengthwise 2
Curry leaves a sprig
Ghee 1 tsp
For The Garnish:
Coriander leaves 2 tbsp chopped finely
How To Make It?
Roast the ingredients for the spice powder until dals are brown and aromatic and grind to a fine powder. Set aside.
Whisk the curd with a cup of water to a smooth consistency. Set aside.
Mash the toor dal until smooth.
In a pan, combine the dal, 1 cup of water, tomatoes and salt and simmer till tomatoes are tender.
Once done, add the spice powder and mix well.
Simmer for 2 to 3 mins.
Heat ghee in a pan. Add the mustard seeds and once they splutter, add the rest of the ingredients. Wait for the chilies to turn white.
Once done, add this to the simmering mixture.Mix well and turn off the flame.
Now, stir in the whisked yogurt and mix well.
Garnish with coriander leaves.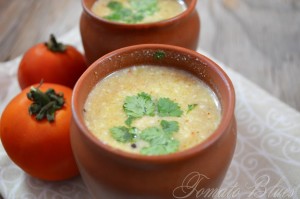 Serve hot with rice and this yumm yam roast.