How To Make Seppankizhangu Mor Kuzhambu?
SEPPANKIZHANGU MOR KUZhAMBU- AN AUTHENTIC KUZHAMBU WITH SOUR BUTTERMILK AND ARBI OR SEPPANKIZHANGU.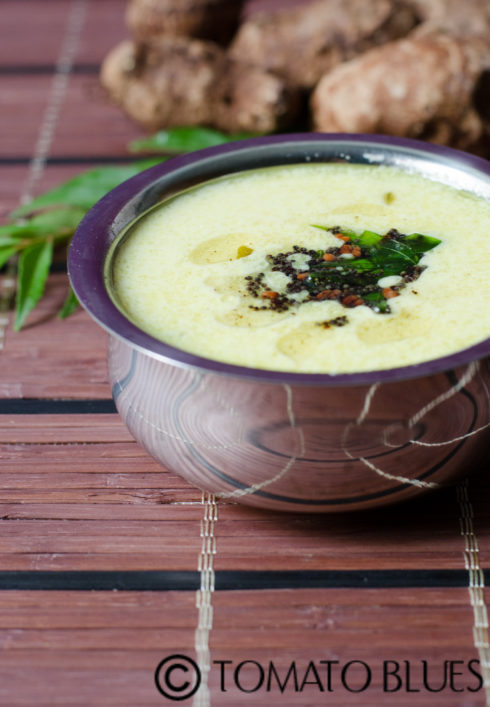 Seppankizhangu Mor Kuzhambu is a delicious authentic South Indian kuzhambu. Mor kuzhambu is nothing but a stew made with sour buttermilk. When you have leftover curd or yogurt that is not fresh, it either gets added to aviyal or becomes some more kuzhambu. Now, a mor kuzhambu can be equated to the north indian Kadhi in the sense that both use sour curd. My favorite vegetable to use in more kuzhambu is arbi or taro root or seppankizhangu. What do I  do when I m not in the mood for roasting and sauteeing or spending more than an hour in the kitchen? I make this kuzhambu. Me thinks its the simplest recipe ever for a kuzhambu. Only you will have to remember soaking the dal.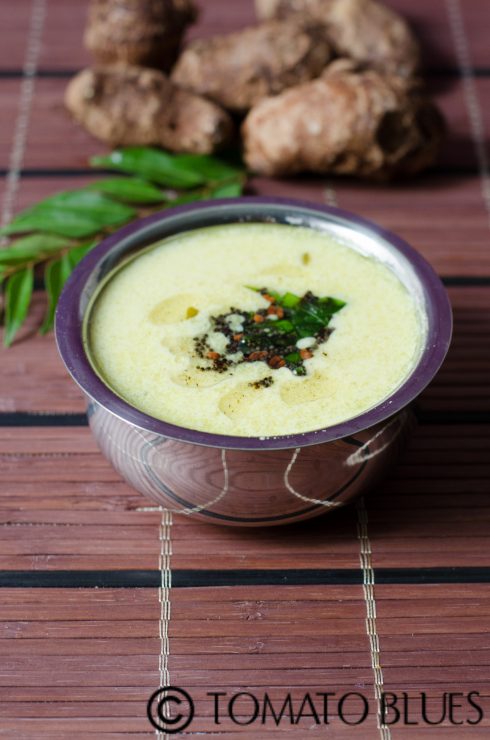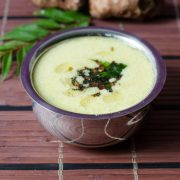 Print Recipe
Seppankizhangu Mor Kuzhambu
Seppankizhangu Mor Kuzhambu- An authentic mor kuzhambu with taro root or arbi. Pairs well with rice and appalam.
Ingredients
Sour curd whisked into buttermilk 2 and 1/2 cups

Turmeric powder 1/2 tsp

Colocassia 7 to 10 pieces pressure cooked and peeled.

Tamarind extract from a small marble size tamarind ball or 1/4 cup

Oil 1 tbsp

For Grinding:

Coconut grated 3 tbsp

Toor dal 2 tbsp soaked in water for an hour

Cumin seeds 1 tsp

Ginger 1" bit

Green chilies 5

For Tempering:

Curry leaves a sprig

Mustard seeds 1 tsp

Fenugreek seeds 1/4 tsp

Hing 1/4 tsp

Coconut oil 1 tbsp
Instructions
Grind together all the ingredients under For Grinding and a lil water into a fine paste  and keep aside.

Heat a kadai. Add oil and saute the colocassia for about 3 mins.

Now add tamarind extract and let it simmer for 4 to 5 mins.

Add the ground paste and combine gently. If you keep prodding, then the colocassia will break. So do it gently. Simmer for 2 mins.

Now, add the buttermilk, turmeric and salt and mix well.

Let it simmer on low flame till it comes to bubbling frothy boil.

Now, remove from fire.

Temper with mustard seeds, curry leaves, fenugreek seeds and hing in coconut oil.
Notes
This recipe will lose its flavours if tempered with any other oil other than coconut oil. Some people use channa dal in place of toor dal. If you do so, you will get a thicker kuzhambu.
For Instant Pot & Air Fryer Recipes
Instant Pot timings may vary based on your geographic location. Air fryer settings and timings may vary based on the capacity and the model of the Air fryer.
Disclaimer
Nutrition values are provided here as a courtesy and are only a rough guide. Please consult a health care provider if you have any concerns.