My mom has a neighbor who hailsfromKaraikudi, a famous place for all things yummy.Karaikudi s popularforChettinad recipes and my neighbor aunty indulges me with her supersoftvellaiappams,pachaithenkuzhal,pumpkinkuzhambu andthiskurkakizhangukuzhambueveryPongal. I m so used to eating her spread every year that even if aunty forgets or takes  a little while,i call her across the yard and ask her where my share is. I have been admonished many a time for thisbyamma but hey,i mafoodieandisimplycant pass up that platter.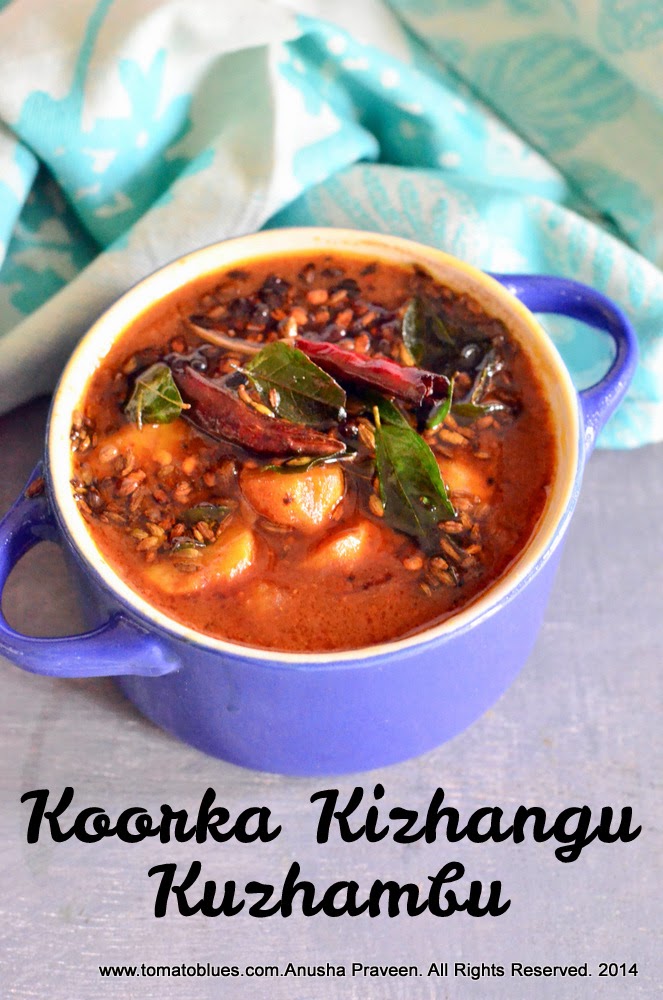 Until a few days back, the thought of even trying this kuzhambu had not crossed my mind. But then suddenly, i had this craving to eat that kuzhambu and as luck would have it, i even spotted the yams here at a Tamil grocers'. After picking up a good 1/2 kg of kurka kizhangu which is poor yam in english, i came home with my mouth watering just at the thought of eating that kuzhambu. This is just an easy version of the kuzhambu but after a very deep, very gluttonous  conversation with my co sister, i discovered that a special spice blend is added to this and i have also the recipe for the same. I shall share that recipe soon but in the meanwhile, i must say, this version is no less. So, make this for your Pongal spread this year and have a great time.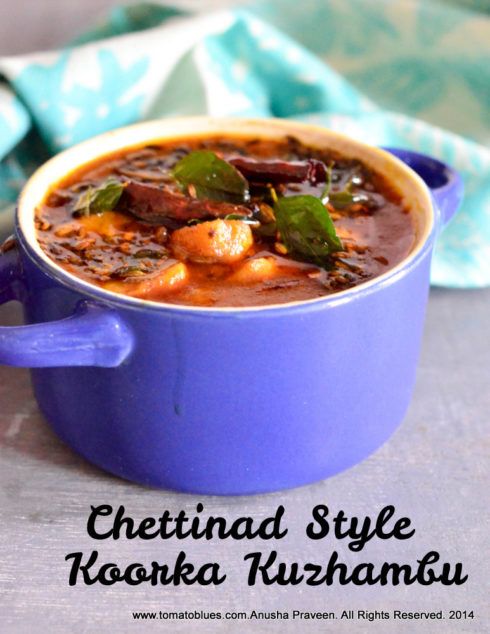 Recipe For Chettinad  Koorka Kizhangu Kuzhambu
( Learn how to make Koorka Kizhangu Kuzhambu, a tangy Chettinad style stew made with poor yam)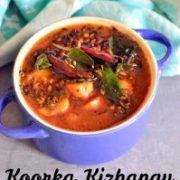 Print Recipe
Chettinad Koorka Kizhangu Kuzhambu Recipe
A spicy and tangy stew from Chettinad Cuisine using Koorka Kizhangu, also known as Poor Yam
Ingredients
Koorka kizhangu/ Poor Yam 1/4 kg

Tamarind a small gooseberry size ball

Hot water 2 cups

Jaggery 2 tbsp grated

Sambar powder 1 tbsp

Coriander powder 1 tsp

Red chili powder 1 tsp

Shallots 12 to 15 finely chopped

Garlic 4 to 5 cloves chopped

Rice flour 2 tsp

Water 2 tbsp

Oil 2 tbsp

To temper

Sesame oil 2 tbsp

Mustard seeds 1 tsp

Urad dal 1 tsp

Fennel seeds 1 tsp

Cumin seeds 1 tsp

Hing a small pinch

Curry leaves a sprig

Dry red chili 1
Instructions
Soak the tamarind in hot water for 20 mins.

In the meanwhile,Clean the yam thoroughly and pressure cook for 2 to 3 whistles.

Once done, peel and slice the yam and set aside.

Extract tamarind water from the soaked tamarind and discard pulp. Set aside.

Heat a pan with 2 tbsp oil and add the shallots and garlic.

Fry till light brown.

Now add the yam and fry till golden.

Add the tamarind extract, salt and jaggery and let it simmer till raw smell of tamarind goes away.

Bring down the flame to a medium low.

Now, add the chili powder, sambar powder and coriander powder and mix well.

Dissolve rice flour in 2 tbsp water and add this to the mixture.

Let the mixture simmer till it thickens.

Once done, switch off flame.

Heat a pan with sesame oil.

Pop the mustard and follow with cumin seeds, fennel seeds, curry leaves, hing, red chili and urad dal in that order.

Wait for the dal to brown a bit.

Once brown, add this to the kuzhambu and mix well.

Serve hot.
Notes
1. In case you dont find Koorka Kizhangu or Poor yam, you can make this with regular yam.
2. Addition of garlic is optional but recommended
3. Make sure you cook the yam thoroughly in tamarind or it may cause itching.
For Instant Pot & Air Fryer Recipes
Instant Pot timings may vary based on your geographic location. Air fryer settings and timings may vary based on the capacity and the model of the Air fryer.
Disclaimer
Nutrition values are provided here as a courtesy and are only a rough guide. Please consult a health care provider if you have any concerns.