HOW TO MAKE CHENAI KIZHANGU FRY OR SENAI KIZHANGU VARUVAL?
Chenai Kizhangu Fry or Senai Kizhangu Varuval- Indian style Pan roasted elephant foot yam
UPDATE: This post was originally posted in April, 2014. This has now been updated with fresh recipe cards.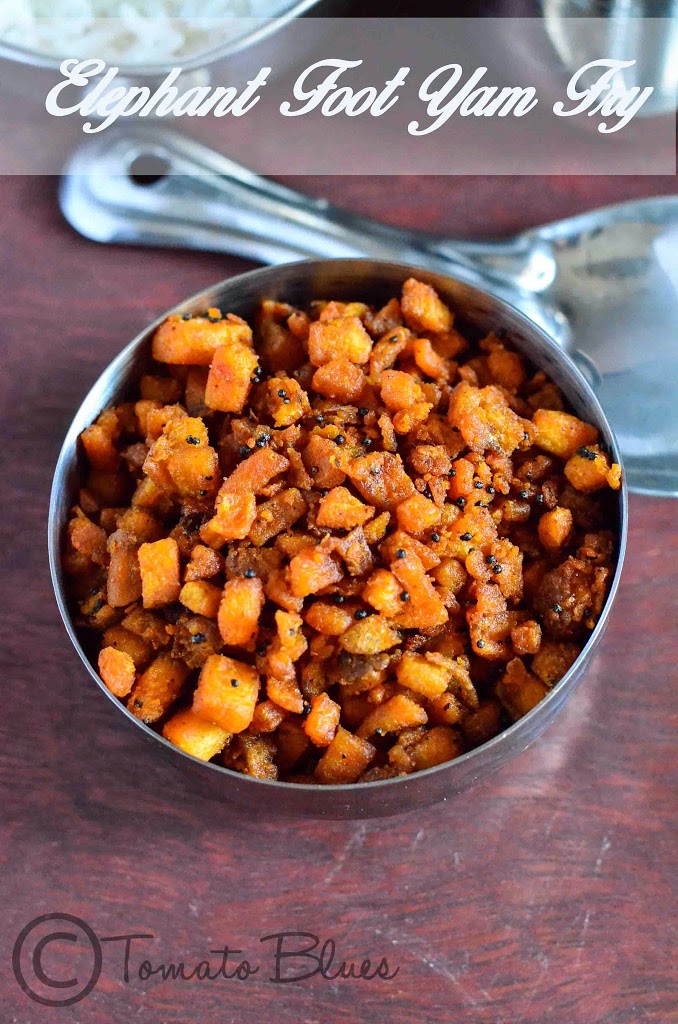 Senai Kizhangu or Chenai Kizhangu
If you all are wondering what exactly is senai kizhangu or chenai kizhangu, its nothing but elephant foot yam.
This is a great substitute for potatoes in dishes like cutlets and paneer vegetable balls.
Allergies and Itching caused by Senai Kizhangu
Many people develop some itching while chopping this elephant foot yam. You can rub your hands with some coconut oil, wear a gloves while you chop it to avoid itchy hands.
If itching still persists, then rub a tsp of tamarind extract on your hands and that will definitely help.
What is Varuval?
Varuval in tamil means anything that is roasted. This Senai kizhangu varuval is a recipe in which cubed yam is pan roasted.
Which Pans to use to make pan roasted vegetables, Indian style?
I recommend using cast iron pan for best results whenever you attempt making any varuval recipe.
This not only gives an even roast but also a beautiful crunch to the vegetable.
It really doesnt matter how hard i work to achieve that crunch but i always fail while amma achieves that effortlessly. That s why perhaps, she is amma and i am me. You all know what i mean, no?
How to serve this ?
This delicious vegan pan roasted elephant foot yam tastes great when you serve it with a mild curry or stew. While this does taste fantastic with some sambar, my best bets as serving suggestions for this would be Mor kuzhambu and hot rice.
Often times, life s best meals revolves around simple meals. Like a plate of curd rice with some fresh homemade mango pickle or when the mood permits, a slightly elaborate meal that definitely has a bit of tangy mor kuzhambu and some fry to go along with steaming hot rice.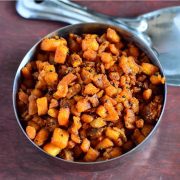 Print Recipe
Chenai Kizhangu Fry- Senai Kizhangu Varuval
Chenai Kizhangu Fry or Senai Kizhangu Varuval – A delicious recipe for pan roasted elephant foot yam made the Indian style. Vegan.
Ingredients
Senai kizhangu

Chenai/ Elephant yam 1/4 kg peeled and diced

Curry leaves a sprig

Chili powder 2 tsp

Salt to taste

Hing a small pinch

Oil 2 to 3 tbsp

Mustard seeds 1 tsp

Urad dal 1 tsp
Instructions
Pressure cook the diced yam with 1/2 c water for 2 whistles. Alternatively, you can cook this in an open pan. Combine the chopped yam with 2 to 3 c water and some salt. Cook this on medium flame till the yam is just fork tender.

Once done, drain water completely.

Heat oil in a pan.

Pop the mustard seeds and add urad dal, hing and curry leaves.

Once the dal turns slightly brown, add the cooked yam and mix gently.

Bring the flame to the lowest and cook till evenly fried.

Make sure you keep tossing and turning the yam in between but do this gently.

This took me 20 mins approx.

Once done, add salt and chili powder, mix well and cook further for a min on high flame.
Notes
1. Tender yams take lesser time to cook.
Always make sure you dont over cook the yam or the fry wont come out well.
For Instant Pot & Air Fryer Recipes
Instant Pot timings may vary based on your geographic location. Air fryer settings and timings may vary based on the capacity and the model of the Air fryer.
Disclaimer
Nutrition values are provided here as a courtesy and are only a rough guide. Please consult a health care provider if you have any concerns.