Lunch is always an elaborate affair at my house. Mr. P has this habit of getting up late in the morning and contemplating between breakfast and a quick shower. You can guess which one will win? Of course the shower hands down. So breakfast being skipped out most of the days, i make sure we have a 3 course lunch complete with sambhar or kootu, a vegetable curry, rasam, curd and hot steamed rice. Or it will be some soft phulkas, a healthy subzi albeit loaded with cream, cashews or butter( I m really not the calorie counter, you see), some dal, tangy creamy raitha and some jeera rice. When i make south indian lunch, carrots always have their own importance. We either eat
carrot kosambari
or some mixed veg poriyal or this poriyal.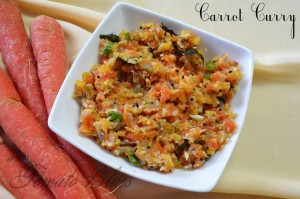 Now, i have to tell you all about this poriyal. This is actually
Radhika
s recipe. But we got so hooked onto the recipe that whenever i buy carrots, i make this once. Sometimes even twice. It tastes delicious with tangy curries and kuzhambus like this
vattral kuzhambu
. Its also loaded with nutrients as it s got moong dal in it too. Try it out and you will have another different poriyal added to your repertoire.
Recipe For Carrot Curry
( Carrots minced and sauted with onions and moong dal)
Prep Time: Under 10 mins
Cook Time: Under 20 mins
Serves 2
What You Need?
Carrots 2 large peeled
Moong dal 2 tbsp
Onion 1 large chopped finely
Green chilies 3 to 4 chopped finely
Coconut 2 tbsp
Grated ginger 1 tsp
Salt to taste
Oil 1 tbsp
Urad dal or black gram dal 1 tsp
Mustard seeds 1 tsp
Curry leaves 10
How To Make It?
Mince the carrots finely or chop them into fine bits. When i say fine, really fine.Steam them till soft and tender.I microwaved them for 6 to 7 mins on high. Set aside.
In the meanwhile,pressure cook the moong dal for 2 whistles in just enough water.
Set aside.
Heat a pan with some oil.
Add mustard seeds and once they splutter, add urad dal and wait for it to brown.
Once done, add the chilies, curry leaves, ginger and the onions.
Saute till the onions turn a light brown.
Now, add the carrots and combine well.
Drain the moong dal completely and add this to the carrots. Mix well.
Add salt and combine well.
At this stage, garnish with the grated coconut and mix well.
Cook for a minute more.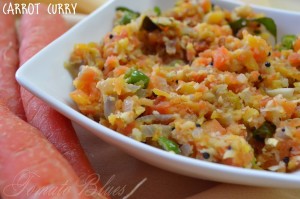 Once done, serve hot with any kuzhambu of your choice with hot rice.