Some years back, i dint know a broccoli from a zucchini. I had only seen such vegetables. Even though Coimbatore had a generous supply of such veggies because of its proximity to Ooty, these veggies were not very common in my house. I used to remember brussel sprouts being there every now and then on the table and i used to think they are baby cabbages.All this happened when i was 14 or 15. So, excusable right? Right!
Anyway, things changed when i went to college. They changed even more when i got myself a husband. A husband who ate anything given to him without any inhibitions. And that s how i began incorporating these vegetables in our daily meal. One such meal was this delish Broccoli stew. The bowl was licked clean. So it was a super duper success.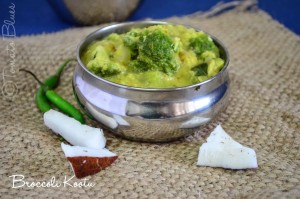 Recipe For Broccoli Stew
( Broccoli cooked with lentils)
Prep Time: 10 mins
Cook Time: 30 mins
Source: My kitchen notes
Level: Easy
Serves 2
Ingredients
For Stew:
Broccoli 1 medium head cut and florets separated
Pigeon peas/ toor dal 1/2
Turmeric powder 1/2 tsp
Mustard seeds 1 tsp
Urad 1 tsp
Curry leaves a sprig
Dried red chili 1
Oil 1 tbsp
Oil for tempering 1 tsp
Salt to taste
For Paste:
Coconut gratings 1/4 c
Shallots 4 peeled
Green chilies 3 to 4
Cumin seeds 1/ 2 tsp
Pepper corns 2
Coriander seeds 1/2 tsp
Oil 1/2 tsp
Directions:
Pressure cook the toor dal along with the turmeric in 1.5 cups of water till mushy.
In the meanwhile, microwave the broccoli on high for 5 to 6 mins.
Once the dal is done, drain excess water and set aside. Dont mash the dal.
In a pan, all 1./2 tsp oil and saute green chilies until lightly white.
Add the coriander seeds, cumin seeds and pepper corns and saute for 30 secs.
Once done, transfer to a blender, let cool.
Add coconut and shallots to the mixture and grind to a smooth paste without adding any water. In case the paste doesnt blend, add about 1/2 tsp of water.
Once done, heat the same pan with the remaining oil.
Add the broccoli and saute for about 2 mins.
Add the ground paste next and saute till the raw smell leaves. May be for about 2 mins again on medium flame. Take care not to cook this on high flame as the mixture burns quickly.
Now, add the cooked dal to the mixture along with the salt.
Mix well.
Simmer for about 3 mins. In case the mixture is too thick, add about 1/4 c of water and mix well.
Heat a pan with 1 tsp of oil.
Pop the mustard seeds.
Add the urad dal, dry red chili and curry leaves next. Wait for the urad dal to turn brown.
Add asafoetida in the end.
Now, pour this mixture in the stew.
Mix well.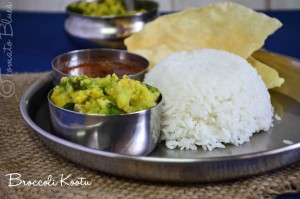 Serve hot with rice, poppadoms and rasam. Yumm. Tongue tickling is all i can say!