You can call it south indian soup. Its an integral part of a meal that s served after the first course is served, the first course usually being sambhar or kootu or kuzhambu. For me, rasam and rice is something that is close to heart. My grandpa loved rasam and he simply insisted that i eat rasam and without eating rasam and rice i was never let off. Its considered to be rich in spices that act as a digestive. My mom says rasam powder when done fresh for the day lends extra flavour to it. Yes! I make rasam everyday. That s how much we love it!! Some people , that is folks like me get rasam powder prepared by moms and get it couriered to us. But sometimes when i m in a real nice mood for doing a little extra work i mean all those frying and sauteing i make the powder afresh for the day. This post will be about making the simplest form of rasam and rasam powder. I will post other versions in a while. So if i want to make the powder, the first thing i do is call mom! So lets go about it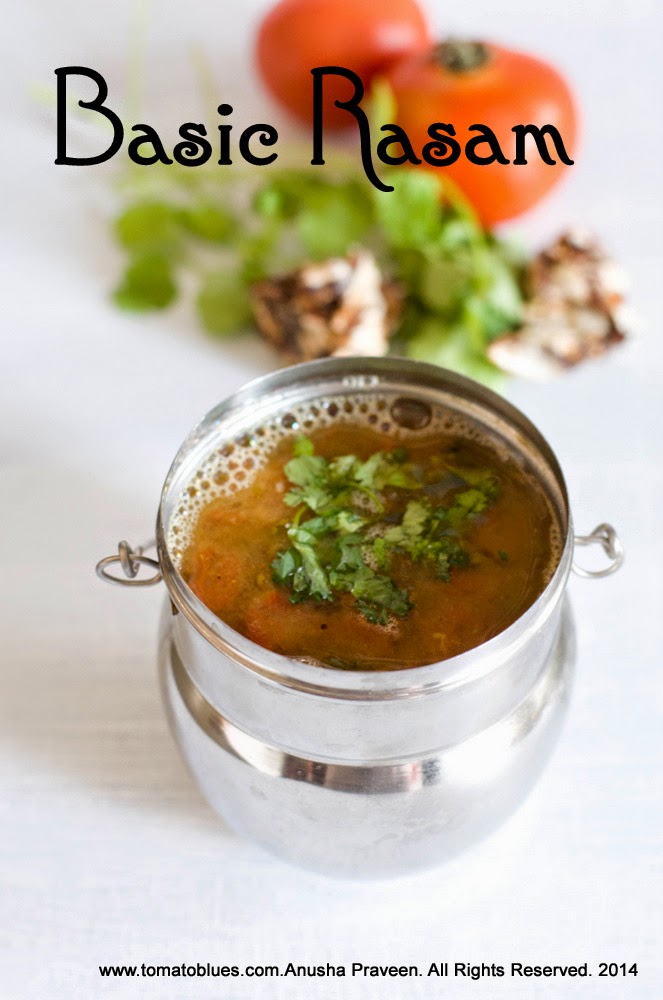 Rasam Powder
Source: Of course Amma Who else?
Serves: Usually lasts for 1 month, the rasam being made for 2 to 3 people.
What you need?
Dhania- 250g
Dry round red chilli- 250g
Pepper Corns- 50g
Cumin seeds – 50g
How to make the powder:
First, Heat a kadai and add a few drops of ghee and saute the dhania until aromatic. Let it cool.
Next, in the same kadai, add a few more drops of ghee and saute the pepper corns until they pop like mustard seeds.
Then in the same kadai, saute the dry chillies without adding ghee for like 7 mins or until slightly aromatic.
In the same kadai, saute the cumin seeds for a minute or two. Dont over saute them because they become bitter if you do. Let everything cool.
Grind to a powder in a mixer finely.
You can store it in an airtight container. And use it whenever making rasam.
Recipe For Basic Rasam
( Learn to make rasam, a basic no fuss recipe)
Prep Time: 20 mins
Cook Time: 10 mins
Serves 2
Allergy Info: Nut and Soy Free
Course: Accompaniment
Cuisine: South Indian
Ingredients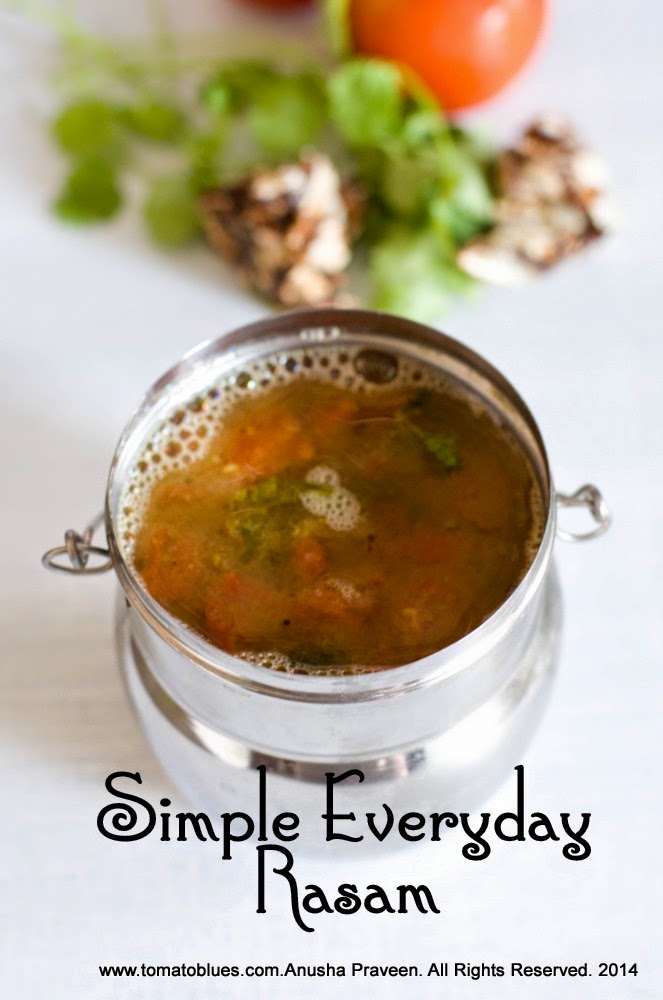 Toor dal- boiled 1/4 cup
Tamarind extract from a marble size ball of tamarind
Tomato – 1 large ripe one
Cilantro – few sprigs
Curry leaves- 2 sprigs
Rasam Powder – 1 tbsp
Sugar – a pinch
Salt to taste
For Seasoning:
Cumin seeds – few
Mustard seeds – 1/2 tsp
Hing- a large pinch
Ghee- 1 tsp
Garlic cloves crushed -3
How do you make it?
In a pan, add the tamarind extract, mash the tomatoes along with the tamarind extract and add the rasam powder, salt, cilantro and curry leaves.
Heat this mixture until the raw smell of tamarind goes away. It takes about 5 mins. Next add some water or if you have the water in which the dal is boiled, add that water and boil for another 2 mins.
Now add the dal and give it a nice mix. Then heat it up to the extent that the mixture is frothy at the top but it shouldnt boil over.
At this moment, take it off from the heat and season with mustard, hing and cumin seeds.
Serve hot with rice and appalams.Another lovely combination is beetroot curry with rasam and rice.