When i looked back at the last couple of weeks in my life, i was alarmed. I found that all my free time ( which clocks to about an hour a day) has been spent gawking on Instagram and Pinterest while the blog here has been dying a slow death. I had planned on hitting the publish button twice a week earlier but even starting a post seems impossible these days with this new addiction. Lets not forget those innumerable stares that i get from the better ( read bitter) half these days for obviously not spending "we time" with him. With that realization hitting below my belt, i decided that i must sit down and write a post. And i really wanted that post to be one that featured a comfort food recipe.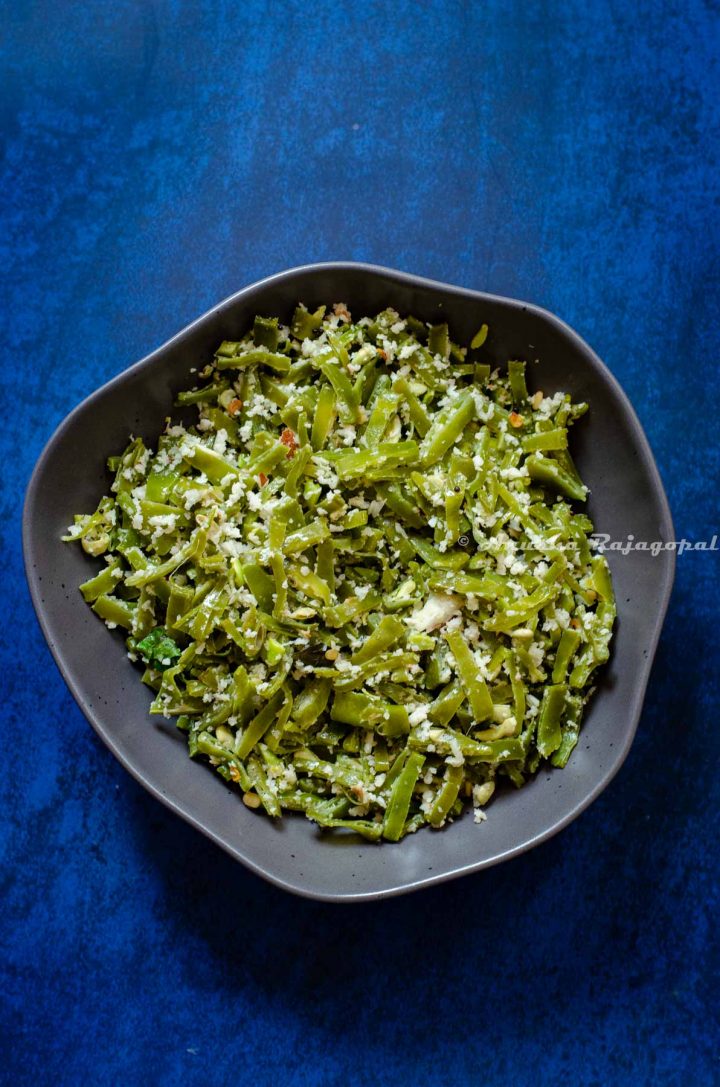 This avarakai curry which is nothing but broad beans stir fry is a childhood favorite. My mom makes this in a simple way by just adding coconut. But i ve added my own touches here and there in the long run since i started cooking and now this version is a family favorite. By the way, the family still is the husband and me until little A grows up enough to savor beans( which ,at the moment, seems like it may take forever). Use fresh broad beans or substitute them with field beans for this stir fry. Frozen ones dont work well. Besides, fresh produce always tastes delicious. The recipe is very simple in the sense that it banks on the flavors of the vegetables and lentil used. I deliberately avoid using spices in certain recipes just to enjoy the authentic flavor of the vegetables used and this is just one of them.
Recipe For Avarakai Poriyal
( Learn how to make Avarakai poriyal, a simple stir fry using Indian broad beans, toor dal and coconut)
Prep Time: 10 mins
Cook Time: 30 mins
Serves 2 generously 
Allergy Info: Vegan, Gluten free, Soy free, Nut free
Course: Accompaniment, vegetable, Sides
Cuisine: Indian ( South)
Ingredients
Broad beans ( Avarakai/ Papdi) 1 c chopped
Toor dal 2 tbsp cooked
Freshly grated coconut 2 tbsp ( see notes)
Ginger 1/2 tsp grated
Curry leaves a sprig
Turmeric powder 1/2 tsp
Mustard seeds 1 tsp
Urad dal 1 tsp
Dry red chilies 2 torn ( See notes)
Oil 2 tsp
Salt to taste
Note:
1. I cook the beans on high in the microwave for 8 mins until they are fork tender. You can also pressure cook them for one whistle or cook them on stove top until tender. Take care not to cook them to a mush. The beans lend a lovely texture to the stir fry and mushy beans wont work well here.
2. Frozen coconut thawed to room temperature works well too but desiccated wont do.
3. You can use 2 green chilies instead of red for a different flavor.
Directions
Pressure cook toor dal with 1/4 c water till done. Set aside.
At the same time, cook the beans with just enough water in the microwave on high for 8 mins. ( see notes)
Once done, drain water from dal and beans and set aside.
Heat a pan with oil.
Pop the mustard.
Turn down the flame to the lowest and throw in the urad dal, curry leaves, chilies and grated ginger along with the turmeric and saute till dal turns a light brown.
Now tip in the beans and dal and mix gently.
Add salt next and combine well.
Turn off the flame and add the grated coconut.
Mix gently but thoroughly.
Serve hot. ( see beginning of the recipe for serving suggestions)