We are a weird people here. Unlike many people who do some cartwheels when they hear the word pasta, my H screws up his face. So, i dont make pasta pretty often. How i pick up a packet of a different pasta every month and wish silently that i shall convince my very anti pasta Husband is another story, really.
But, for the love of

pasta

, God!! i do make it when that hankering begins, first as dull as a beetle buzzing and then progresses to transform into something like the tune of a familiar song that goes on and on in your head.
These days dont come by often, but when they do, i know i have to eat pasta or i ll simply make the lives of people living around me, miserable.
Whenever such a hankering kicks in, i usually pick a

simple pasta recipe

, tweak it a bit to suit my palate and then set about making it while i dance away. This is the scene that will probably meet your eyes in case you happen to meet me when i m on mission pasta. Well, today was one more such missions. Mission accomplished and pasta bowl licked clean, i couldnt resist sharing my recipe with you all.
Arrabbiatta is a pasta sauce that s usually lots of tomatoes, a few herbs and chili flakes. While the Italians make the sauce real thick and liquid, i prefer my pasta with chunks of tomatoes that are fully cooked. I used ordinary ripe tomatoes for the sauce and the taste was brilliant.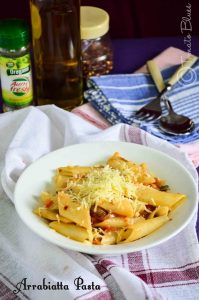 ( Penne pasta cooked with chunky tomato sauce and topped with cheese)
Cook Time: 40 mins ( 10 mins for the sauce + 20 to 30 mins for the pasta)
For The Arrabbiatta Sauce
Tomatoes 2 large ripe ones mashed coarsely
Red Onion 1 chopped finely
Green bell pepper 1 small chopped finely
Parsley 2 teaspoon chopped finely
Basil leaves 3 chopped finely
Water used for boiling pasta ½ c
Arrabbiatta Sauce 1 recipe
Cheese 1 tablespoon grated
Chop everything up for the sauce and keep ready.
Heat 4 cups of water with 1 teaspoon of salt in a pan and bring to a bubbling boil.
Drop the pasta in and cook till aldente or fully cooked. Its your preference. I prefer mine fully cooked.
Once done, drain the water and reserve ½ c of it.
Run the pasta under cold water to prevent it sticking. Set aside.
Heat a pan with butter and olive oil.
Add the garlic cloves and roast till golden.
Follow with onions and bell pepper.
Saute till onions turn light golden brown.
Now, add the oregano, chili flakes, parsley and basil.
Add the mashed tomatoes next and mix well.
Cook till the tomatoes begin to turn mushy.
At this stage, add the pasta water and mix.
Add salt and let the sauce simmer for about 5 mins.
Now, add the cooked pasta and mix gently, taking care not to break the pasta.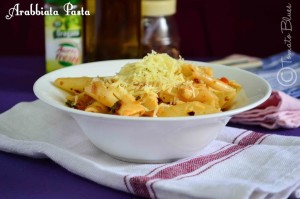 Garnish with grated cheese and serve hot.
On the Avant Garde Cookie front, we decided to whip up dishes that begin with the first letter of our names and my take on the task is this pasta.!! Check out Radhika, Jayanthi

,

Kavi

,

Priya

,

Priya Mahadevan and Roshni

to see what they made with their letters.