If you are a South Indian and a TamBrahm at that, you will understand how we folks are particular about our kuzhambu.I m not a TamBrahm but i m a brahmin who grew up eating pretty much everything vegetarian and vathal kuzhambu or vatral kuzhambu has been an integral part of my meals since childhood. While many people prefer the short cut 
vathal kuzhambu,
i love this version which uses freshly ground spice powder.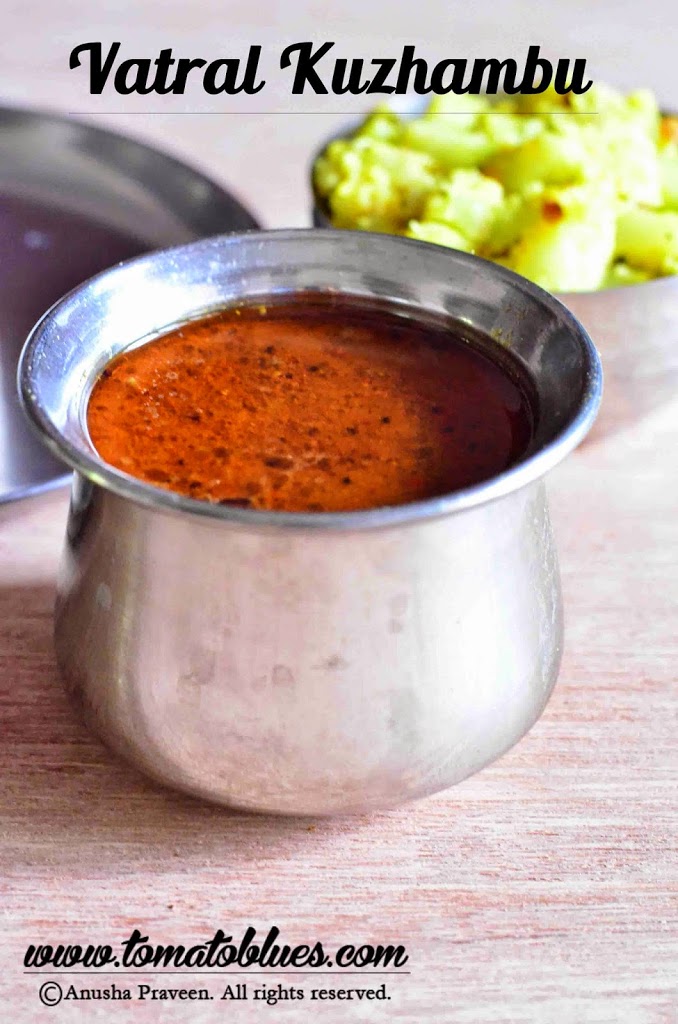 I came upon this version while having a deepfoodie conversation with my aunt. Apparently, her sis in law gave her this recipe and she gave it to me. The original recipe did not get my attention the first time. So, the next time around,i made a few changes and bang on! thevatralkuzhambu pot was empty after lunch. If you are looking for an authenticvathalkuzhambu recipe with the goodness and fragrance of fresh ground spices, then this is it. This is thatvathalkuzhambu recipe that will make anyTambrahm and nonTambrahm s tongue sing.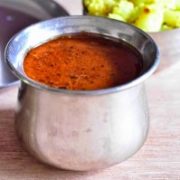 Print Recipe
Arachuvitta Vathal Kuzhambu Recipe
A tangy stew made with sun dried vegetables. Vegan
Ingredients
For the Kuzhambu

Tamarind a small gooseberry size ball

Hot water 1 c

Shallots 7 peeled and sliced

Dry red chilies 2

Mustard seeds 1 tsp

Fenugreek seeds 1 tsp

Curry leaves a sprig

Jaggery 1 tbsp grated

Salt to taste

Sesame oil 2 tbsp

Hing a large pinch

For the Spice powder

Toor dal/ Thuvaram paruppu/ Split pigeon pea lentils 1 tbsp

Urad dal 1 tsp

Pepper corns 1 tsp

Fenugreek seeds 1/2 tsp

Dry red chili 1

Oil 1 tsp
Instructions
Soak tamarind in the hot water. Set aside.

In a pan, add 1 tsp oil and roast all the ingredients mentioned under the For The Spice Powder head until the dals turn light brown and aromatic. Let cool.

Once cool, grind to a fine powder.

Extract tamarind juice from the soaked tamarind and discard the pulp.

Heat a pan with 2 tbsp sesame oil.

Splutter mustard seeds and add fenugreek seeds, hing, red chilies and curry leaves next.

Now tip in the sliced shallots and fry till translucent.

At this stage, add the tamarind extract, jaggery and salt and mix well.

Let the mixture simmer till the raw smell of tamarind goes away. Takes anywhere between 5 to 7 mins.

Once done, turn down the flame to the lowest and add the spice powder and mix well, stirring continuously to avoid lumps.

Crank up the heat to a medium high and simmer further for about 3 to 4 mins.

Once done, serve hot.
Notes
You can substitute shallots with sun dried vathal of your choice for a no onion no garlic version.
The addition of jaggery is a must or you will find the kuzhambu too tart.
Use sesame oil for best results.
For Instant Pot & Air Fryer Recipes
Instant Pot timings may vary based on your geographic location. Air fryer settings and timings may vary based on the capacity and the model of the Air fryer.
Disclaimer
Nutrition values are provided here as a courtesy and are only a rough guide. Please consult a health care provider if you have any concerns.