HOW  TO MAKE WHOLE WHEAT TORTILLA?
Whole Wheat Tortilla- An easy budget friendly recipe for Tortillas. Vegan.
Update: This post was originally published in April 2014. This has now been updated with fresh recipe cards.
There are basically two types of tortillas- ones made with corn and ones made with all purpose flour.
But this recipe for tortilla uses whole wheat flour, making them a tad healthier and more nutritious when compared to all purpose flour based tortillas.
What is a Tortilla?
A tortilla is a flatbread that is used as a wrap in most cases. You can also bake them till crisp and use them as tortilla chips in a chip and dip platter.
You can compare it to the Indian roti. However, the Indian style phulkas or rotis are not leavened- that is, they do not use any rising agent.
But flour tortillas use some baking powder for leavening and also to make them a bit softer and chewier.
For a detailed pictorial on how to make round tortillas please refer this post.. 
Choosing the Flour
I like to use a combination of unbleached whole wheat flour and all purpose flour in this recipe.
However, white whole wheat flour will also work in this.
I recommend using all purpose flour to improve the texture of the tortillas. But you can skip it entirely and just use whole wheat flour.
In that case, your tortillas wont be white but have a very light brown tinge to them.
Warm water vs Hot Water
I find that adding warm water to the flour while kneading produces softer tortillas as against adding hot water.
And the temperature is also easier to handle.
How warm?
Put a finger in the water. If you are able to feel the heat and are able to keep your fingers in for 10 secs, then that s the right temperature. This s just a rough guide.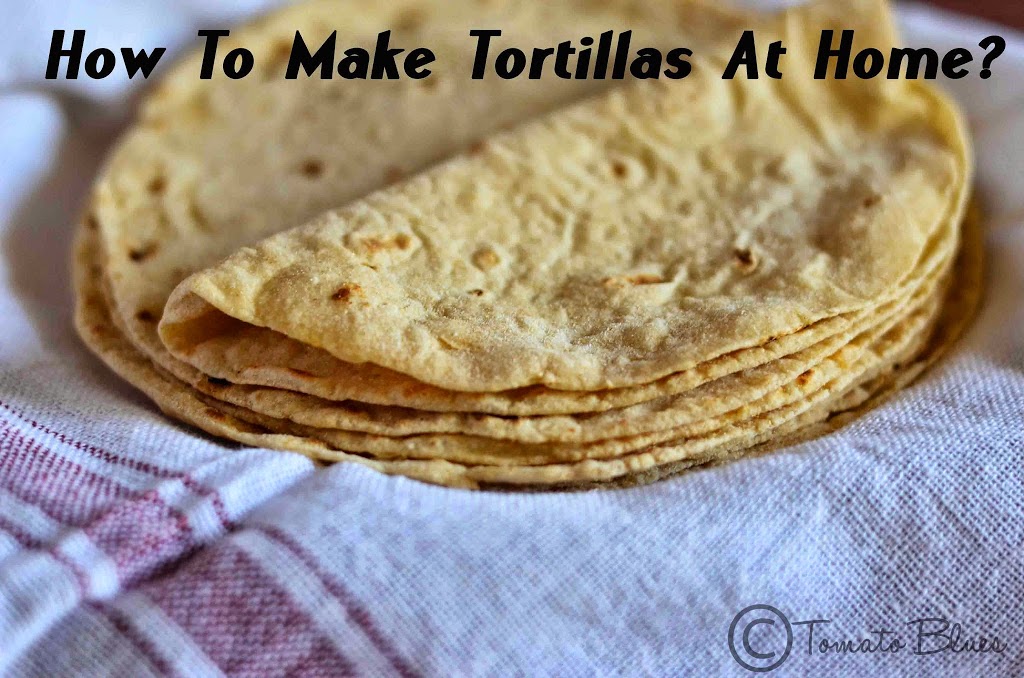 Round Tortillas
Getting them round can be a tad bit challenging, but it really is ok.
I wont recommend investing in a tortilla press or any kind of fancy gadget for this one recipe.
There is something therapeutic about rolling and making your own tortillas. Try it to believe it 🙂
If you are looking for ways to use these home made tortillas, then please do check out
Lebanese Cucumber Wraps with Tzatziki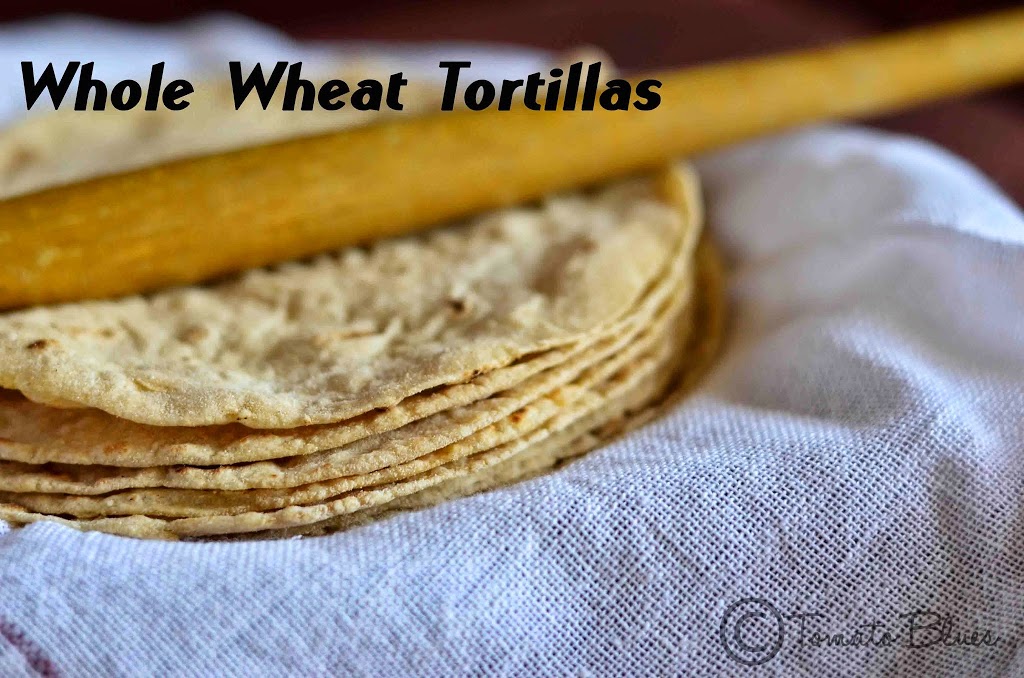 Recipe For Whole Wheat Tortilla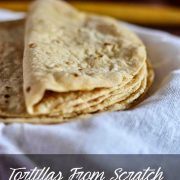 Print Recipe
Whole Wheat Tortilla
Whole wheat tortilla- easy to make vegan and budget friendly tortillas with whole wheat flour
Ingredients
1

c

Whole wheat flour

1/2

c

All purpose flour

1/4

tsp

Baking powder

1

tbsp

Olive oil

Salt to taste

3/4

c

Warm Water to knead

approximately

Flour for dusting
Instructions
In a mixing bowl, combine the flours, salt and baking powder using a whisk thoroughly.

Now, make a well in the middle and add the oil.

Gently rub in the oil into the flour mixture until it resembles a crumbly mass.

Start with 1/2 c of water and begin kneading the dough.

The dough must come together in one mass and must be smooth to touch.

Depending on this, add more or less water or flour as required.

Knead for about 5 mins until you get a smooth elastic dough that s not very sticky.

Once done, rest the dough for about 20 mins.

After 20 mins, divide the dough into 8 equal portions and shape each portion into a ball.

Now, slightly flatten a ball, dust with flour and roll into a 6" circle.

For a detailed pictorial, refer my post on making phulkas or rotis

Repeat with the remaining dough.

Make sure you place all rolled tortillas on a clean and dry surface like a newspaper or a piece of parchment paper.

Once done, heat a tawa or griddle.

Place each tortilla on the griddle, cook for 30 secs on each side or until brown spots appear.

Remove and place on a kitchen towel.
Notes
1. While traditional tortillas are made with all purpose flour entirely, i decided to make it a little healthy by adding whole wheat flour.
2. The amount of water required may vary depending on the quality of flour. So, start with a little and increase or decrease as and when required.
3. Feel free to substitute olive oil with regular oil or butter but in case you use butter, the recipe wont be vegan.
4. I found that when i rested my dough for about 10 to 20 mins, i got softer tortillas. You can choose to do this or leave it out completely.
For Instant Pot & Air Fryer Recipes
Instant Pot timings may vary based on your geographic location. Air fryer settings and timings may vary based on the capacity and the model of the Air fryer.
Disclaimer
Nutrition values are provided here as a courtesy and are only a rough guide. Please consult a health care provider if you have any concerns.