How To Make Vendhaya Rasam, A Light Lentil Broth Flavored With Fenugreek?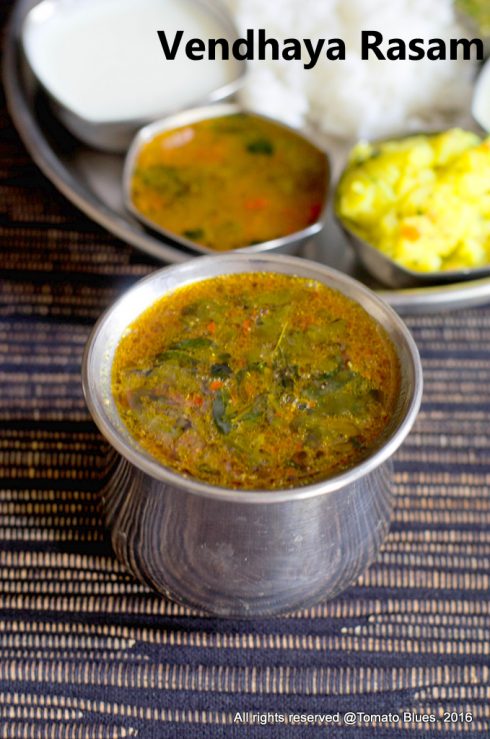 Vendhaya Rasam as the name suggests is a rasam that uses fenugreek or vendhyam in its spice powder. I am very very fond of fenugreek may it be the leaves or the seeds. I love the flavours they impart to the food. And i am a larger than life rasam afficionado.What more can i want when someone gives me the recipe to vendhaya rasam. You have to bear with the "my my yada yada" for a while now. Rasam is like therapy for me. When you deprive me of good food for a few days or even just food, i ll only ask for rasam and hot rice when i get the chance to eat again. Simple to throw together, it offers one a flexibility no other dish can offer. You can make it with tamarind or without, with tomato or without, with lentils or without and so on do the options go. See what i mean? You can even make rasam with betel leaves or cabbage and carrot. And all of them are tasty no matter what has been added or subtracted from it. Such is the nobility of rasam. When i got that beautiful book by Chandra Padmanabhan, i was delighted  to see an array of rasams in the book. Some i ve heard of but not tasted and some i ve not even heard of. This vendhaya rasam is one such recipe but it s definitely a keeper.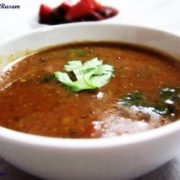 Print Recipe
Vendhaya Rasam
Vendhaya rasam is a light lentil broth flavored with fenugreek seeds. It tastes best when enjoyed with hot rice and any curry of choice
Ingredients
For the rasam:

Tamarind extract from a lime size ball of tamarind 1 cup

Tomato 1 medium

Rasam powder 1 and 1/2 tsp

see recipe here

Salt to taste

For The Spice Paste:

Fenugreek seeds 3/4 tsp

Toor dal 2 tsp

Ghee 1 tsp

For The Tempering :

Ghee 1 tbsp

Mustard seeds 1 tsp

Hing a large pinch

Curry leaves a sprig

For The Garnish:

Cilantro chopped finely 2 tbsp
Instructions
In a kadai, saute the fenugreek seeds and toor dal in 1 tsp ghee until aromatic. Let it cool and grind to a coarse powder.

In the same kadai used to saute the dal, add the tamarind extract, rasam powder and salt.

Mash the tomato and add to this mixture.

Let it simmer till the raw smell of the tamarind goes.

Now, add the fenugreek dal powder and simmer till the surface of the rasam becomes frothy.

Temper with curry leaves, mustard seeds and hing in ghee.

Garnish with cilantro and serve hot with rice and arbi fry or baby potato fry
Notes
To make this recipe vegan, replace the ghee with any neutral flavored cooking oil
For Instant Pot & Air Fryer Recipes
Instant Pot timings may vary based on your geographic location. Air fryer settings and timings may vary based on the capacity and the model of the Air fryer.
Disclaimer
Nutrition values are provided here as a courtesy and are only a rough guide. Please consult a health care provider if you have any concerns.