Varagu Arisi Dosai Recipe- Easy Dosa Made With Kodo Millet And Urad Dal. Vegan And Gluten free.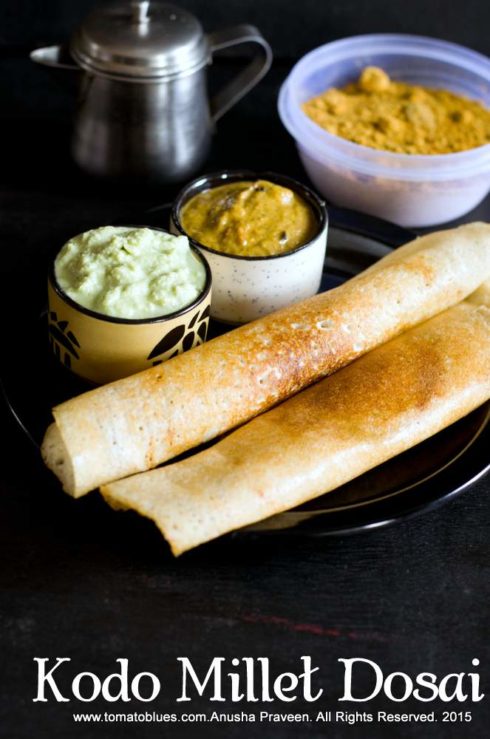 Varagu Arisi Dosai, as the name suggests, is a dosa recipe in which regular rice is replaced with Varagu Arisi also called as Kodo Millet in english and Kodri in Gujrati. I usually make one millet dish a week, just so that we can get our share of millet in our diet. We dont prefer eating millet as such in place of rice. Mr.P is a big rice lover. So i tend to work around regular recipes in which rice is used and substitute the rice in the recipe. This dosa is also one such recipe and i must admit, we did not miss the rice at all. The dosas were lacy, crisp and delicious. We enjoyed it with coconut chutney, tomato and mint chutney and dosai milagai podi. I will be sharing the recipes for all of these in a while. But until then, let s learn how to make Varagu Arisi Dosai.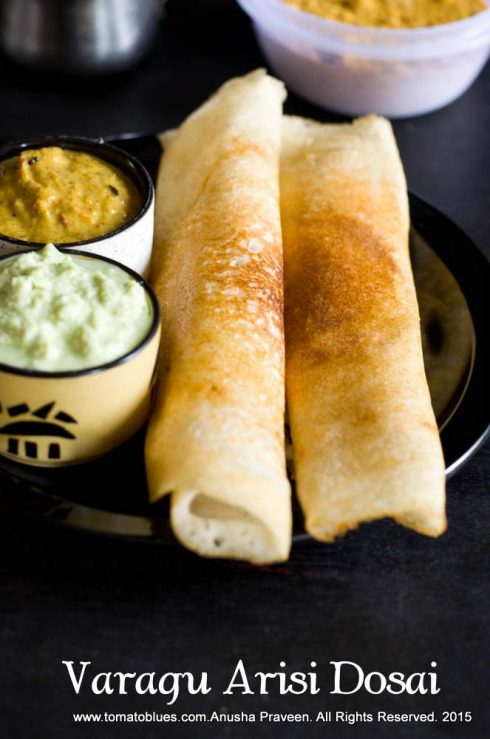 Recipe For Varagu Arisi Dosai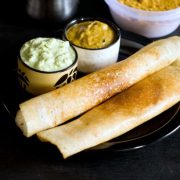 Print Recipe
Varagu Arisi Dosai
Thin crepes made with a batter of ground Kodo millet and urad dal.
Ingredients
Kodo Millet 3 cups

Urad Dal 1 cup

Fenugreek seeds 1 tbsp

Parched Rice/ Poha/ Aval 1/4 cup

Salt to taste

Oil to cook the dosas
Instructions
Wash the millet and dal thoroughly under running tap water until water runs clean.

Soak the millet in 6 c of water.

Soak urad dal and fenugreek seeds together in 3 c of water.

Let them soak for 5 to 6 hours.

I prefer soaking it for 6 hours.

After they have soaked, drain the water completely.

Wash the parched rice or aval thoroughly and soak it in 1 c of water for 5 mins.

After 5 mins, drain water completely.

Now, in a blender, place the soaked urad dal and fenugreek seeds and grind to a smooth paste adding water gradually. You may require about 3/4 c of water to do this.

Once ground, transfer to a large mixing bowl.

To the blender, add the millet and the aval and 1/2 c of water.

Grind to a smooth paste resting the blender in between.

Add water gradually to this just like you did for grinding the urad dal. You will require about 1 c of water here.

Once done, add the ground millet mixture to the urad dal mixture.

Add salt to this and mix well using clean hands.

Let it sit in a warm place to ferment.

This may take any where between 8 to 12 hours depending on the weather in your place.

Once fermented, mix thoroughly using a whisk.

To make dosas, heat a griddle.

Take a ladle full of batter.

Pour in the middle of the griddle and spread towards outside to a thin crepe.

Drizzle oil around the sides.

Cook till the dosa crisps up and lightly browns.

Once done, flip over and cook the other side too for 30 secs on medium flame.

Remove and serve hot.
Notes
I recommend using parched rice or aval for a thin crisp dosa.
Soaking for longer hours is not recommended.
Make sure you use a really big bowl to transfer the ground batter.
The batter must not be very thick nor very thin. So adjust water accordingly.
For Instant Pot & Air Fryer Recipes
Instant Pot timings may vary based on your geographic location. Air fryer settings and timings may vary based on the capacity and the model of the Air fryer.
Disclaimer
Nutrition values are provided here as a courtesy and are only a rough guide. Please consult a health care provider if you have any concerns.