It s not diwali if there is no murukku at home. Its definitely not diwali when there is no thenkuzhal at home for diwali. A total health freak, i prefer munching on murukkus to chips. Because i feel rice and lentils are any day better than potatoes and bananas. It was the first time my hubby and i celebrated diwali in Baroda. Usually, we go to my mom's or Mil's but this year we thought, lets celebrate at our place. I made a storm of dishes for diwali.
Almost every variety of murukku known to me. I dint want to leave out the familiar feel of diwali back home. I know everyone makes thenkuzhal this way, but i anyway decided to post on it.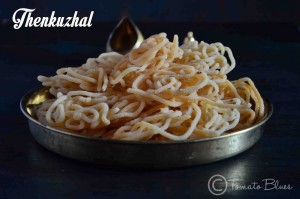 Prep Time: Under 15 mins
Cook Time: Under 45 mins 
Makes 30 medium size thenkuzhals


What you need?
Rice flour 2 cups
Urad dal flour 1/4 cup
Hing 1/2 tsp
Cumin seeds 1 tsp
Butter 3 tbsp melted
Salt as needed.
How to make it?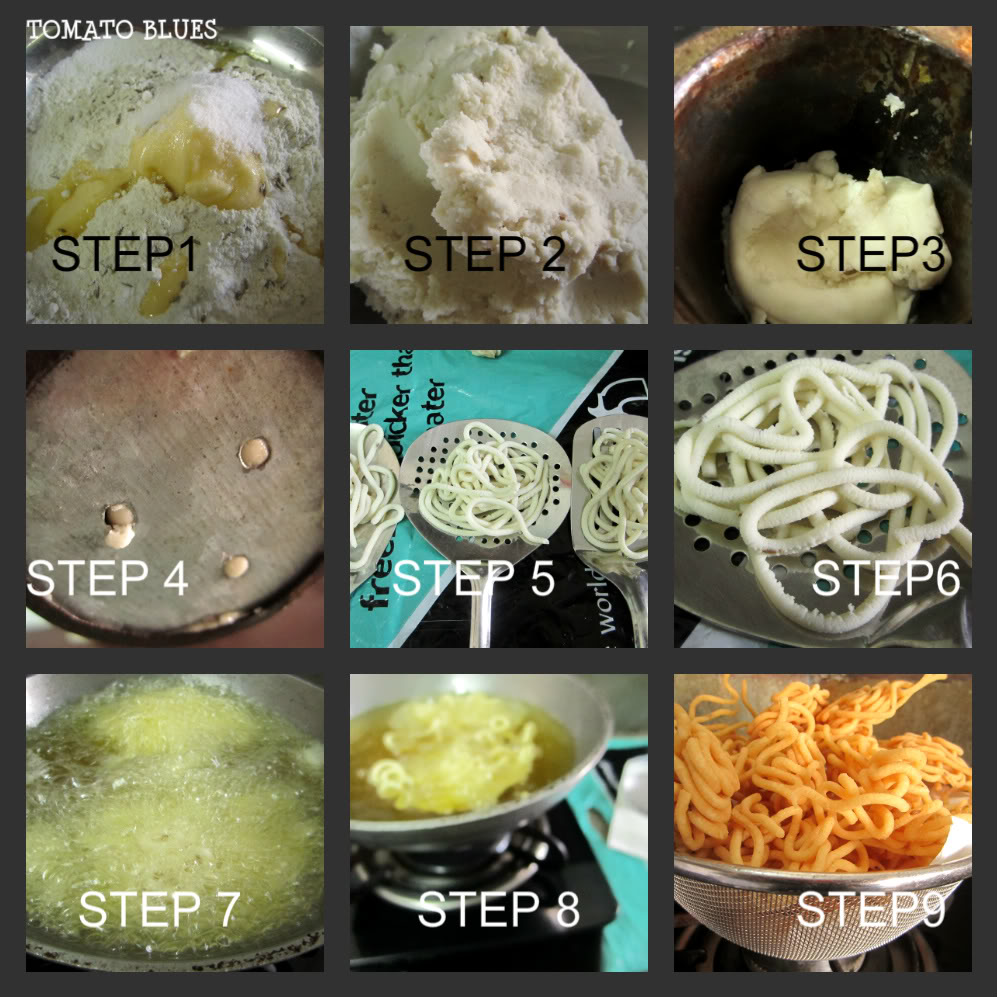 Step 1: In a large mixing bowl, place all flours and combine well.
Step 2:Add all the other ingredients and knead into a soft dough without any cracks.
Step 3: Insert the thenkuzhal mould into the murukku press and stuff in some dough.
Step 4:Practise drawing swirls of the dough on a greased ladle. Use as many ladles that you have. If you want a thick thenkuzhal, then draw the swirls in a kuzhi karandi. The ladle which is used to ladle sambhar rasam etc.But if you want to have a thenkuzhal that is wide and spread then use a ladle that you use for frying.
Step 5: Heat oil in a kadai. Not smoking hot. Check by dropping a small bit of dough into the oil. If it rises quickly to the top, then it is in the right temperature.
Step 6: Now, drop the thenkuzhals with the help of the ladle into the oil. It will slide easily into the oil but do it carefully as oil tends to splash.
Step 7: The oil becomes bubbly and you have a ishhh noise. Fry on medium flame until the noise subsides.
Step 8:Then turn the murukku and fry till light brown.
Step 9: Transfer to a colander lined with tissue paper. Let all the oil drain completely and let the murukkus cool down completely. Transfer to an air tight container and enjoy snacking on them.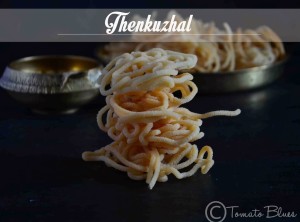 My thenkuzhals were consumed in 2 days, thats what happens when you are deprived of good munchies but it usually keeps fresh for a week.
Note: This is the dry flour method.. I knew a friend of my mom s who used to make it by grinding the rice wet in a grinder. I will try and post that too soon.