HOW TO MAKE THANDAI?
THANDAI- A COOLING AND REFRESHING DRINK WITH NUTS AND SEEDS.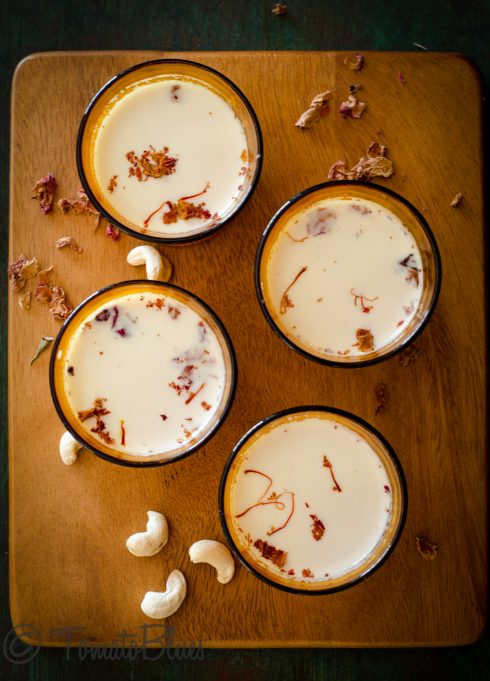 Thandai is a light and refreshing drink that is traditionally served during the Holi Festival. During that time, i made a video on making some Thandai but somehow, never got to post it on the blog.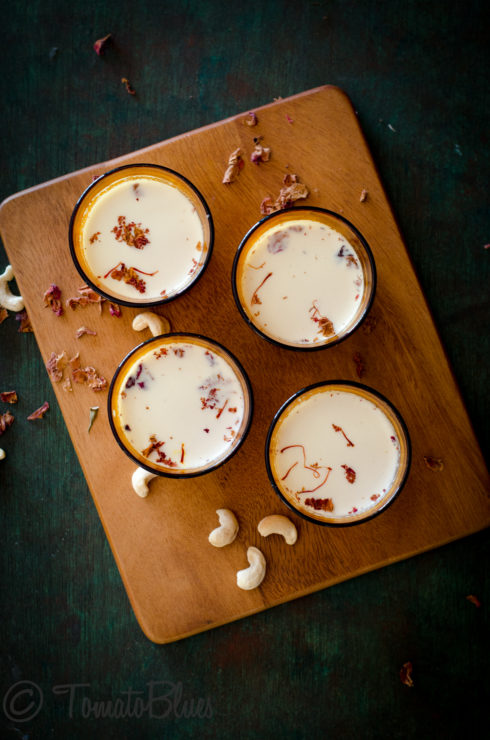 Now that i m doing this 30 days of blogging that is inspired by reshkitchen, i decided to clear out my archives. And so, finally here i am, with the Thandai post. As a rule, poppy seeds (khus khus) is used in Thandai. But they are banned in Singapore and hence my version doesn't have them.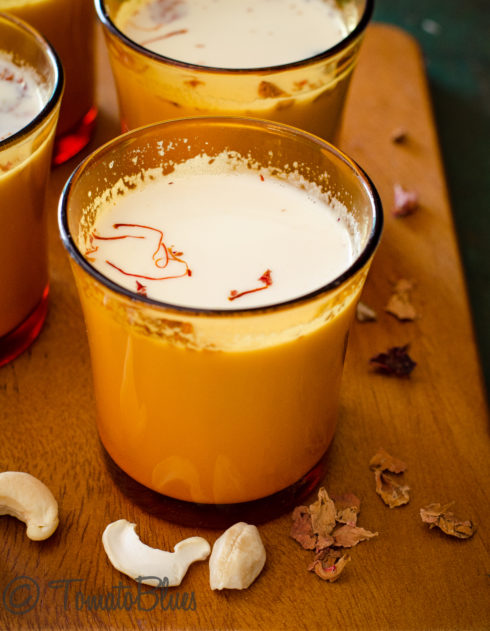 If you have access to khus khus, please use 1 tbsp of it along with the nuts while soaking. They give a beautiful flavor to the Thandai. If you don't have dried rose petals, use fresh edible rose petals.
Here s the video for making Thandai
If you are looking for more recipe videos, then do subscribe to our youtube channel.
If you are looking for more summer recipes, then explore our summer recipes 
Recipe for Thandai: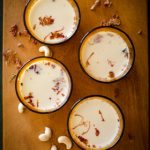 Print Recipe
Thandai Recipe| Holi Recipes
Thandai- a light and cooling drink, traditionally served on Holi festival. Made with an assortment of nuts and served chilled.
Ingredients
Whole fat milk 2.5 c

Sugar 3 tbsp

Saffron strands a few

Dried Rose petals a few

Cashews 5

Almonds 5

Pistachios 5

Melon seeds 1 tbsp

Fennel seeds 1/2 tsp

Pepper corns 1 tsp

Cardamom pods 2 to 3

Gulkand

rose petal jam 1.5 tbsp

Water 1 c

Saffron a few for garnish

Dried rose petals a few for garnish
Instructions
Soak the nuts and melon seeds in 1 c water for about 2 hours.

Infuse the saffron in 2 tbsp warm milk. Set aside.

Heat the milk and bring to a boil.

Add sugar and mix well.

Let cool completely.

While the milk cools, grind together the soaked nuts, seeds, gulkhand, fennel, pepper corns and cardamom adding 1/2 c water to a smooth paste.

Now, strain this mixture thoroughly.

Set aside the strained liquid.

Repeat the grinding again with the remaining 1/2 water and strain again.

Add to the previously strained liquid.

When the milk is completely cool, add the strained nut mixture, saffron infused milk and dried rose petals.

Mix well.

Chill in the fridge for about 4 to 5 hours.

Garnish with saffron and dried rose petals and serve.
Notes
Khus Khus (Poppy seeds) is used to make Thandai traditionally.
I do not have access to it here.
In case you do, use 1 tbsp khus khus along with the nuts while soaking.
For Instant Pot & Air Fryer Recipes
Instant Pot timings may vary based on your geographic location. Air fryer settings and timings may vary based on the capacity and the model of the Air fryer.
Disclaimer
Nutrition values are provided here as a courtesy and are only a rough guide. Please consult a health care provider if you have any concerns.