How To Make Tawa Pulao?
Tawa Pulao- A Popular Street Food Made With Pav Bhaji Flavors.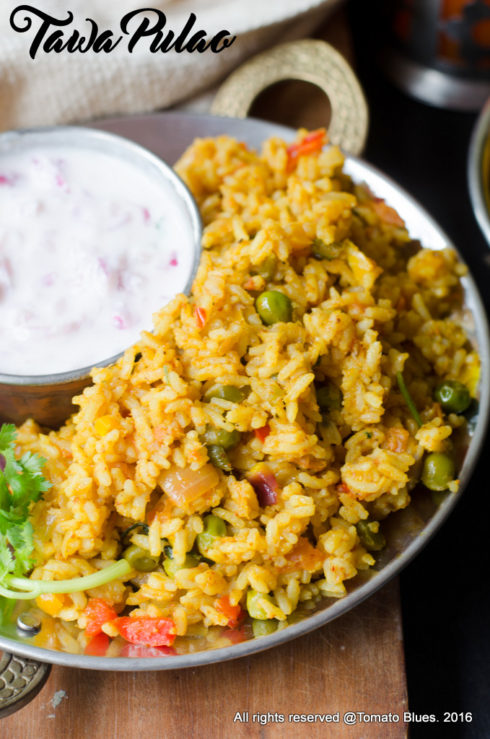 Tawa Pulao is something that i discovered on a Pav Bhaji cart in Bangalore.Eating on the streets is therapeutic for me. I allow myself that one indulgence once in a while without bringing my chimera interfere with my eating. I am obsessed about cleanliness. For me, a dirty person is despicable. I loathe dirty finger nails dipping into a matka of pani with a piece of poori.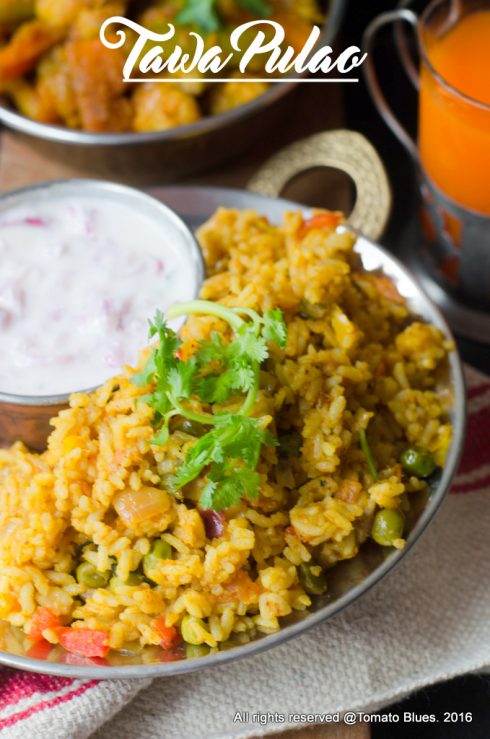 But once, only once, i allow myself that luxury of binge eating street food. I eat loads of it. Without a care in the world. Without thinking about the dirty finger nails and unclean plates. And to top off the bug in my ears, I bought Street Foods by Tarla Dalal. This tawa pulao recipe is straight out of it but i tweaked it a little. But trust me, its a blue ribbon for any potluck or dinner party or a casual brunch with friends.
Recipe Notes
I have used butter to make this recipe. You can replace the butter with regular vegetable oil for a vegan version. More veggies like finely shredded cabbage and carrots work well in this recipe too. I strongly recommend not skipping the Pav Bhaji masala as this is the main flavoring factor.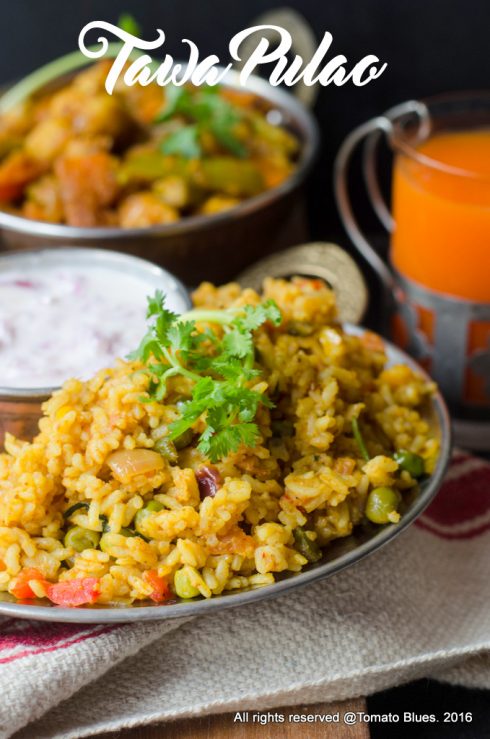 Follow me on Instagram or Facebook for regular cooking updates and short videos. Find us on  Pinterest for delicious content. Tried our Tawa Pulao? We value your thoughts and comments! Leave a comment and tell us how it worked for you. Email us your questions to anusapraj@gmail.com if you need any guidance in making this soup.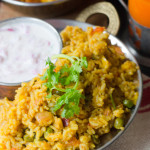 Print Recipe
Tawa Pulao Recipe
Tawa Pulao is a popular streetside dish. Made with loads of veggies and a prominent Pav Bhaji Masala flavor, this makes a great lunch or brunch.
Ingredients
Cooked rice the long grain variety 2 and 1/2 cups

I used basmati and leftover works wonderfully well

Bell peppers chopped finely 1 cup

i used a combo of red and green

Tomatoes 2 medium sized chopped finely

Onion 1 large chopped finely

Boiled green peas 1/2 cup

Green chilies 3 chopped finely

Cloves

6

Cinnamon 1/2 inch piece

Ginger garlic paste 1 and 1/2 tsp

Pav bhaji masala 1 tsp

Chili powder 2 tsp

Turmeric powder 1/2 tsp

Butter 2 tbsp

Salt to taste

For Garnish:

Cilantro chopped finely 1/4 cup

Lemon wedges 2 to 3
Instructions
Heat a kadai with the butter.

Add the cloves and cinnamon. Saute for a min.

Now, add the chilies and onion. Saute till onions become pink.

Next, add the ginger garlic paste and saute for about a min.

At this stage, add the bell peppers and peas and saute till the moisture leaves.

Now, add the tomatoes and a little salt. Psst.. adding salt helps cook faster.

Now, add all the spice powders and combine well.

Cook till oil separates.

Add the rice and salt and combine gently till the mixture and the rice is mixed well.

Garnish with cilantro and serve hot with a lemon wedge and some raitha.
Notes
Note:
1. You may also add other finely chopped veggies like cabbage and carrot to this recipe.
2. To make a vegan version, skip the butter and use vegetable oil.
3.You can also make this the traditional pulao by adding uncooked soaked basmati once the tomato mixture is done and cook in a electric rice cooker or a pressure cooker for 2 whistles.
For Instant Pot & Air Fryer Recipes
Instant Pot timings may vary based on your geographic location. Air fryer settings and timings may vary based on the capacity and the model of the Air fryer.
Disclaimer
Nutrition values are provided here as a courtesy and are only a rough guide. Please consult a health care provider if you have any concerns.
If you are looking to make some Pav Bhaji over the weekend, then check out our recipe for Pav Bhaji by clicking on the image.
More Pulao Recipes