How To Make Sri Lankan Dhal Curry Also Known Simply As Sri Lankan Dal?
Sri Lankan Dhal Curry is a mild lentil stew made with red lentils. Dal Recipes. Vegan. GF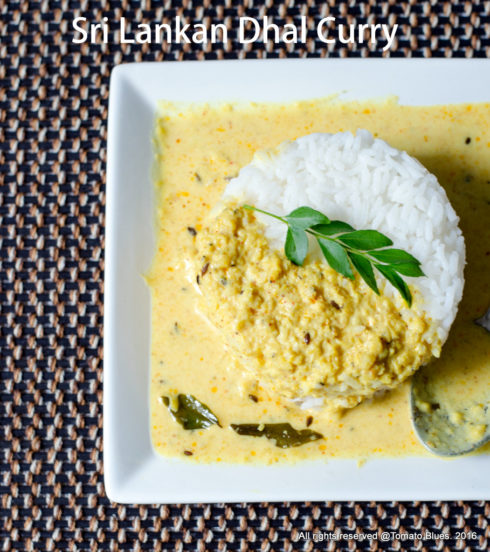 Sri Lankan Dhal Curry is a mild dal ( as Indians call it) that is beautifully flavored with the goodness of curry leaves and coconut milk. I have often observed that the Sri Lankan cuisine has a lot of similarity to Tamil and Kerala cuisines. And this can be found in their abundant usage of coconut, curry leaves and spices like cinnamon and cumin. Ceylon Cinnamon is one of the best that you can find in the world and it is priced for its flavor and quality at atrocious figures. Coming back to the Sri Lankan Dhal curry, the dal itself is a very simple recipe that has not more than three main ingredients. Also, this Sri Lankan Dhal Curry is a no onion no garlic vegan and gluten free dal and hence can be enjoyed by everyone. We like adding a squeeze of lemon juice to this Sri Lankan dhal curry to oomph the flavors but it is optional. This Sri Lankan Dhal is best enjoyed with rice and some spicy shallow fried curry like this Broccoli Potato Pepper Fry or Chenai Kizhangu Fry.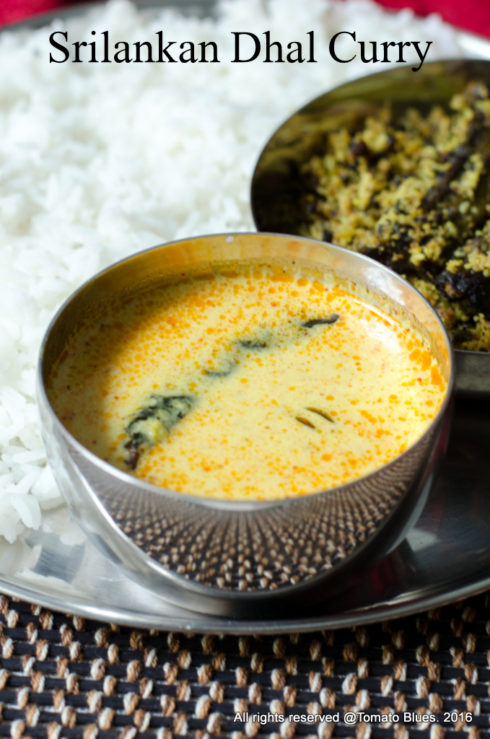 Basically you can cook this Sri Lankan Dal curry to any consistency you like. We like it a bit on the thinner side so i add more coconut milk. However you may reduce the amount of coconut milk mentioned here for a thicker dal. This Sri Lankan Dhal curry also known as Kottu Dhal has been adapted from Tarla Dalal Website. I found the original version too bland and after several trials, found bliss in this version of Sri Lankan Dhal Curry. A word of caution. Please do not add coconut milk while the dal is simmering at a high flame. This may lead to curdling. Also, please use coconut milk and not coconut cream for this recipe. I used the packaged coconut milk that is so ubiquitous in Singapore but i assure you , homemade coconut milk will work better. In case you use homemade coconut milk, use the second pressed milk. In case you use tetra pack coconut milk, make sure you dilute it with 1/4 c of cold water before adding to the dal.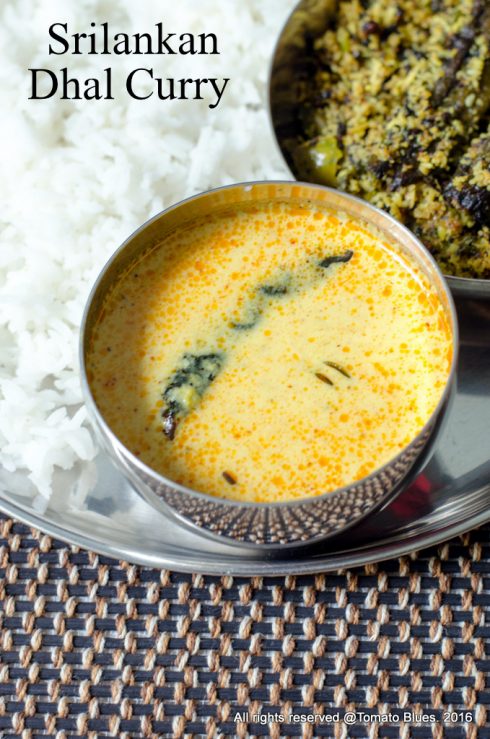 Recipe For Sri Lankan Dhal Curry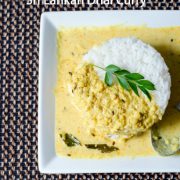 Print Recipe
Sri Lankan Dhal Curry Or Sri Lankan Dal
Sri Lankan Dhal Curry also known as Sri Lankan Kottu Dal is a mild lentil stew made with red lentils and coconut milk. Tastes great with rice
Ingredients
Masoor dal

Red Lentils/ Mysoor Dal 1/2 cup

Second Pressed Coconut milk 1/3 cup

refer notes

Turmeric powder 1 tsp

Red Chili Powder 1 tsp

Salt to taste

Coconut oil 1 tbsp

Cumin seeds 1 tsp

Cinnamon stick 1/2" piece

Curry leaves a few

Dry red chili 1

Lemon juice 2 tsp

optional
Instructions
Pressure cook the dal along with 3/4 c of water and turmeric until very mushy.

Drain any water and mash thoroughly using the back of ladle.

Heat a pan with oil.

Add 1 tsp of coconut oil.

To this add the red chili powder and immediately tip in mashed dal.

Bring down flame to low.

Add salt and mix well.

Let simmer for about 2 mins on medium flame.

Bring down the flame to the lowest and add the coconut milk and mix well.

Continue to simmer for about 1 min.

Switch off flame and transfer to a bowl.

Heat another pan with the remaining oil.

Crackle the cumin seeds and add the cinnamon, chili and curry leaves.

Once the leaves begin to change color, add the tempering to the dhal.

Mix well.

Add some lemon juice to the dhal if desired.

Mix well.

Serve hot with rice.
Notes
1. In case you are using tinned coconut milk, add 1/4 cup of water to 2 tbsp coconut milk and mix well. Use this in place of the second pressed coconut milk.
2. Adding lemon juice is optional but highly recommended
For Instant Pot & Air Fryer Recipes
Instant Pot timings may vary based on your geographic location. Air fryer settings and timings may vary based on the capacity and the model of the Air fryer.
Disclaimer
Nutrition values are provided here as a courtesy and are only a rough guide. Please consult a health care provider if you have any concerns.