Off late, i m making sure that we get our share of proteins every week. We are not meat eaters and hence the concern. I decided to throw in a
salad with sprouts
this week. And as usual, i did what came to my mind. Surprisingly, the outcome was very good that i sat and ate a whole bowl to myself. Had to make another for Mr.P. This also makes a good breakfast option for all those calorie counters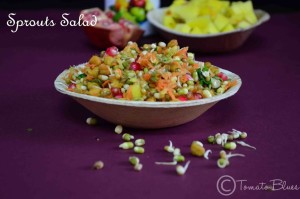 Recipe For Sprouts Salad
( Sprouts and veggies in a orange dressing)

Prep Time: 10 mins
Cook Time: Nil
Serves 2 generously
Allergy Info: Vegan, Gluten free

Ingredients
Mixed sprouts 1 c ( I bought readily available sprouts from the local farmer s market)
Carrot 1 small peeled and grated
Raw mango grated 1/2 c
Pomegranate pearls 1/4 c
Coriander leaves 2 tbsp chopped finely
For The Dressing
Freshly squeezed orange juice 1/3 c
Black salt 1/2 tsp
Chaat masala 1/4 tsp
White pepper powder 1/2 tsp
Caster sugar 1 tsp
Salt to taste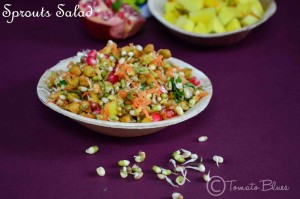 Directions
In a bowl, combine all the ingredients for the dressing and mix well until all the ingredients are dissolved
In another mixing bowl, combine the sprouts, carrot, mango, pomegranate, coriander and mix well.
Add the dressing and toss well.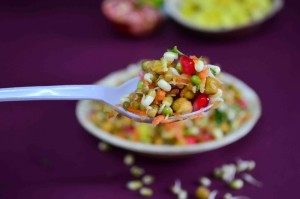 Top with roasted peanuts just before serving.
This is Salad 2 for this month s Palooza. Check out Salad 1- Cucumber Chickpeas Salad and also find out what salads my friends radhika and roshni are whipping up.