How To Make Spring Roll Salad In A Jar?
SPRING ROLL SALAD IN A JAR- FRESH VEGGIES & RICE NOODLES WITH PEANUT DRESSING. SALAD RECIPES. VEGAN.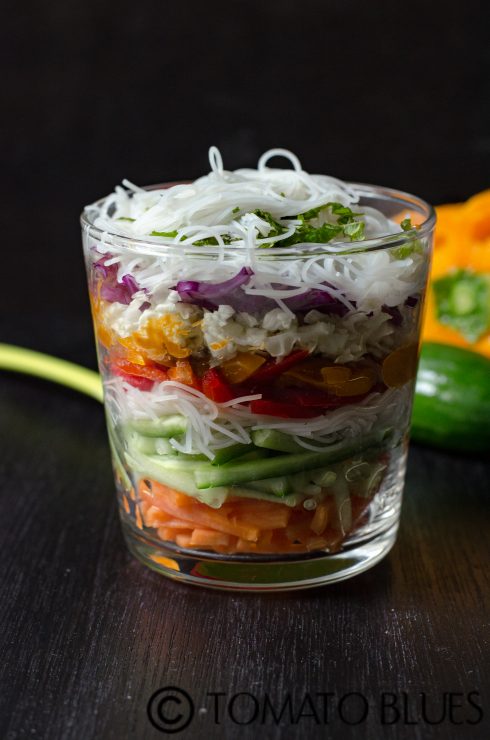 These spring roll salad jars are a blessing on weekdays when you have no time to cook. And these are also very apt for people looking to lose weight. With minimal amount of rice noodles and loads of fresh veggies, these provide the essential nutrients and also keep you full. I have not used rice noodles before coming here to Singapore. When i came here, i was simply stumped to see so many varieties of noodles. But what amazed me was the concept of rice noodles. One can say that rice noodles are always a healthier option when compared to flour based noodles. And these rice noodles take very little time to cook. You just have to soak them in hot water and follow the instructions on your packet. Once done, drain completely and proceed.
I make hakka noodles with these rice noodles too and i must admit they are real good. While rice noodles is known as sevai or idiappam in Southern India, the similarity ends there. The texture of these noodles is completely different, with a slight chewiness. All in all, rice noodles are a great alternative to wheat or flour based noodles in terms of calories and gluten quotient. If you live in India and are looking to buy Rice noodles , the online grocery shopping portal  Godrej Nature Basket has plenty of options including rice noodles of varying thicknesses. I recommend buying thin noodles for this salad.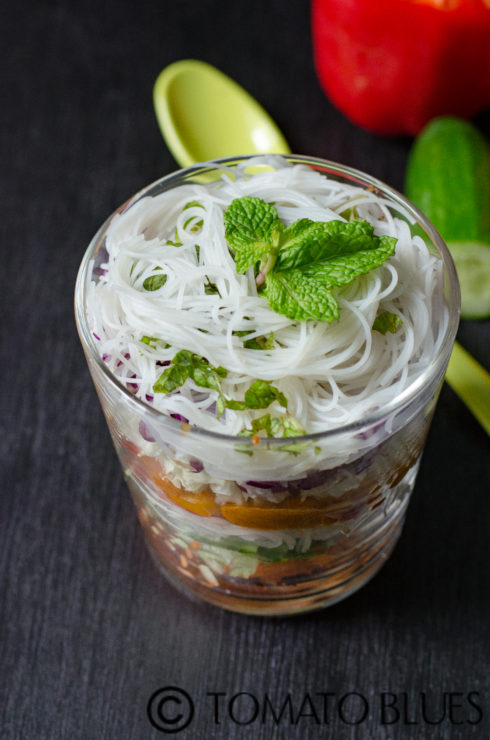 Coming back to the spring roll salad, i recently tried my hands at making vietnamese style spring rolls at home. I decided not to post them here because i need to practice folding them well. But i was left over with the filling and the dipping sauce that i had made for the spring rolls. That is when the idea of making these deconstructed spring rolls or spring roll salad in a jar struck me. The only time consuming thing in this salad is the chopping work. Once you chop your veggies, you can make this salad in under 10 mins.
Again, you can use any vegetables of your choice ranging from carrots to fresh lettuce to baby spinach. But i just kept it very basic and minimal. I used a combination of peanut butter, sriracha and soy sauce to make my dipping sauce. And the umami flavors just came together so well. Just let your imagination run wild when you make this salad. No matter whatvegetables you throw or dont throw into this spring roll salad, you will feel totally satisfied once you eat it. And make sure you use fresh herbs in plenty.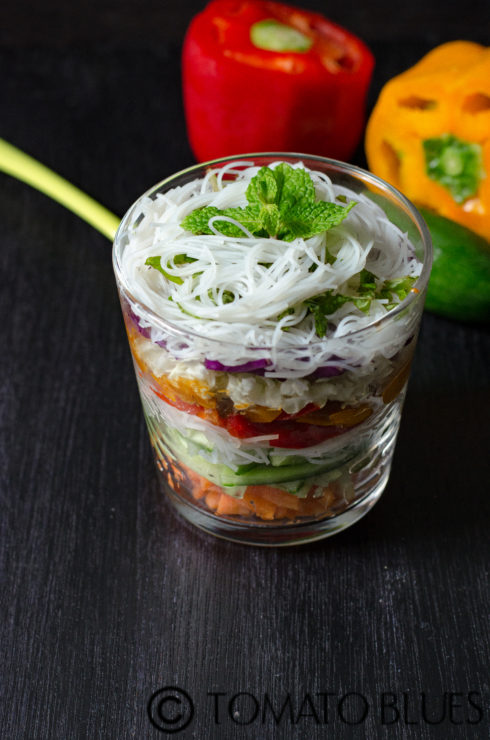 Recipe For Spring Roll Salad In A Jar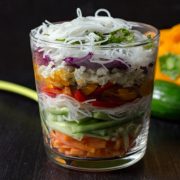 Print Recipe
Spring Roll Salad In a Jar
Spring Roll Salad In A Jar- Vietnamese spring rolls inspired salad with a creamy peanut butter dressing. Vegan. GF
Ingredients
Cucumber 1 peeled and cut into julienne

Carrot 1 smallish peeled and cut into julienne

Red

yellow and green bell peppers cut into long strips 1/2 c

Beijing Cabbage 1/4 c shredded

Purple cabbage 2 tbsp shredded

Mint leaves 10 chopped finely

Coriander leaves 2 tbsp chopped finely

Uncooked rice noodles 50 g

For The Dressing

Peanut butter 1 tbsp

Sriracha sauce 1 tbsp

Soy sauce 1 tsp

Lemon juice 2 tsp
Instructions
Cook rice noodles according to package instructions. Once done, drain water completely.

To make the dressing, place peanut butter, soy sauce, sriracha and lemon juice in a bowl.

Whisk thoroughly till smooth. Your dressing is ready.

In a small mason jar, place the carrots at the bottom and proceed making layers alternating between veggies, herbs and noodles.

Once you have assembled layers covering half the jar, spoon the dressing over the top most layer.

Assemble the remaining veggies, noodles and herbs in layers.

Chill in the fridge for an hour.

Serve cold.
For Instant Pot & Air Fryer Recipes
Instant Pot timings may vary based on your geographic location. Air fryer settings and timings may vary based on the capacity and the model of the Air fryer.
Disclaimer
Nutrition values are provided here as a courtesy and are only a rough guide. Please consult a health care provider if you have any concerns.