Sattu Ladoo- Protein-rich roasted gram flour made into Ladoos. Ideal for winters. Refined sugar-free Sattu Ke Ladoo made with powdered jaggery. These are quick and easy treats you can make for festivals or as a light snack.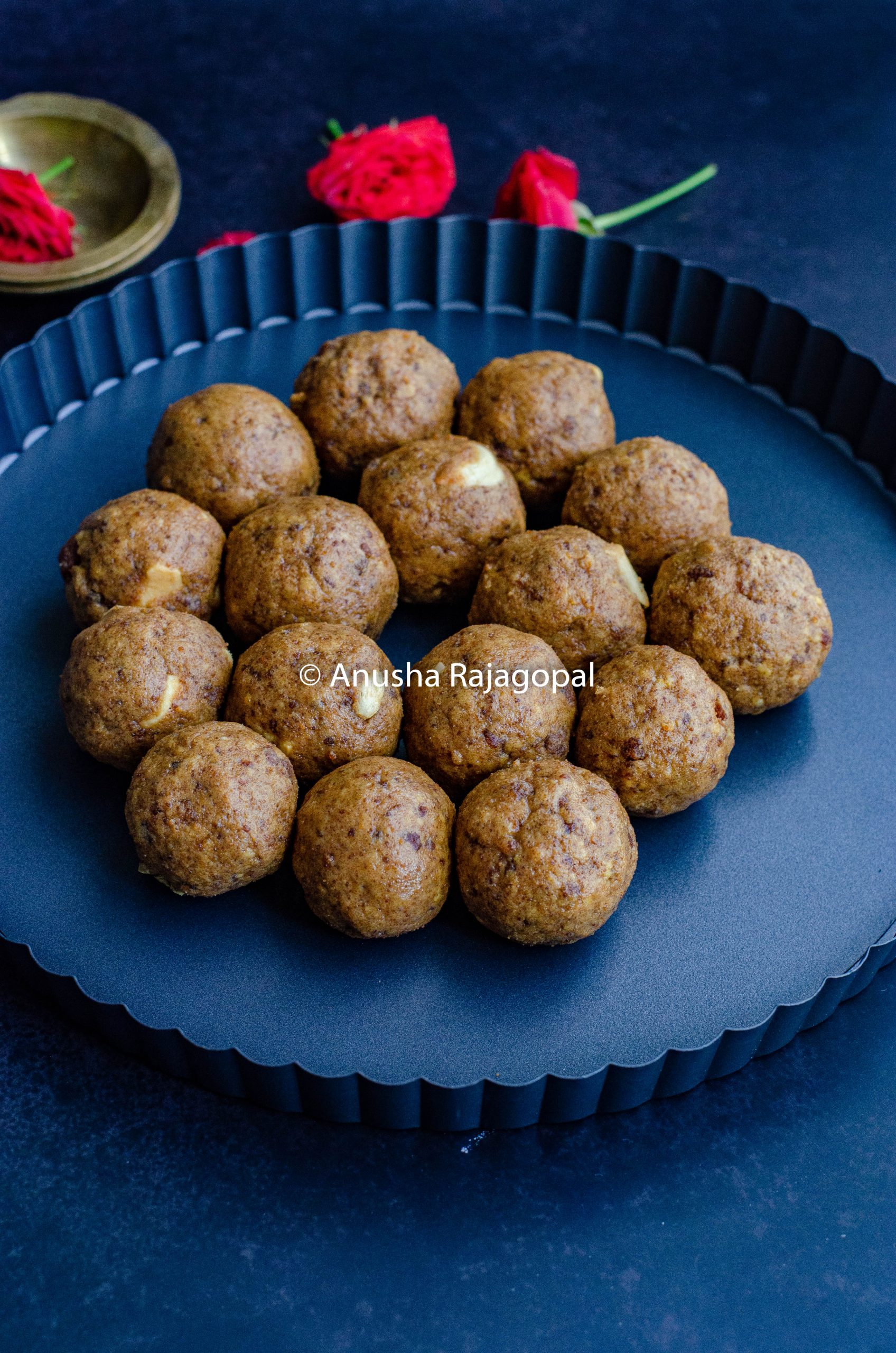 If we go back deep into our roots of eating habits, we will be quite surprised at the science that existed behind these practices. Winter calls for eating foods that are rich in calories and fats. 
The logic behind this is that the body requires fats and calories to stay warm. Our skin also needs these to keep it moist. We can also call these hibernating foods. And then there s the concept of eating foods that keep our body warm and that s where we have the habits of indulging in Jaggery, ghee and such.
Jump to:
Sattu Ke Ladoo
And that is exactly why these Sattu Ke Ladoo check all boxes and become the perfect winter snack. We call this the power Ladoos in our houses. They are the perfect healthyish dessert after a heavenly meal of roti, Dal and sabzi.
What is Sattu?
Sattu is made by grinding roasted chickpeas( roasted channa) into a flour. This is a staple food in states of Bihar, Uttar Pradesh and Jharkand. And this nutrient dense flour is also used to make Parathas.
You can also check out our Sattu Ke Parathe recipe.
Where to buy Sattu flour?
You can buy Sattu in all supermarkets in India. 
Sattu flour in Singapore- You can buy Sattu flour in Indian grocery stores like Sri Murugan in Singapore. This is also available in Mustafa.
Sattu Ladoo With Jaggery
Like I mentioned before, this is an ideal winter recipe. We enjoy these Ladoos with jaggery instead of regular white sugar. You can easily substitute Jaggery with regular white sugar too. Please use powdered sugar in place of the Jaggery mentioned here.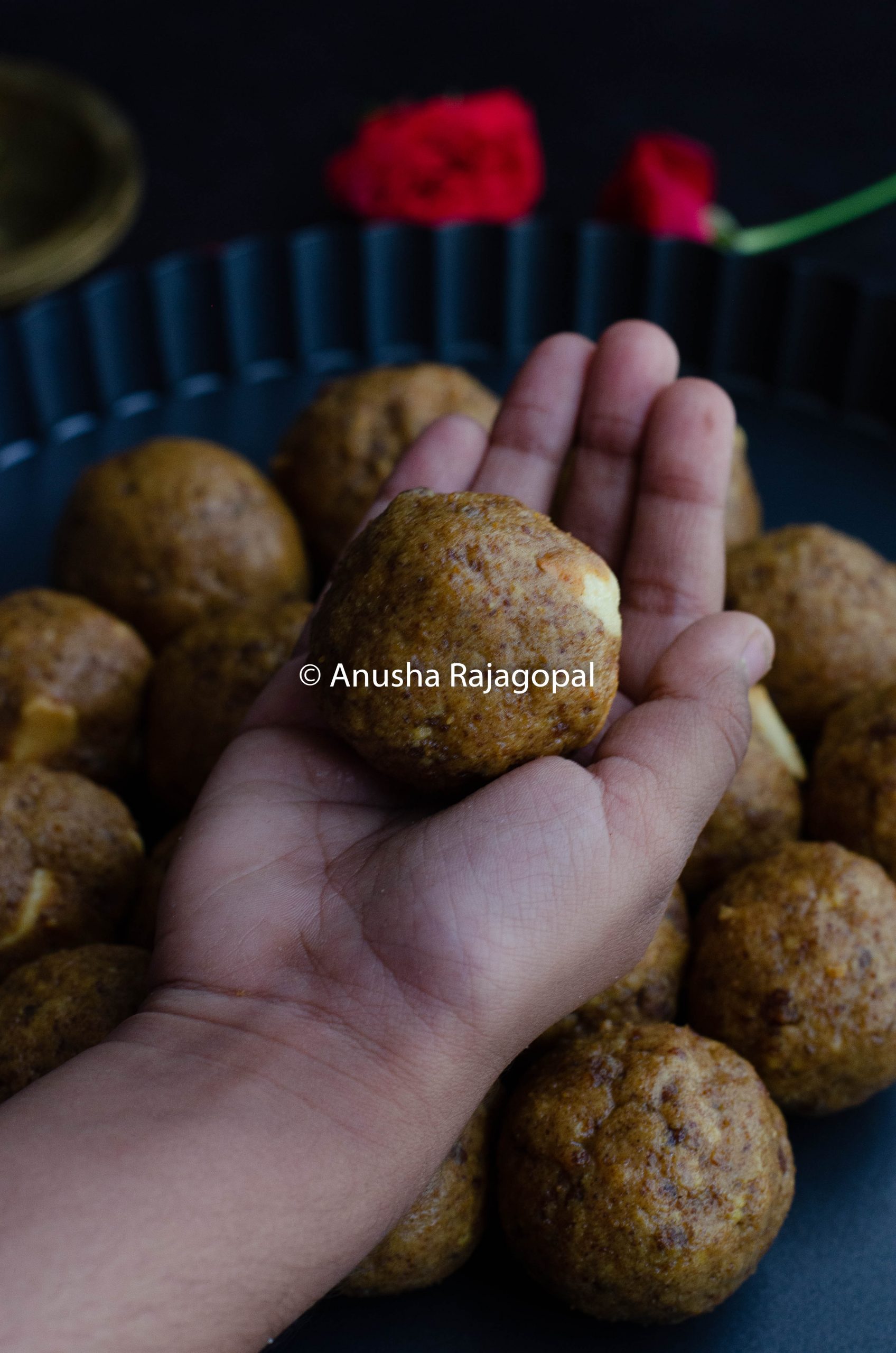 How To Make Sattu Ladoo Step By Step?
Step 1- Roasting the Cashews and Sattu
Heat a heavy bottomed pan. Add 1 tsp ghee. Add cashews and roast until golden. Drain and set aside.
Now add the Sattu and roast it on low flame till aromatic and very light brown. This process takes 6 to 8 mins.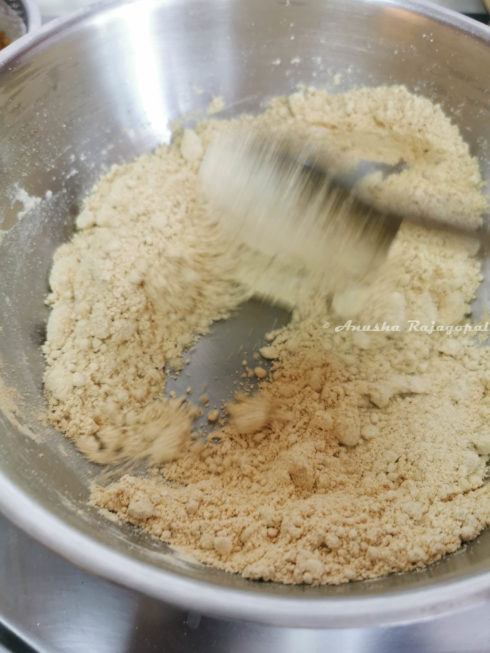 Make sure you keep stirring the flour every now and then. And do not leave the flour unattended while roasting.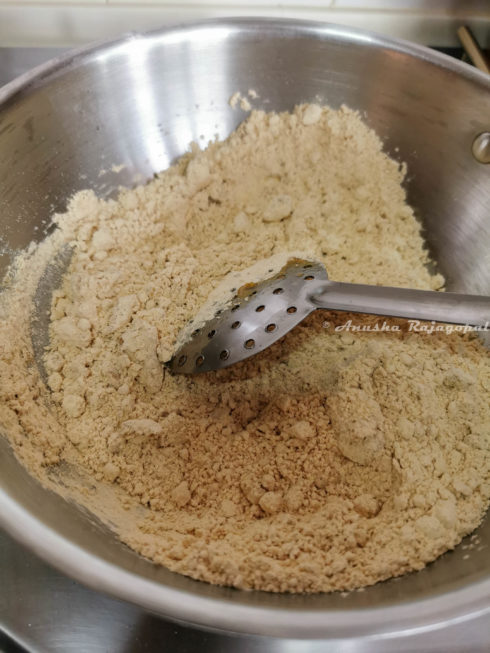 Step 2- Making the Ladoos
Add the roasted cashews, roasted flour and powdered jaggery in a mixing bowl. Mix well using your fingers.
Heat a pan with ghee. When the ghee is hot, add the crushed cardamoms and fry these till they become puffy and fragrant. Now add the melted ghee to the flour mixture.
Combine all of it in such a way that the ghee is evenly incorporated into the flour mixture.
The mixture has to be warm for the Ladoos to hold shape. 
Now, scoop half a handful of the flour and try to shape into a ladoo by applying pressure and tightly pressing and rolling them. If the ladoos hold shape, then continue to shape ladoos with the remaining mixture.
If the ladoos do not hold shape, then add 2 more tbsp melted ghee and mix again. Proceed to shape ladoos.
And that s it! The Sattu ke ladoos are ready to be enjoyed.
Follow me on Instagram or Facebook for regular cooking updates and short videos. Follow me on Pinterest for delicious content. Tried our Sattu Ladoo? Then please rate this recipe and tell us why you loved our recipe!
In case you have any questions regarding this recipe, leave a comment and I'll respond at the earliest possible. If you tried this recipe and enjoyed it, click a picture and share it on Instagram by tagging us @tomatoblues.
Recipe for Sattu Ladoo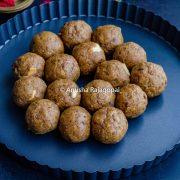 Print Recipe
Sattu Ladoo- Sattu Ke Ladoo
Quick, easy and protein-rich ladoos made with Sattu flour. Refined sugar free.
Ingredients
1.5

c

Sattu flour

3/4

c

Powdered jaggery

3 to 4

tbsp

Ghee

4

crushed

Green cardamoms

12

numbers

Whole cashews halved or broken
Instructions
Roasting
Heat a heavy bottomed pan. Add 2 tsp ghee.

Now, add the cashews and fry them till golden.

Drain the cashews and to the same pan, add the Sattu.

Roast the Sattu on low flame till very light brown and aromatic. Stir every now and then.
Shaping the ladoos
Transfer the roasted flour and cashews to a mixing bowl.

Add powdered jaggery to this.

Heat the ghee in a pan. Add the crushed cardamoms to this and fry these till puff up slightly.

Now combine all of this using your fingers making sure that the ghee is incorporated evenly into the flour mixture.

Scoop some of this mixture into your hands and press tightly and shape them into Ladoos.

If the Ladoos do not hold shape, then add 2 tbsp more melted ghee. Mix well and continue to shape into Ladoos.
Notes
It is very important that the ghee is hot while adding to the flour mixture.
Make sure the mixture is warm while making Ladoos. If the mixture is cold, then the Ladoos wont hold shape.
For Instant Pot & Air Fryer Recipes
Instant Pot timings may vary based on your geographic location. Air fryer settings and timings may vary based on the capacity and the model of the Air fryer.
Disclaimer
Nutrition values are provided here as a courtesy and are only a rough guide. Please consult a health care provider if you have any concerns.