August is the month of festivals and it is the time to make Payasam including this delicious and simple Arisi Kadala Paruppu Payasam.It starts off with the red letter amavasya and newly wed brides amidst the madhwas perform gouri pooja for five weeks on tuesdays. In that sense, every week brings in a festive day and the lunch menu almost always is a huge spread. The usual lunch accompanied by a koshimbir, kheer and lentil fritters, when the lunch is over, our tummies are begging us to let go and leave a little for the others to eat. Let not forget the tables that groan under the weight of all the food served.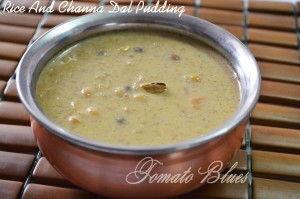 We madhwas have a few restrictions on what to make on a festival day and along those lines, moong dal, yams, greens and such stuff are not to be cooked. And every festival has a predetermined menu. So what was the menu for the amavasya this thursday? Eggplant mor kuzhambu, fried okra, apple rasam, koshimbir, lentil fritters and then this delicious rice chana dal pudding.
I love Arisi Paruppu payasam for so many reasons but mainly because it uses jaggery and is loaded with proteins. A health package and a dessert too. Can it get healthier than that? Oh boy. Yes it can. Cos you can almost make this with as little ghee as possible. Of course, i wont deny that the taste element goes upto another level when there s oodles of ghee. But for the conscious, you know what i m talking about, dont you?? This recipe also doesnt require a gourmet chef in action. It s an easy sail and no one can get it wrong.

Prep Time: Under 10 mins


Cook Time: Under 30 mins


Serves 4 to 6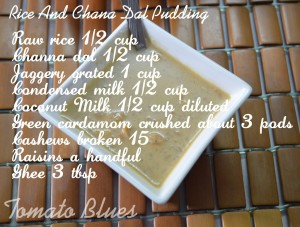 (The chana dal must be firm and cooked and not mushy. You can avoid the condensed milk and add more jaggery if you desire. Freshly pressed coconut milk takes this pudding to completely another level. The first pressed milk tastes best. In case of freshly pressed milk, use about 3/4 cup. In case of using packed coconut milk, dilute it with about 1/4 cup of water. You can also add bits of coconut to the pudding in the end. I used amul mithai mate for my condensed milk but you can use any brand you desire.)


Ingredients
Raw rice 1/2 cup
Channa dal 1/2 cup
Jaggery grated 1 cup
Condensed milk 1/2 cup
Coconut Milk 1/2 cup diluted
Green cardamom crushed about 3 pods
Cashews broken 15
Raisins a handful
Ghee 3 tbsp
How To Make It?
Wash the channa dal and rice and pressure cook for 3 whistles until the rice is cooked and the dal is cooked but firm.
Once done, add the jaggery to the rice dal mixture and mix well until the rice is mashed well and the mixture is well combined.
Heat 1 tbsp ghee in a pan.
Add the crushed cardamom pods and the rice mixture.
Saute on medium flame for about 2 mins.
Now, add the coconut milk and the condensed milk and combine well.
Bring to a boil and then simmer for about 4 to 5 mins on medium flame.
Now, heat the remaining ghee in another pan.
Add the cashews. After about 30 secs, add the raisins.
Wait till the cashews become light brown and the raisins fluff up.
Add to the pudding.
Mix well.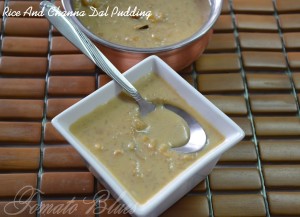 Serve warm as dessert after a huge lunch.
Sending this to My Legume Love Affair hosted by Simona of Briciole