It s simply wonderful to post everyday of the week. Sundays dont count huh….. Be it just out of passion towards cooking or be it a blogathon by Valli. It s absolute fun to cook up on one theme and post for a week. Sundays count here Phew!! Anyway i picked Healthy Lunch Box Recipes for Kids- Rice dishes for BM13. Hmmm…been thinking and planning ahead for this BM. And here s my first recipe. Red Bell Pepper Rice with cilantro raitha. Raitha recipe next week sometime and for now some of that tongue ticklish rice.
Prep Time: Under 30 mins
Cook Time: Under 20 mins
Serves 2
What you need?
For the rice:
Cooked rice 1 and 1/2 cups
Red bell pepper 1 chopped finely
Fresh grated coconut 2 tbsp
Lemon 1
Salt to taste
For the spice powder:
Channa dal 1 tbsp
Urad dal 1 tbsp
Dry red chilies 2 to3 depending on the heat you like
Coriander seeds 1 tbsp
Oil 1/2 tsp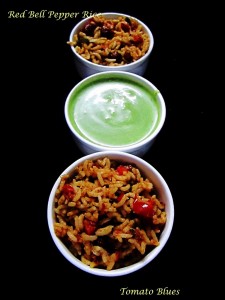 For the tempering:
Oil 1 to 2 tbsp
Mustard seeds 1 tsp
Curry leaves a sprig
Peanuts roasted 2 to 3 tbsp
Dry red chili 1
How to make it?
First in a kadai roast all the ingredients under the spice powder list with a 1/2 tsp oil until the dals turn light brown and aromatic. Let it cool and grind to a fine powder. Keep aside.
Heat the same kadai and add 2 tbsp oil. First add the peanuts and roast them till they are brown. Make sure you dont overdo this cos they tend to burn quick plus do this on low flame only after the oil has heated up well. Remove the peanuts and drain on a kitchen towel.
Now in the same kadai with the same oil, add the ingredients for tempering one by one beginning with mustard seeds.
Once this is done, add the turmeric powder and bell pepper and saute till they wither lightly. Like you know they ll shrivel up nicely.
At this stage, add the spice powder and salt and combine well.
Add rice next and mix well. Make sure that the rice is evenly mixed with the bell pepper mixture.
Add the peanuts and grated coconut and mix well.
Let it become a lil warm. And then squeeze the juice of 1 lemon and mix well.
Serve hot with any raitha of your choice or if you are packing it off for your kids lunch, send along some appalams or vadagams to enjoy with this rice.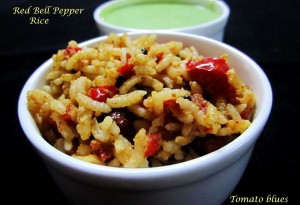 Note: Make sure you add the lemon juice only in the end when the rice is warm. If you add in while the rice is hot, then it may turn bitter.
You can also use yellow bell peppers and green bell peppers for this. Why, you can even try a combination of all the three for a colourful delight. You can make this whole thing in ghee and add cashews for garnish too. Dont fry the coconut. Just keep it fresh and you get an awesome dish!!
Alternatively, you can convert this whole thing in to a one pot meal by frying all the ingredients first and then adding rice along with required quantity of water and then pressure cooking for 2 to 3 whistles. Just make sure you dont add too much water because the rice grains have to be separate for this rice.
Ok i got one more note and then i m done. If you want your rice grains to be separate then, saute them for a minute before you add the water and then proceed as usual.
Phew… quite a lengthy post note huh??
If you want to know where the others are running along with me, then check out this link.
Blogging Marathon page for the other Blogging Marathoners doing BM#12