How To Make Raw Mango Sweet Pachadi For Tamil New Year?
Note: This post was originally published in August 2011. This is an updated version that includes video.
Raw Mango Sweet Pachadi is a sweet and spicy relish made with the season's first green mangoes. Vegan. New Year Recipes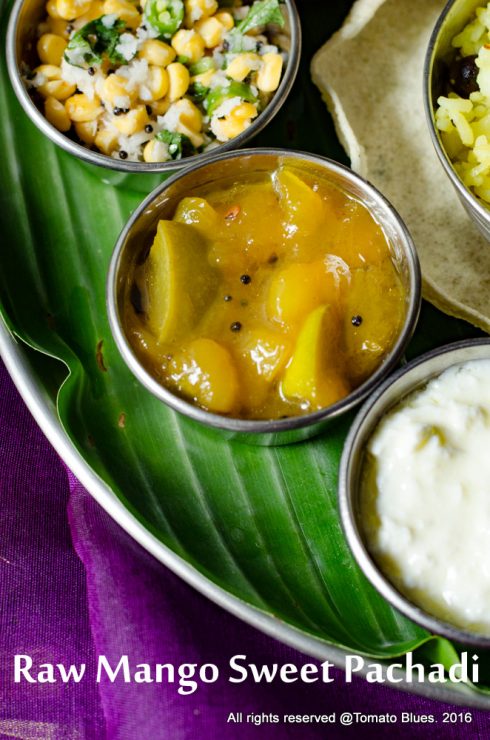 Raw mango sweet pachadi, a spicy, hot and sour relish made with the season's first raw mangoes is a must on Tamil New Year's day. This pachadi that combines the sour mango with jaggery, chilies and salt is a great accompaniment to sambar rice or curd rice.
We enjoy this raw mango sweet pachadi the most with some creamy curd rice. I make this pachadi quite often once the raw mangoes begin to appear in the market.
This stays well in the fridge for a week so i usually make a large batch and store it. We then consume this raw mango pachadi in every way imaginable, ranging from using it to smear on chapatis or as an accompaniment to curd rice.
Raw Mango For Pachadi
Make sure you choose the sourest mangoes possible. Only they will work well in this raw mango sweet pachadi. Very sour Thotapuri Mangoes also work well in this recipe
Spice Powders In This Recipe
Every household in Tamil Nadu has its own version of the Raw mango pachadi. Some people add sambar powder while some prefer adding just regular chili powder.
You can add either of the two or even try making this recipe using fresh green chili.
Adjust the level of spice based on how sour the mango is and your palates.
Ugadi Pachadi vs Raw mango Pachadi
The Ugadi Pachadi is something that is made on the day of the Telugu New Year – Ugadi.  This Pachadi has all the six tastes- sweet, sour, bitter, spicy, salty and astringent.
While the Tamil style maangai pachadi is a cooked dish, the Ugadi Pachadi is a raw pachadi and also features Tamarind.
This recipe is also very similar to that. While the Ugadi Pachadi is made in Andhra and Karnataka states, this raw mango Pachadi is made to mark the occasion of Tamil New Year.
Dried Neem Flowers:
These lend a beautiful flavor to this recipe. And i wont recommend skipping them. Not only do they add to the flavor but the benefits of neem flowers are numerous.
Dried neem flowers help in improving digestion and your gut health in general.
Jaggery
The color of this raw mango pachadi will be anything from dark brown to a light golden brown depending on the jaggery you use.
This is the reason you see a darker brown pachadi in the video and a lighter one in the pictures here.
Both versions were made on different days and hence the color difference.
If you are looking for more raw mango recipes, then do check out our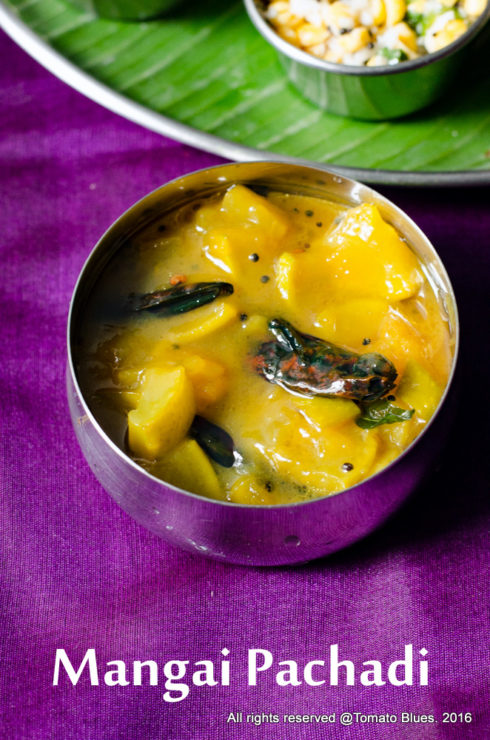 Recipe For Raw Mango Sweet Pachadi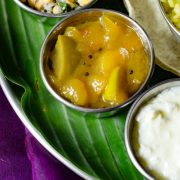 Print Recipe
Raw Mango Sweet Pachadi Recipe
Raw Mango Pachadi- a sweet, spicy and sour relish made with green mangoes and jaggery. Tastes great with rice or chapati
Ingredients
3

tbsp

Powdered Jaggery

2

tbsp

water

2

tsp

Sesame Oil

1 tsp

Mustard seeds

10

Curry leaves

chopped finely

3

green chili

finely chopped

1

c

Peeled and cubed Raw mango

Approx 150g

1

c

water

1

tsp

Chilli Powder

1

tsp

turmeric powder

Salt as needed

2

tsp

dried neem flowers
Instructions
Combine Jaggery and water in a pan. Cook till jaggery is melted. This is our Jaggery syrup.

Heat oil in a pan. Pop the mustard seeds, add the green chili and curry leaves. Saute for 20 to 30 secs. Add in the raw mangoes.

Now, add the water, turmeric powder, chili powder and salt. Mix well. Cook till mango becomes fork tender.

Add the jaggery syrup next. Simmer on medium flame till jaggery thickens.

Once done, add the dried neem flower, mix well.

Our raw mango pachadi is now ready to be served.
Video
For Instant Pot & Air Fryer Recipes
Instant Pot timings may vary based on your geographic location. Air fryer settings and timings may vary based on the capacity and the model of the Air fryer.
Disclaimer
Nutrition values are provided here as a courtesy and are only a rough guide. Please consult a health care provider if you have any concerns.