Mangoes. They are everywhere and anywhere in the vicinity. Situation at hand.
So, what did the poor food blogger who cant resist anything seasonal( read me) do?
Ahem….. she made the mango salsa Then she made some panna cotta with mango gelee ………..And then she even made mango pickle ( which she never does even if you put her at gunpoint). She even ate some of the mangoes, raw , ripe flesh, stone et al. And then she was still left with one small mango. A raw mango that was so sour that it will make a tamarind tree cringe. What became of that mango? That mango. That lone teeny weeny fella became raw mango rice. And let me tell you, this raw mango rice is nothing but sheer delight.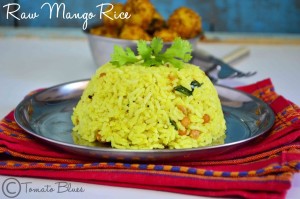 Raw Mango Rice
( Raw mangoes and coconut stir fried along with cooked rice)
Prep Time: 10 mins
Cook Time: 30 mins
Serves 2 generously
Level: Intermediate Cooks
Ingredients
For The Mango Paste:
Sour raw mango 1 small chopped finely or grated
Fresh grated coconut 1/4 cup
Green chilies 8 to 9 ( i like my raw mango rice really hot. Reduce the number if you cant handle the heat)
Mustard seeds 1/4 tsp
Salt to taste
For The Rice:
Cooked rice 2 c ( i used sona masoori)
Oil 2 tbsp
Mustard seeds 1 tsp
Urad dal 1 tsp
Channa dal 1 tsp
Peanuts 3 tbsp
Curry leaves a sprig
Dry red chilies 2
Turmeric powder 1/2 tsp
Salt to taste
Hing a small pinch
Directions
Grind together the ingredients required for the paste along with very little water to a paste. The paste must not be too coarse or too smooth.
Heat a pan with oil and pop the mustard.
Add the urad dal, channa dal, peanuts, dry red chilies, curry leaves and hing next.
Saute till the peanuts turn brown. Add the turmeric next and mix well.
Now,add the ground paste to this, mix vigorously and cook on medium flame until almost dry, stirring in intervals. Takes about 4 mins for the mixture to become dry.
Now, add the cooked rice and salt and mix thoroughly.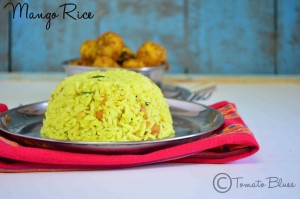 Serve hot with fryums or any roasted veggies.