There are days when all one wants to do is seek out comfort. Mainly in food. Food without all the fuss and fancy. Food that is wholesome and yet delicious enough to make one doze off. The past few weeks, my life saw so many such days. And obviously, it also saw so many such recipes that will make one go,mmmmmmmmm in the mouth and then take a nap. Plus, the mango season arrived. I mean, how can one not find comfort in licking and sucking away on a mango stone. Seriously, that joy. That joy is indescribable.
I m a greater fan of the vibrant green raw
mangoes
than the canary yellow ripe ones. The yellow ones make me very feel very cheerful and i m not yet that mature to handle so much cheer. ( You can call me Meredith Grey or Christina Yang but sadly that s how i feel about cheer. And i dont do holidays well either). But comfort, and that too comfort in food is my forte. And i did find solace in this tangy mango dal more than once the last few days.
It s really a fuss free recipe that involves none of the cumbersome sauteeing, roasting and grinding. And yet, it will make you feel like you ve found manna. Especially on a day when things get a bit lousier than usual. So, here s my recipe for mango dal.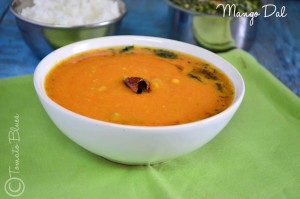 Recipe For Raw Mango Dal
( Lentil Stew with raw mangoes)

Prep Time: 10 mins
Cook Time: 30 mins
Serves 2
Level: Easy
Allergy Info: Nut, soy and gluten free.

Ingredients
Super sour raw mango 1 medium chopped into pieces
Toor dal 1/2 cup
Turmeric powder 1/2 tsp
Chili powder 1 tsp
Ghee 2 tbsp
Mustard seeds 1 tsp
Fenugreek seeds 1/2 tsp
Hing a small pinch
Curry leaves a sprig
Salt to taste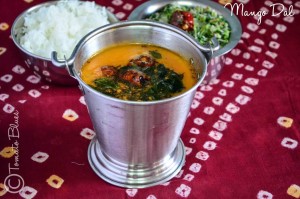 Directions
Pressure cook toor dal with 2 cups water and turmeric until mushy.
Remove, mash thoroughly, water and all and set aside.
Heat a pan with 1 tbsp ghee and add the mangoes.
Saute till mushy. Mangoes cook fast. So dont add any water.
Now, add the chili powder and mix well.
Add dal and salt next and mix.
Simmer for about 5 mins.
In a pan, heat the remaining ghee and pop the mustard.
Add the fenugreek seeds, hing, curry leaves next.
Add this to the prepared dal.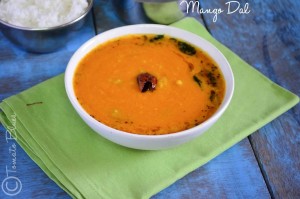 Serve hot with steamed rice and papad.