This is a very very delayed post. I was supposed to have done this last week. But then the skies opened up. The trees went into a trance that lasted forever and all connection with the world came to a standstill. No phones. No internet. No blogging. And i had more crippled than ever. Not that i was jobless otherwise. Between rehearsing for a play,teaching kids on a five hour basis every day and the maid not coming in for a couple of days, i was all but breathless. But then the pleasures of blogging. The vicious pleasures of clicking away food. And the thrill of creating something new to munch in the kitchen is something that i can hardly contain. And when i m denied all that, i know that i can feel almost sickly.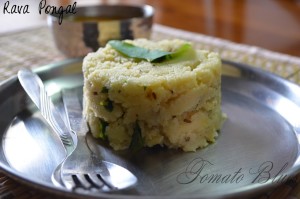 Somewhere last evening, the telephone guys had the wisdom to come and restore our phone lines and our internet. And relief, excitement and glee washed over me all at once. So this rava pongal that got made and clicked for The Avant Garde Cookies last week. I was supposed to have posted it on last friday. But then the lazy bug bit me sometime on wednesday night when i felt drafting the post more than sufficed and that publishing it can wait. That was no wise thing to do cos the rain Gods betrayed me the next morning. So after a week s delay, i am rewriting that post and sharing this uber delicious breakfast idea with you all.
Recipe For Rava Pongal
( Learn how to make Rava Pongal, a delicious breakfast with semolina and moong dal)


Prep Time: 20 mins


Cook Time: 20 mins


Serves 2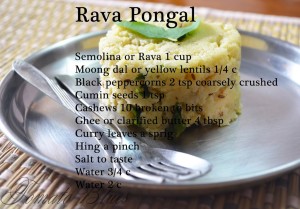 (This is a nice twist to the regular yet yummy ven pongal. We are terrible fans of the ven pongal and we are people who are not ashamed to say that we pour ladles of ghee on our pongal. While we make the ven pongal with rice and moong dal, this is made with semolina and yellow lentils aka moong dal. The ingredients are pretty much the same but the procedure differs. Make this on a sunday for brunch and take that well deserved nap!)

What You Need?
Semolina or Rava 1 cup
Moong dal or yellow lentils 1/4 c
Black peppercorns 2 tsp coarsely crushed
Cumin seeds 1 tsp
Cashews 10 broken to bits
Ghee or clarified butter 4 tbsp
Curry leaves a sprig
Hing a pinch
Salt to taste
Water 3/4 c
Water 2 c
How To Make It?
In a large pan, heat about 1/4 tsp ghee and saute the moong dal till aromatic on medium low flame.
Once done, pressure cook the dal until tender and mushy. Mash with a fork and set aside.
Now, in the same pan, heat the remaining ghee.
Simultaneously, boil the 2 cups of water.
Now, add the pepper, cumin, curry leaves, hing and the cashews in that order.
Once the cashews have turned a light brown, add the semolina and saute till aromatic just like you would do for upma.
Once the semolina is aromatic, add the mashed moong dal and salt.
By now the water would have come to a rolling boil.
Add this water to the moong dal semolina mixture and stir continuously on low medium flame.
In 3 to 4 mins, the mixture would start leaving the sides and that s when you know the pongal is done.
Once done add about 1 tbsp ghee.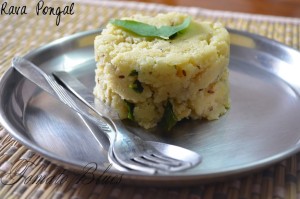 Serve hot with any chutney or eat it with Vatral Kuzhambu like we did. Sending this to Susan s My Legume Love Affair this month.