HOW TO MAKE RASWALI KOHLRABI SABJI?
RASWALI KOHLRABI SABJI- A JUICY CURRY MADE WITH KOHLRABI (NOOLKHOL)

Raswali Kohlrabi sabji is something that i make every time i spot Kohlrabi in the market. I love Kohlrabi for its crunch and texture. I add it to pretty much every dish i can think of, when it is in season. But my favorite way to enjoy this much underrated vegetable is in the form of pickle. This curry comes second on that favorites list.
This raswali kohlrabi sabji is a quick curry that comes together in a few mins. It calls for basic ingredients that are always available in an Indian pantry and can easily be made into a no onion no garlic version. This recipe calls for no onion but uses garlic. In case, you want a satwik raswali kohlrabi sabji, please skip the garlic.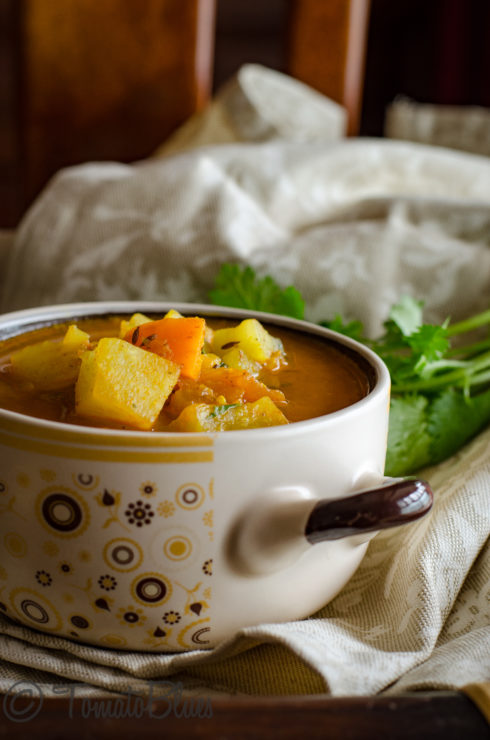 Here is the video on how to make Raswali Kohlrabi Sabji:
If you liked this video, please subscribe to our YouTube Channel.
Recipe For Raswali Kohlrabi Sabji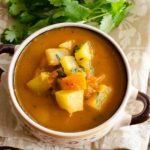 Print Recipe
Raswali Kohlrabi Sabji Recipe
Raswali Kohlrabi Curry is a simple, every day curry made with kohlrabi and carrots. Pairs well with chapatis and rice.
Ingredients
KOHL RABI 1 MEDIUM PEELED

CUBED

CARROT 1 MEDIUM PEELED

CUBED

GARLIC CLOVES 2 CRUSHED

TOMATOES 2 MEDIUM PUREED

CUMIN SEEDS 1 TSP

BAY LEAF 1 TORN

Spice powders:

RED CHILI POWDER 1 TSP

GARAM MASALA POWDER 1 TSP

TURMERIC POWDER 1 TSP

CORIANDER POWDER 1 TSP

CUMIN POWDER 1/2 TSP

AAMCHUR POWDER 1 TSP

DRY GINGER POWDER 1 TSP

OIL 2 TSP

SALT TO TASTE

WATER AS REQUIRED

CORIANDER LEAVES 2 TBSP FOR GARNISH
Instructions
Pressure cook kohlrabi and carrots with 1/2 c of water for 1-2 whistles.

Let pressure release of its own.

Once done, heat a pan with oil.

Crackle the cumin seeds and add the bay leaf.

Add garlic cloves next and fry till it begins to brown.

Add the tomato puree and mix well.

Add the spice powders and mix.

Cook for 30 secs on medium flame.

Now, add the cooked kohlrabi and carrots along with the water in which it was cooked.

Mix well. Simmer for 3-4 mins.

Now, adjust the consistency of the curry to a runny curry, adding water as required.

Add salt and mix well.

Cook covered for 5-6 mins.

Once done, garnish with coriander leaves.

Serve hot.
For Instant Pot & Air Fryer Recipes
Instant Pot timings may vary based on your geographic location. Air fryer settings and timings may vary based on the capacity and the model of the Air fryer.
Disclaimer
Nutrition values are provided here as a courtesy and are only a rough guide. Please consult a health care provider if you have any concerns.