How To Make Rajasthani Kadhoo Aloo , A No Onion No Garlic Recipe?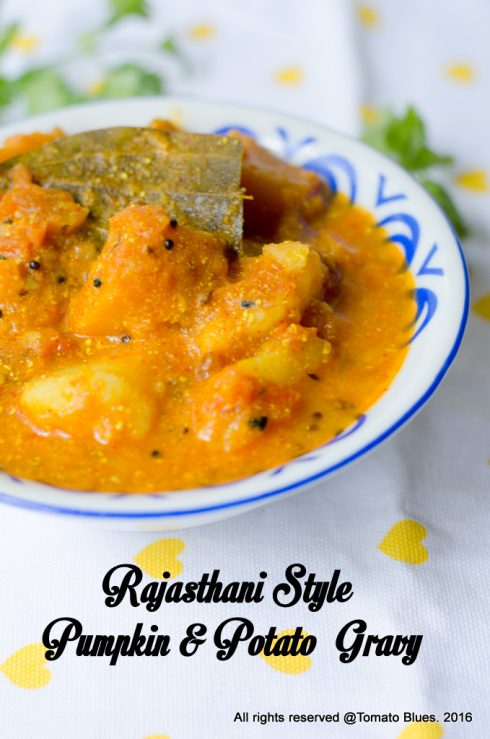 RajasthaniKadhoo Aloo is a simple yogurt based gravy that uses pumpkin and potatoes. It is a mild yetflavorsome combination to all kinds of  flatbreads, the brownie point being that it is a no onion no garlic recipe. Ifi am making rotis for lunch, then rest assuredi will be at sixes and sevens in the kitchen.The question of what to makealongside the roti always remains a bully of a situation. Makingpaneer based side dishes and mixed vegetable sides on a regular are just so not my cup of tea. I detest the soaking and grinding involved in making amakhani or butter masala. Its ok once in a while but when you are almost on a whirl wind and you want to eat something more that beans, carrots, peas andpaneer, theni think one must start ferreting out for new dishes. On one such crazy rummaging for a new dish on the table,i discovered this  rajasthani  kadhooaloo. Believe me the flavours are simply wonderful and if you are a person who hates that big fat red pumpkin then you will not after you eat this.Serve thisrajasthanikadhooaloo with rotis orphulkas or plainparathas or even stuffedparathas  of your choice.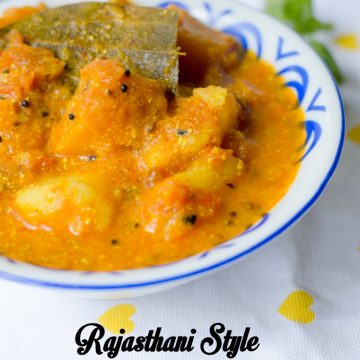 Rajasthani Kadhoo
Rajasthani Kadhoo Aloo is a simple but flavorsome side dish that can be served along side flatbreads. It is a no onion no garlic recipe that uses yogurt.
Ingredients
Red pumpkin ¼ kg cut into cubes

Potato 1 large peeled and cubes

Tomato 1 chopped finely

Cloves

2

Cinnamon ½"

Bay leaf 1

Cardamom 1

Sugar ½ teaspoon

Salt to taste

Curd 2 tablespoon

Oil or ghee 2 to 3 tablespoon

Spice powders:

Chili powder 1teaspoon

Cumin coriander seeds powder 2 teaspoon

Turmeric powder ½ teaspoon

Hing ¼ teaspoon

Tempering:

Kalonji or nigella seeds ½ teaspoon

Mustard seeds 1 teaspoon

Fenugreek seeds ¼ teaspoon

Garnish:

Cilantro chopped finely 2 tablespoon

Lemon wedges to serve
Instructions
Heat a kadai with oil or ghee. Add mustard seeds, nigella seeds, fenugreek seeds,cinnamon, cloves, cardamom and bay leaves and saute for 30 secs or until mustard splutters.

Add the curd and saute for about a minute.

Add the tomatoes and saute till oil leaves the sides.

Next, add all the spice powders, combine and saute for 30 secs.

Now, toss in the potatoes and pumpkins and give it a nice toss to ensure that its mixed well with the curd mixture.

Cook closed till vegetables are tender and cooked but take care not to make them mushy. Takes about 12 to 15 mins.

Add salt and sugar once done and combine well.

Now, garnish with cilantro and squeeze a lemon wedge just before serving
Pin This Recipe
Pin this recipe and save for later