A very close cousin of the south indian mor kuzhambu, i love this tangy and creamy stew for its rich flavours and the chickpea flour dumplings. The moment someone says i am making kadhi pakodi at home, i have this shameless me popping out and saying " Oh! How wonderful Can you send some over??" I dont make it at home often but whenever i do, we have a ball at home. We love dunking stuffed parathas into the stew and then lick our fingers. By now, i m sure you all would have understood my obsession for licking. I made this for lunch yesterday and we ate with the layered sesame parathas that i made alongside it. Mr. P however ate it with a lot of rice. He has a weird way of eating. Crumbling the pakodis along with the rice, mix the kadhi well and then start gobbling. Hmmm thats his way of eating and i ll tell you something … even i like that way!! Now i know there are many raised eyebrows.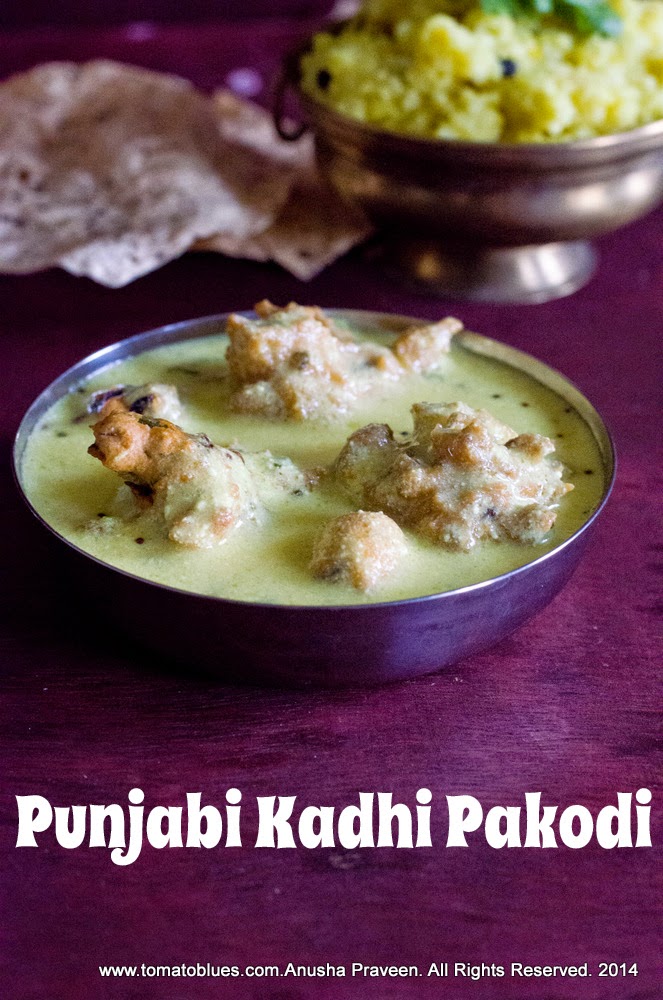 Recipe For Punjabi Kadhi Pakodi
( Learn how to make Punjabi Kadhi Pakodi- Gram flour fritters dunked in tangy yogurt stew)
Prep Time: Under 20 mins
Cook Time: Under 30 mins
Source: Tarla Dalal
Serves 2 to 3
Allergy Info: Soy free, Nut free, Vegetarian
Course: Accompaniment
Cuisine: Indian ( Punjabi)
Ingredients
For The Pakodis
Besan or chickpea flour 1 cup
Green chillies 2 minced finely
Cumin seeds 1 tsp
Coriander cut finely 2 tbsp
Salt to taste
Oil for deep frying
For the Kadhi:
Sour buttermilk 2 and 1/2 cups
Besan 1 tbsp mixed into a smooth paste with a lil water
Turmeric powder 1/2 tsp
Salt to taste
For the Tempering
Oil 2 tbsp
Chili powder 1/2 tsp
Grated ginger 1/2 tsp
Cloves 2
Cinnamon 1/2″ piece
Curry leaves a sprig
Hing a large pinch
Mustard seeds 1 tsp
Coriander seeds 1/2 tsp
Cumin seeds 1/2 tsp
Fenugreek seeds 1/2 tsp
Directions
In a mixing bowl combine all the ingredients for the pakodi and make a thick batter.
Check for seasoning and heat the oil.
Drop spoonfuls of batter once the oil is hot and fry them on medium flame till they are golden brown.
Drain on a kitchen towel and keep aside.
Mix the besan paste with the sour buttermilk and combine well.
Now, add the turmeric powder and salt and bring to a boil.
Now drop the pakodis into the kadhi and simmer for 2 mins on low flame.
Temper with all the ingredients mentioned under "for tempering" in the ingredient list and serve hot with parathas or phulkas or kichdi.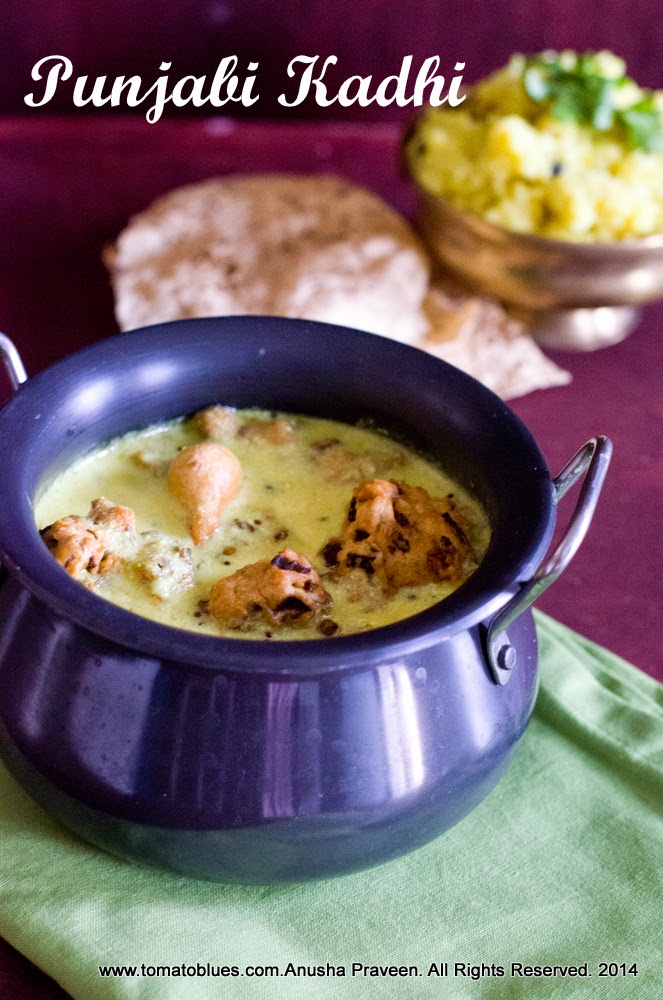 Off this goes to Hot and Spicy Treats , Comfort Food, Valentines Fest Served With Love and SYF &HWS Coriander Seeds