Kesari or sweet semolina pudding is probably the easiest dessert that one can make. Its a sweet recipe that s new bride friendly, a bachelor s boon and an average cook s pride. But this recipe can be equally finicky too when you dont have the patience or the time for it. I wont say that kesari is forgiving but yes, it comes with that advantage of not needing to check string consistency. The only tricky part in making  this pineapple kesari is to make sure that there are no lumps in it. And for this, i recommend using a balloon whisk while stirring.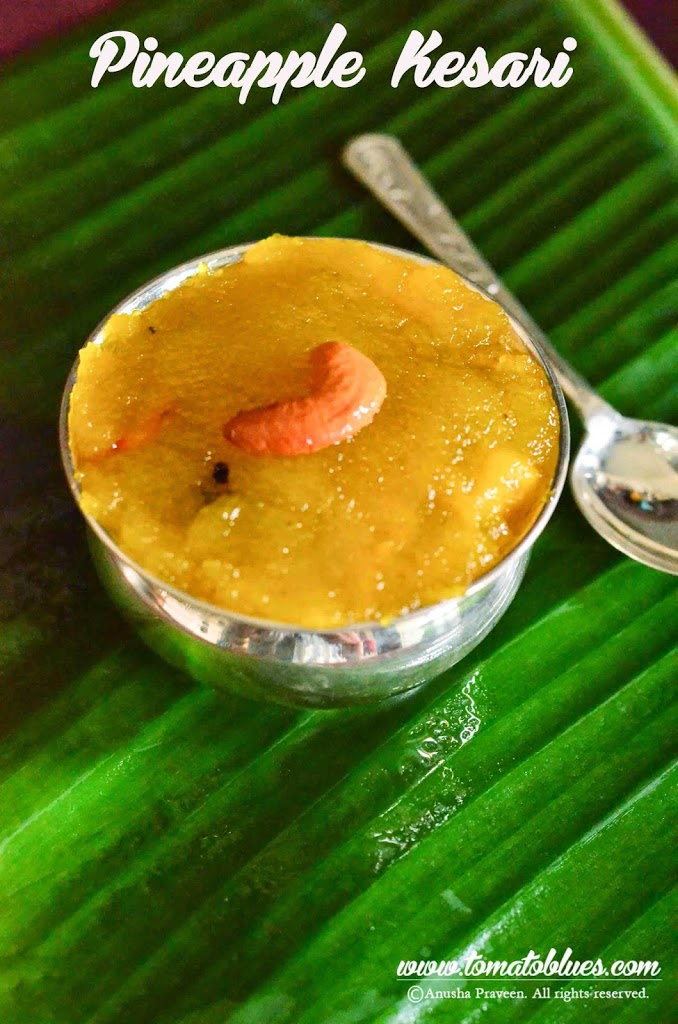 I wanted a break from the regular orangish kesari and so decided to make Pineapple kesari. I made this on a Monday when Mr.P usually fasts and he enjoyed it thoroughly. It makes for a fabulous dessert, a great breakfast accompaniment on Diwali or an evening tea time treat. Either way, this kesari with its tropical flavor of pineapple is incredibly delicious, too easy to make and too good to resist.
Recipe For Pineapple Kesari
( Learn to make Pineapple Kesari, a sweet semolina pudding with juicy bits of pineapple)

Prep Time: 10 mins
Cook Time: 30 mins
Serves 3 to 4 generously 
Allergy Info: Soy free
Course: Dessert, Snack
Cuisine: Indian ( Mostly south)

Ingredients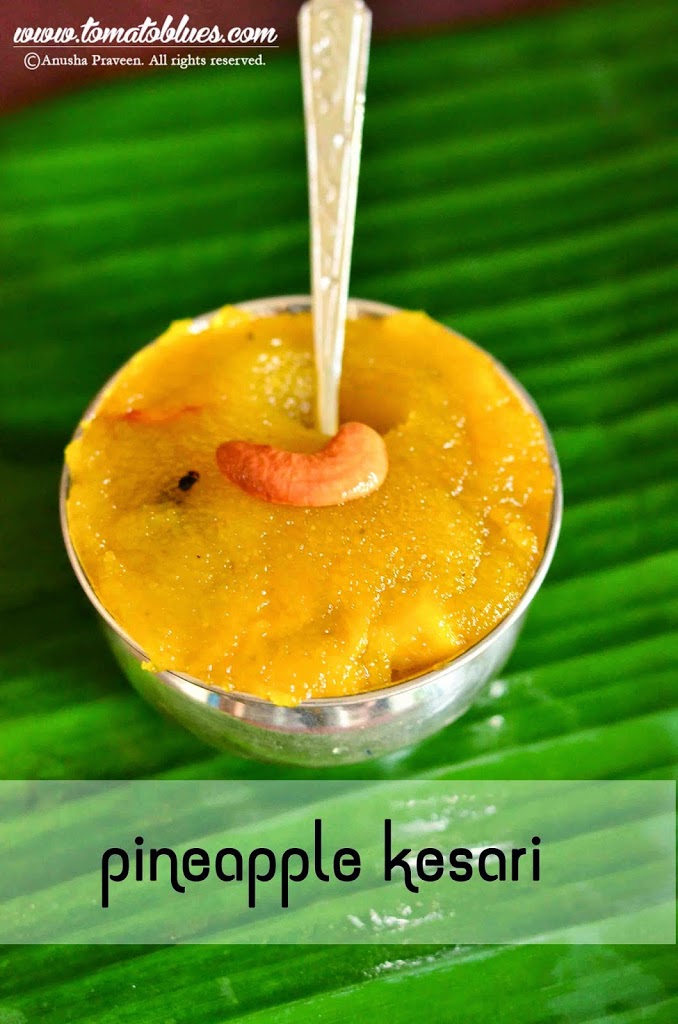 Semolina ( Sooji/ Rava/ Patina Ravai) 1 c
Ghee 1/2 c plus 2 tbsp
Sugar 1.5 c ( see notes)
Water 2 c
Pineapple 1.5 c choppped into bits
Cashews 4 tbsp broken
Raisins 2 tbsp
Cardamom powder 1/2 tsp
Yellow food color a pinch
Note:
1. The amount of sugar this recipe consumes depends on the sweetness of your pineapple but you wont require more than 2 cups any which way.
2. Make sure you choose ripe juicy pineapple for this dessert.
3. I usually add only this much of ghee but if you are not calorie conscious and if you are ready to indulge add about 1 c of ghee.
4. Its very important to roast the semolina well before you begin. If you dont roast it properly, then the kesari will have too many lumps.
5. I recommend using a balloon whisk to stir the kesari to get a smooth lump free version.
Directions
In a pan, heat 1 tbsp ghee.
Add the semolina to this and roast till aromatic and a very light brown.
Transfer to a plate.
Bring 2 c of water to a rolling boil.
In the meanwhile, heat 2 tbsp ghee in the same pan in which you roasted the semolina.
Add cashews and fry till golden. Drain.
Now thrown in the raisins and fry till they fluff up. Drain.
Next, add cardamom powder and pineapple bits and fry till the pineapple starts becoming mushy. Make sure it doesnt turn completely mushy.
At this stage, add water along with the food color and mix well.
Bring the flame to the lowest possible.
Now add the roasted semolina gradually and keep stirring it into the water using a balloon whisk.
Once you have added all the semolina, stir using the whisk vigorously until all the water has been absorbed. This process is painful and a little tedious but believe me, its totally worth it.
Once the water has been fully absorbed, add the sugar and mix well.
You will notice that the mixture begins to become watery.
Dont panic.
Begin stirring again continuously until the mixture comes together in a mass and begins leaving the sides.
The mixture wont become solid while cooking but it does set and become solid once cool.
Once done, add cashews and raisins and mix well.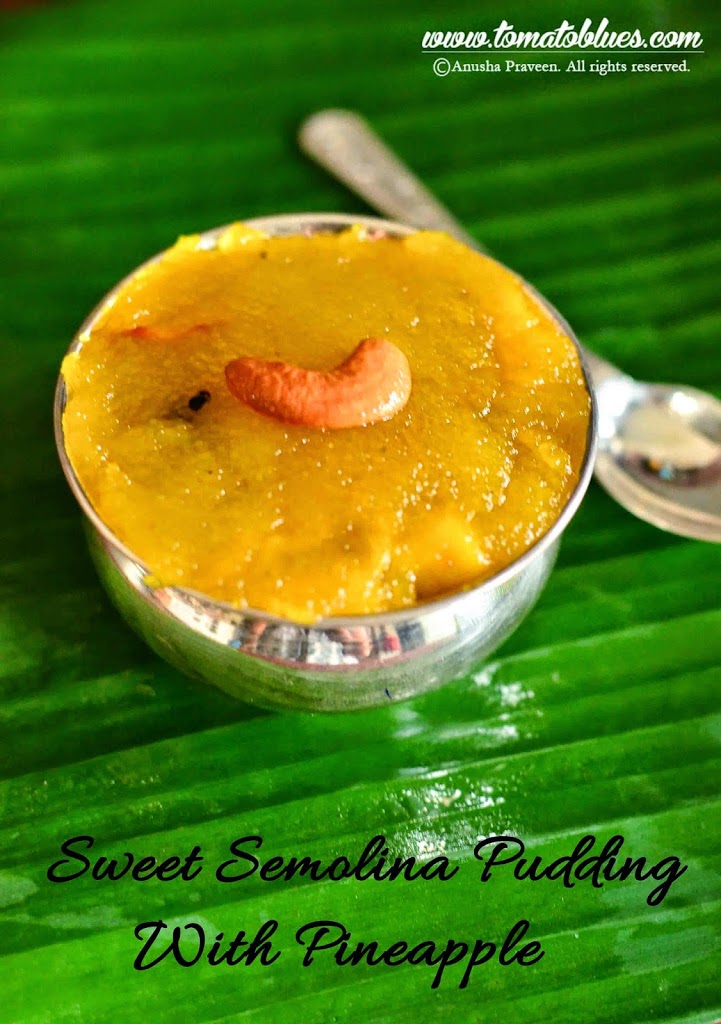 Serve hot or warm.