Palak Paratha Recipe- How To Make Whole Wheat Flour And Spinach Tortillas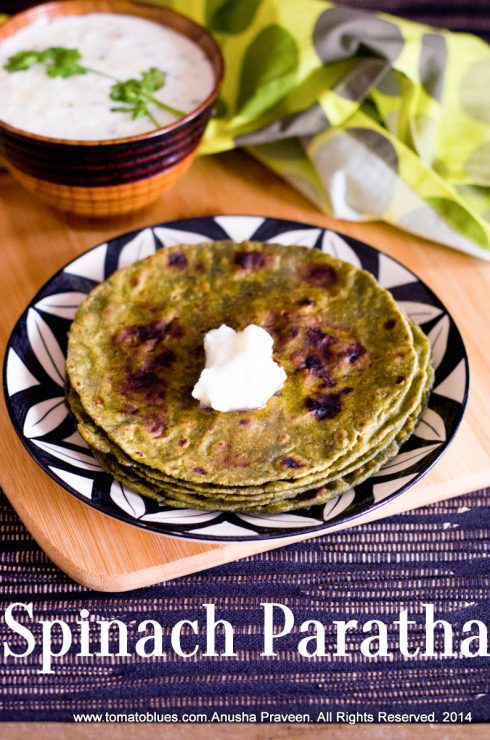 Palak Paratha is a simple whole wheat flour tortilla that is made with fresh spinach. Needless to say, i love my greens. We eat all kinds of greens at least twice a week and sometimes, i find myself wishing fervently that i had access to more varieties like we do down south. In Gujarat, the selection of greens is limited to spinach, fenugreek and an occasional bunch of amaranth. In fact, i was astonished to find that amaranth is seasonal. So i make do with whatever i find- which is mostly spinach or fenugreek greens.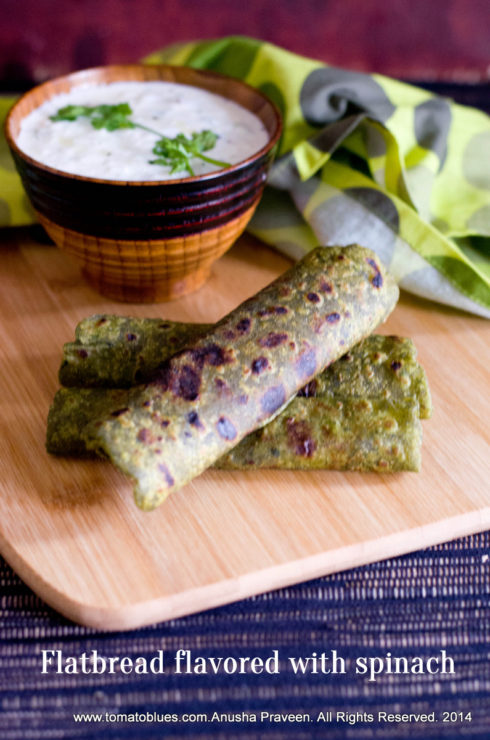 During summer, i make it a point to up our intake of greens as they help cleanse the stomach and keep our bodies cool. I try and include some spinach or fenugreek in some form or the other. This Palak Paratha recipe is just one way in which i include spinach in our regular diet. I make these Palak Parathas and whip up a delicious and tangy raita. There! We are good to eat. That is precisely how our lunches have been ever since Little A came along. Well, she has grown up now and wants to eat all sorts of things ranging from upma to melon. So there, we already know a foodie is in the making! Now for the Palak Paratha Recipe!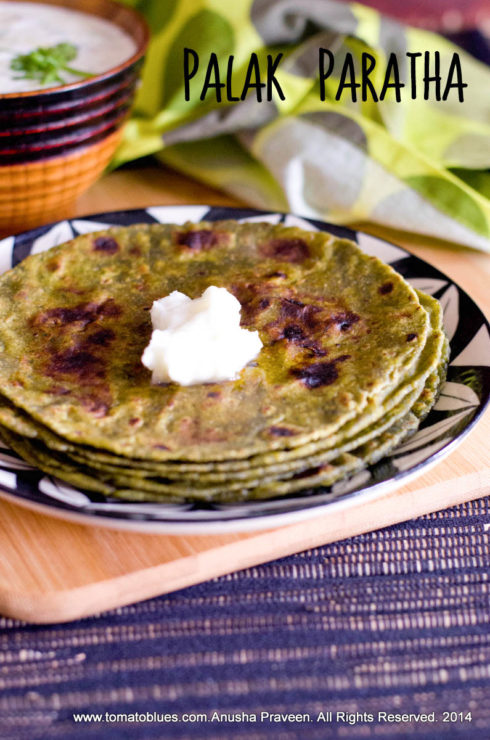 Recipe For Palak Paratha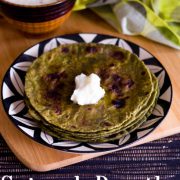 Print Recipe
Palak Paratha Recipe
Whole wheat flour and spinach tortillas that are vegan. Best enjoyed with a tangy raita or chutney
Ingredients
Whole wheat flour 1.5 cups

Spinach 350 g cleaned and chopped

Green chilies 3 to 4

Ajwain/ Bishop s weed/ Carom seeds 1/2 tsp

Cumin seeds 1/2 tsp

Kasturi Methi/ Dried fenugreek leaves 1/2 tbsp crushed

Salt to taste

Oil 2 tbsp

Water 1/4 c

Wheat flour for dusting.

Oil to cook the parathas
Instructions
Blanch the spinach in a big bowl of boiling hot water.

Drain and let cool completely.

To the blanched spinach, add salt and green chilies.

Place this in a blender and blend to a smooth puree without adding any water.

In a large mixing bowl, place the wheat flour, cumin seeds, carom seeds and dried fenugreek leaves.

Whisk thoroughly using a balloon whisk.

Make a well in the center of this mixture.

Add the pureed spinach and mix this into the flour mixture.

You will have a crumbly sticky dough now.

Drizzle the oil over this dough.

Now, begin kneading the dough by slowly adding water by the tablespoon until you have a smooth soft non sticky dough. You will not need more than the 1/4 c of water mentioned as the spinach puree will leave out water.

Once you have a smooth supple dough in which you can make a dent with a finger, close the dough and let it rest for 10 mins.

After 10 mins, divide the dough into 12 equal parts.

Shape each part into a ball.

Heat a griddle or a tawa.

Now, flatten the dough ball into a disc.

Dust with some flour and roll into a 3 mm thick disc.

Place on the heated griddle.

Cook on medium flame until brown spots appear on the tawa side down.

Once done, flip over and brush with oil.

After 20 secs, flip over and brush the other side with oil.

Again flip and cook for about 20 secs.

Once done, remove and serve hot.

Repeat with the remaining dough.
Notes
It is important not to add more water than mentioned in the recipe. Too much water can make the dough sticky which in turn may make rolling it difficult.
Addition of dried fenugreek leaves is optional but recommended.
Do not overcook the spinach. Only blanch and not boil it.
Adjust green chilies as per spice requirements
For Instant Pot & Air Fryer Recipes
Instant Pot timings may vary based on your geographic location. Air fryer settings and timings may vary based on the capacity and the model of the Air fryer.
Disclaimer
Nutrition values are provided here as a courtesy and are only a rough guide. Please consult a health care provider if you have any concerns.
 This tastes best when served with Tomato Raita or Beet Raita. I served with Radish raita and a dollop of butter. I will share the radish raita recipe soon.