Oooff.. puff.. oh!! i so feel like an old lady. I mean it s a God forsaken time to write a post. But the itch to write one was eating my heart out. Have you ever heard of a mixed day? Well, be my guest. I ll explain it all away. I had a mixed day today. Mixed day means a day which is both great and crappy. Oh my.. i sound like a 7th grade teacher. But bear with me, please. While i was doing the cats meow shopping for baking paraphernalia, Mr.P was having a cheesy day. Thanks to the arrival of Mr. Wisdom, the 30th teeth. Who on earth named it wisdom anyway?? I mean all it does is pickle you up. Doesnt give wisdom, no matter how i look at it. And that s one more reason to call English a quirky language. So, to put it in a scholarly fashion, Mr. P s cheesy day and my sensational shopping experience combines to give a mixed day. There goes the teacher in me again.. 🙂 Despite having to rush to the dentist at 60kms an hour in peak hour traffic with a husband who had his hands permanently attached to the cheek, i was not deterred in my spirits. I came back, made a lousy dinner which was curd rice and pickle and some more curd rice without pickle. And then, i got the post itch. So here i am typing away.
I ve told ya all about my love affair with curly head Mr. Cauliflower before. Lets just say, the affair continues and as i got bored of the cool version, i decided to spice him up in the oven. What a swell idea, aint it?? I hope you all gear up to do just that too!!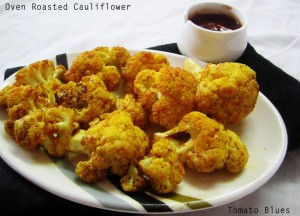 Prep Time: Under 20 mins


Cook Time: Under 20 mins


Serves 2
Loosely adapted from Radhi
What You Need?
Cauliflower florets 3 cups
Salt 2 tsp
Red Chili Powder 1 tsp
Black Pepper Powder 1/2 tsp
Garam Masala 3/4 tsp
Turmeric powder 1/4 tsp
Roasted Cumin Powder 1 tsp
Lemon juice 3 tbsp
Corn flour 2 tbsp
Olive oil 2 tbsp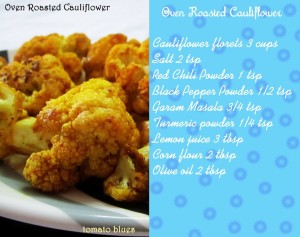 ( You can make these with broccoli too but you just have to spice it up some more. I wonder how these would taste the modernised way! Like some chili flakes, oregano and mixed herbs… will give that a shot soon. The next time, i ll do all that and add some parmesan or gouda cheese too!! Keep an eye on the florets after 12 mins as they tend to burn quickly. And this is an oven specific recipe. So attempting the recipe in a skillet wont be a wise thing.)
How To Make It?
Preheat oven to 200C. Line a baking tray with tin foil and grease it generously. Set aside.
Wash the florets in running tap water.
Immerse them in boiling hot water for 5 mins.
Drain and again immerse in cold water.
You are done with the cleaning. So lets get set go!
In a large mixing bowl with a lid, ( when i say large and lid, i m not joking..), place all the ingredients together except the corn flour.
Now, close the bowl and shake well for about 3 to 4 mins until its well combined.
Spread the florets on the baking sheet using your hands greased with a lil oil.
Sprinkle corn flour over them using a sieve to ensure even coating. I discovered that this step was the most demanding for me 🙂
Bake in the oven for about 15 to 20 mins.
Remove and let cool or atleast become a lil warm.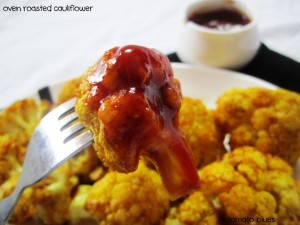 Serve with some ketchup as a starter or snack on them or even have them alongside rice and sambhar.
This is off to Healthy Diet: Side dishes hosted by Vardhini for Priya and CC: Spring Foods