Thursdays are a no onion garlic day. So making dinner is a very difficult task. After raking my brains for hours on end, I came up with parathas stuffed with mixed vegetables. I had cabbage, peas and carrots with me. You can add whatever veggies that you have in hand. I avoided the potatoes cos of the calorie factor. If you are making it for kids, then you can add potatoes and grated cheese too. On to making the parathas.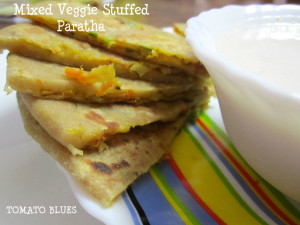 Prep Time: Under 20 mins
Cook Time: Under 10 mins
Source: Bhavna my stand in cook and a few friends.
Serves 2 (makes 5 parathas)
What you need?
For the dough
Whole wheat flour 21/2 cups
Water as needed
Salt to taste
Carom seeds 1 tsp
Some more flour for dusting
For the stuffing
Cabbage chopped finely 2 cups
Green peas frozen or fresh 1/4 cup
Carrot grated 1 cup
Oil 2 tbsp
Salt to taste
Jeera powder 1 tsp
Chilli powder 1 tsp
Garam masala powder 1 tsp
Turmeric Powder a large pinch
Cumin seeds 1/2 tsp
Coriander for garnish
How to make it?
Lets make the filling first. In a kadai, heat oil and add cumin seeds. Once they splutter, add the turmeric and add the cabbage. Saute for 3 to 4 mins on a medium flame.Add all the spice powders. Add the peas next and saute for another 4 mins. Now add salt and give it a nice mix. Turn the flame to low and add the carrot. Saute for a minute and turn off the flame. Keep aside.
Now, the dough. Add the carom seeds and salt to the flour and combine well. Warm 1/2 a cup of water first. Not boiling hot but just warm. Like you can put your finger in the water and stand the heat. Add this water to the flour little by little and make a dry mix.The flour should not be completely mixed and kneaded. You sprinkle the water little by little and mix the dough. Keep the flour mixture covered for 10 to 15 mins. After 15 mins or so, add normal cold water and knead the dough.( Secret to super soft rotis or parathas is the warm water flour mix!! So dont skip it)
Now, lets make the parathas. Divide the dough into 5 equal parts in the shape of a ball. Slightly flatten the ball and dust it with flour. Roll out the dough on a board into a thick paratha like layer and stuff the vegetables. Now bring the edges of the paratha together and give it a nice pat together. And roll out again to a bigger paratha. Heat a tawa and place the parathas. Apply oil and roast them for a min or 2 or until brown spots appear on the surface of the paratha. Do the same for both the sides. Enjoy with pickles and raita.
This is my entry to Radhika s event Lets Cook: Scrumptious Breakfast @Tickling Palates Lets Cook Scrumptious Breakfast