I wanted to post a couple of navratri recipes a little before the nine days of festive fun begins. But rains wreaked havoc around here and getting anything at all became very difficult. While Navrathri in Gujarat is synonymous to garbas, colorful lehengas and music all night, parts of South India celebrate the nine days in a different fashion. We have a display of dolls called golu in many houses and each day of the Navrathri is dedicated to one of the Devis. Young girls deck up prettily and visit each other s houses, where they are given a thambula and some sundal to munch on. Some people even give small gifts to the pretty girls. And this is not just for the girls. Its for the women too. It s indeed a lot of fun when Navratri arrives, wherever you are in India.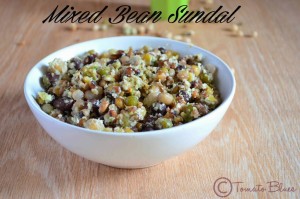 As a kid, i ve seen my mom arrange her display of dolls and then the million dollar question will be posed by my dad. " What s for prashad today?" my dad would innocently ask. And that would send my mom in frenzy. Finally she would decide on one sundal or a sweet treat. Sweet treats were usually made to order. Yes, my mom and i are so unlike when it comes to this one thing! Sundal, she would make. Yummy, protein rich sundals laden with coconut. People usually make sundal with one kind of beans. But i ve used many kinds in this sundal for a change. We get this mixed bean packets here and they come in handy when its Navratri.
Recipe For Mixed Bean Sundal
( Legumes stir fried and seasoned with coconut)

Prep Time: 6 hours soaking time
Cook Time: 20 mins
Serves 3 to 4 generously
Allergy Info: Vegan, Gluten free

Ingredients
Mixed beans ( I used garbanzo, chickpeas, white peas, green peas, black eyed beans, mung beans and cow peas) 1.5 c
Freshly grated coconut 1/2 c
Freshly grated ginger 1 tsp
Green chilies 10 to 12 minced finely
Curry leaves a sprig
Mustard seeds 1 tsp
Urad dal 1 tsp
Hing a small pinch
Oil 2 tbsp
Salt to taste
Directions
Soak the beans in 4 cups of water overnight or for 6 hours min.
The next day, they would have swollen and doubled in volume.
Pressure cook the beans with some salt and 3 cups of water for 2 to3 whistles until cooked but not mushy. Take care not to overcook the beans or the sundal wont have a nice appearance.
Once done, drain water completely from the cooked beans.
Heat a pan with oil.
Pop the mustard and add urad dal, green chilies, curry leaves and hing.
Once the dal browns, add the cooked beans and salt and mix well.
Now add grated coconut to this and mix well.
Remove from heat immediately.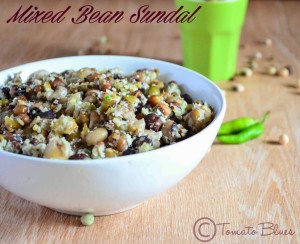 Serve hot or warm. It goes well even as a side dish with rice and curry.
P.S. The amount of each bean is completely personal preference. Add how much ever you want of each kind. I get them readily mixed.
As this is served as an offering to Goddess, no onion is added. But you may add onion in case you make it on an ordinary day.
Beans usually cause flatulence. So dont skip the ginger.