How To Make Missi Roti, A Rustic Flatbread Using Gram Flour?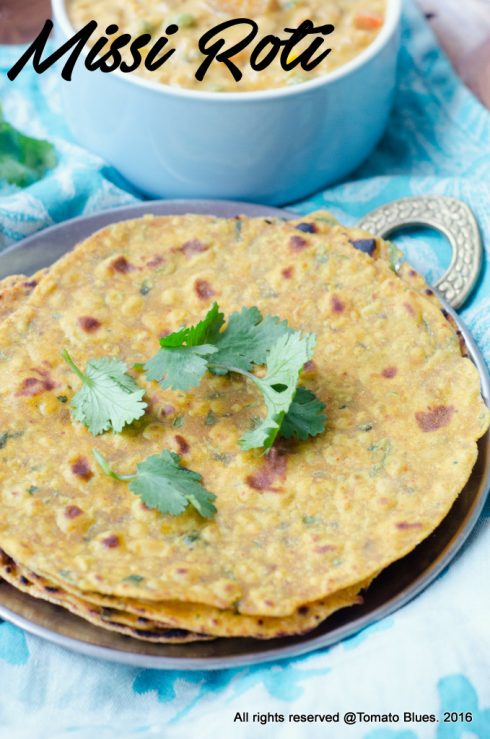 Missi Roti is a rustic chewy flatbread made with whole wheat and gram flour along with a few spices including turmeric.There are some things which are an eye sore in my pantry only to the limited audience of me of course! And one among them, in fact, the only one is the chickpea flour or besan. I loathe that light yellow flour. I hate the texture, smell, flavor and everything else there s about besan. Sorry if you all are pally with besan. I really do not know when i developed a yawning hatred for chickpea flour. Maybe it was when a friend told me about some fritters that she ate which made her sick. I have no clue. But all i know is if i look at chickpea flour, then i m pushed to screwing my face up. If i am asked to cook with chickpea flour, then i m almost going to be in tears. And if you ask me to eat something that has chickpea flour, then you have pushed me to tears.When i was on a pantry cleaning spree last week and when i knew i ve to empty my gram flour stocks ,i decided to make some missi roti, a wonderful rajasthani delicacy. I loved these rotis. But chickpea flour is still not my BFF.Serve hot with some spicy 
Paneer T
awa Masala
 or some shahi paneer. Recipe coming soon!! Also,Sending this to MLLA hosted by Priya for Susan.
Recipe For Missi Roti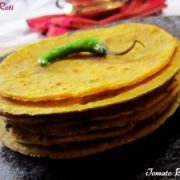 Print Recipe
Missi Roti
Missi roti is a rustic flatbread made with whole wheat flour and chickpea flour. Vegan.
Ingredients
Chick pea flour or besan 3/4 cup

Whole wheat flour 1/2 cup

Coriander leaves chopped finely 3 tbsp

Green chili minced 1

Cumin seeds 1/4 tsp

Carom seeds 1/4 tsp

Turmeric powder 1/4 tsp

Chaat masala 1/2 tsp

Salt to taste

Oil 2 tbsp plus some more to cook the rotis

Water for kneading 1/2 cup plus or minus a few tbsp
Instructions
In a large mixing bowl, sieve together both the flours along with the chaat masala, turmeric and salt.

Now, add the cumin, carom seeds, green chili, coriander leaves and combine well.

Make a well in the center of the dry mixture and pour 2 tbsp oil.

Now, add 1/4 cup of water and start kneading.

Add more water as necessary to knead the dough into a soft pliable and supple dough.

But make sure you dont add more than 3/4 cup of water. We dont need a sticky mass here.

Having kneaded the dough, cover with a clean damp kitchen towel and set aside for about 10 mins.

After 10 mins, knead the dough for a min and then divide it into 12 equal parts.

Now shape the dough parts into round balls, press them a little, dip them in flour and roll them into small rotis.

Cook on a tawa applying oil on both sides until brown spots appear.
For Instant Pot & Air Fryer Recipes
Instant Pot timings may vary based on your geographic location. Air fryer settings and timings may vary based on the capacity and the model of the Air fryer.
Disclaimer
Nutrition values are provided here as a courtesy and are only a rough guide. Please consult a health care provider if you have any concerns.