How to make Microwave Masala Peanuts?
Masala peanuts can be made in a pinch in the microwave. No deep frying. Minimal effort snacking. Win-win!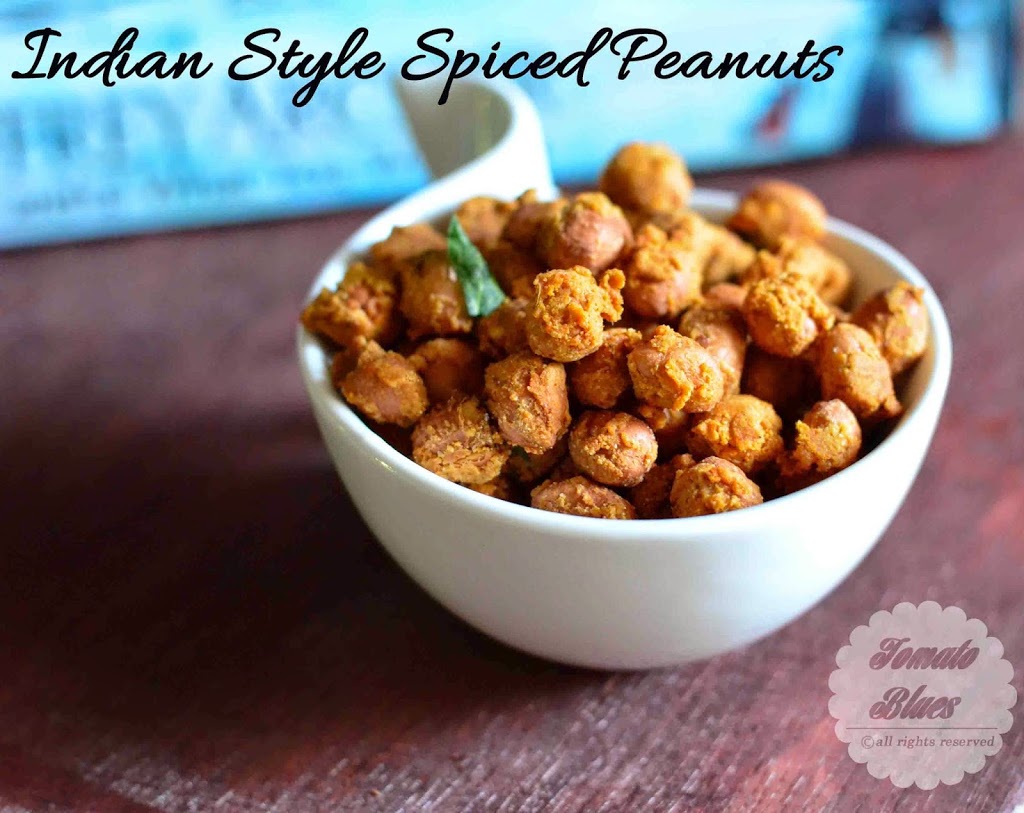 When i sit back and think about my microwave, i feel ashamed. Its simply because i dont make much use of it except when i boil vegetables or reheat something or may be on a rare occasion, thaw something. I know its bad. Under usage. I mean, people do so much with a microwave. And i  use it only for reheating. I can almost see some bah s being targeted at me.
Yeah so, i decided that I ve to put my microwave to more use. Plus i was on the lookout for some easy snack recipes that involved no frying. That s when these masala peanuts came to mind. I remember reading the microwave version somewhere some time back. I just used whatever i had on hand and made them the first time. To my surprise, they were super crunchy, yummy and way better than the deep fried ones that we get in stores. It was a perfect treat to enjoy on a rainy Sunday evening along with Mr.P and some hot steaming spiced chai. The H loved it so much that he even asked me to make it the next day. So if you have a microwave and if you are like me, then these masala peanuts is a very good place to begin with.
Follow me on Instagram or Facebook for regular cooking updates and short videos. Find us on  Pinterest for delicious content. Tried our Microwave Masala Peanuts? We value your thoughts and comments! Leave a comment and tell us how it worked for you.
In case you have any questions regarding this recipe, leave a comment and I'll respond at the earliest possible. If you tried this recipe and enjoyed it, click a picture and share it on Instagram by tagging us @tomatoblues.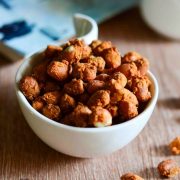 Print Recipe
Microwave Masala Peanuts
The classic deep fried masala peanuts made in the microwave. Minimal oil. No deep frying.
Ingredients
Raw peanuts 1 c

Gram

flour

Besan/ Chickpea Flour/ Kadala maavu 2 tbsp

Rice Flour 2 tsp

Oil 1 tbsp

Red chili powder 1.5 tsp

Coriander powder 1 tsp

Hing a small pinch

Curry leaves a sprig

Water 1 to 2 tbsp

Salt to taste
Instructions
In a large mixing bowl, place spice powders, gram flour, salt and curry leaves and give it a good toss with your hands.

Add peanuts to this and mix again.

Now, add 1 tbsp oil and 1 tbsp water and combine the mixture thoroughly making sure that the peanuts are well coated with the spices.

You will have a slightly shaggy mixture now.

To this, add the rice flour and combine well again using your hands.

The mixture will be dry at this stage.

Grease a microwave safe plate with a tsp of oil.

Spread half of the peanuts evenly on the plate breaking down any clusters.

Microwave on high for a minute.

After a minute, take out the plate, toss the nuts around a little and microwave again for a minute on high.

Repeat this process once more.

Now, let the peanuts cool completely.

They will be a little soggy when you take them out but they turn crunchy once they cool down completely.

Repeat the process for the remaining peanuts too.

Store in an air tight container.
Notes
1. Please dont add more water than mentioned.
2. Microwave settings and temperature may vary.
3. You may make this recipe without any oil too.
4. For a gluten free version, skip the hing
For Instant Pot & Air Fryer Recipes
Instant Pot timings may vary based on your geographic location. Air fryer settings and timings may vary based on the capacity and the model of the Air fryer.
Disclaimer
Nutrition values are provided here as a courtesy and are only a rough guide. Please consult a health care provider if you have any concerns.